Meet Andy LaCasse: Floridan, Korean War Veteran, Sign-Maker, Douchenozzle. You can say 'hi' to him below the fold...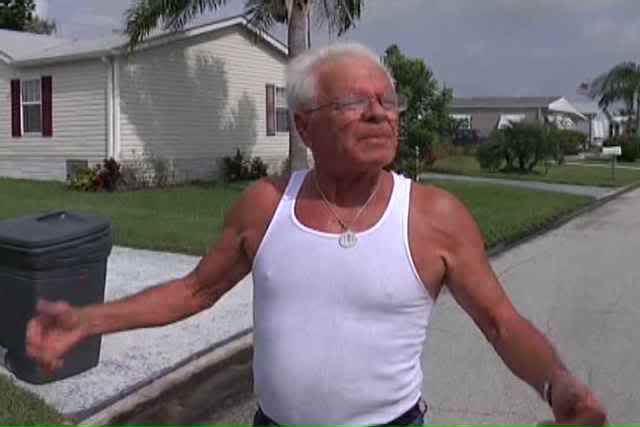 And here's Andy's yard sign: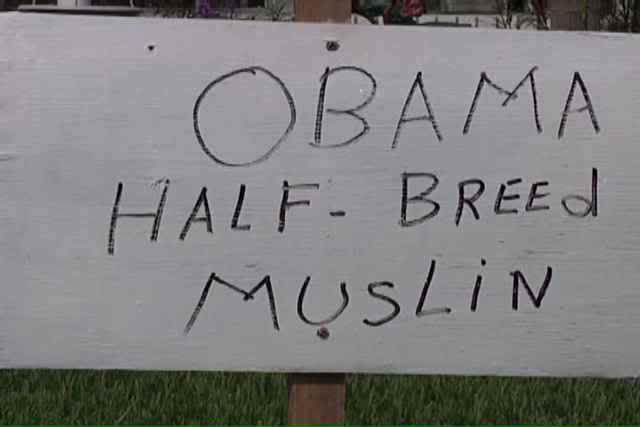 Andy, Barefoot Bay, Florida's resident douchenozzle, recently put up this sign in his front yard. Believe it or not, some of his neighbors hate free speech, hate America and have a problem with this sign.
But this Douchenozzle doesn't give a shit! "I got nothing good to say about Obama," Lacasse told News 13 in Florida. "If I see anybody touching that sign, I got a club sitting right over there."
I picture a club like the one Captain Caveman used to brandish on the classic cartoon. Although subsequent reports state the douchenozzle may be referring to a day old club sandwich.
Furthermore, Andy claims he was a registered Democrat until Obama won the nomination. Sorry to lose you, buddy.
"That's the Democratic Party. They're nothing but a bunch of cutthroats," Lacasse said. "Like I always said, you show me an honest politician, I'll show you an honest thief."
And like I always say, show me an ignorant jackass with a homemade yardsign, and I'll thankfully trade the sign for a "Billy Bass, Singing Bass."
Like most registered Democrats, this douchenozzle was quick to run to the defense of the Republican nominee for vice-president. "Look what he's doing to Palin," Lacasse said, referring to Alaska Gov. Sarah Palin, Republican John McCain's running mate. "Come on. He got people going to Alaska, looking for something to say bad about her."
The douchenozzle said he plans to put an even bigger sign in place of the small, handmade one. Or he may just buy a new Sharpie and fix this one.
One thing you can say for Andy - he's no "half-breed," he's a full-bred Douchenozzle. Keep it up!
Cross-posted here
here