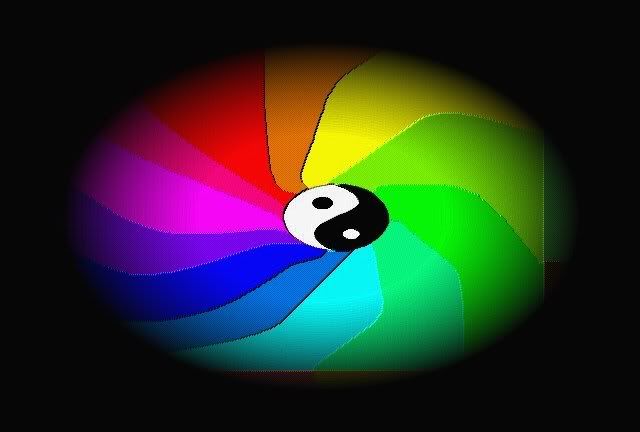 Last Tuesday Bloomfield College held its yearly convocation, a salute to the beginning of a new school year...which happens around Midterm Week each year for some indiscernible reason. Or speaker was Dr. William Librera, Presidential Research Professor of Education at Rutgers University, and the title of his presentation was Inside the Horizon.
As these things go, it was a pretty good lecture, both fairly entertaining and containing some nuggets. There was the obligatory PowerPoint, of course, which we were told was available online, but I can't find it. If I could have, I would know the last part of the woman with the hyphenated last name which began with Roth-. That would have proved helpful, since one of the major things I can recollect from the event is her thought about people being divided into two kinds: people who segment knowledge, and people who integrate it.
Do I know what the collective intelligence is thinking right now?
Originally posted at Docudharma
There are two kinds of people in the world, those who believe there are two kinds of people in the world and those who don't.

--Robert Benchley
If the discussion is elevated to the level of the Algonquin Round Table, then I'm all for it.
I grok Dr. Roth-XXX. I doubt that the boundaries between her two kinds of folk are hard and firm, since I'm not a big believer in closed borders for group classifications. And of course, I don't really know if I have the gist, since I only have Dr. Libreri's word for what she wrote: this was a cap and gown event, so no note-taking was possible. But I have been teaching on the college level for over 32 years and if someone gives me a concept, I can run with it as good as anyone.
There are the students (which can be read people, if one wishes. Aren't we all students?) who break down what must be known into digestible chunks so that they may be easily and individually memorized consumed. As soon as they are no longer needed, they may be regurgitated, but that's another issue. This technique even sometimes may work well...where "well" is an immensely relative word wholly dependent on what the desired outcome of the learning event is expected to be and what the motivations of the learner might be. But it tends to result in students who put limits on what they are willing to learn and how open to life's possibilities they are willing to be.
Then there are the students (aka people) who seek to integrate what they learn into a cohesive whole, who seek to bring facts and theories together rather than push them apart, who are adept at drawing parallels between knowledge available in different realms. In other words there are people who seek to become erudite rather than educated, to become learned rather than trained, who seek construct their knowledge rather than learn a few skills. An educated person has been lead out of ignorance. An erudite person can lead hermself. The difference is between passivity and activism.
On the border between those two are the people who can efficiently and effectively do both, who can take a problem or a proposition or an event or a theory and decompose it into meaningful bits, digest those bits, and rearrange them in a way which elucidates the problem or suggests a solution to it or leads to entirely new ways of examining reality...and indeed entire new ways of living free, nonconformist (Krishnamurty video) lives.
So this is what is in the base layer of my mind this morning. Well, actually, there is other stuff probably buried under there, but that's as far as I want to dig right at the moment.
Now let's start rearranging some of those bits which are demanding integration.
Trying to keep the decorations to a minimum (which never happens, of course, but sometimes I think about it), I am going to almost skip by the solicitation I received recently to participate in a trans-awareness blogging event, but which bothered me deeply, since the only trans-awareness I could see was trying to make transfolk aware of and denote money to Barack Obama, when the focus of the issue from my point of view is that trans-awareness should concern Barack Obama's (and his supporters) awareness and vocal support for us, rather than the other way around.
And by us, I don't mean just transfolk. I mean all GLBT people. Heck, I'm talking about all oppressed people. Political expediency should never trump fighting for equal rights. As someone commented elsewhere today:
Equality should never wait.
Do we really want to quash the rights of people who are different? Or do we want our candidate to stand up for those in need...and speak out in opposition to Proposition 8 (Megan Daum, LA Times) in California? Hasn't society been segmented long enough? Cannot the integrators pull together?
I would have hoped that more people would have read the essay Hate..... by JamminJ, but it was posted in the middle of the night for a lot of us. The voice spoke the words of a young child growing up "wishing I was only white" because of the hatred he has faced, of being spat upon, called names, and told he should "go back to your own country."
It was, as I said, the middle of the night, but I tried to add something, from the point of view of someone who had read the opinion of VinceDee at that previous link, which I hope didn't come out too incoherently, but which I will do a rewrite of it here, if only for the purposes of integrative knowledge:
GLBT feel stunned as well...

...when they feel hatred...which is much more often than it is right to be. Hatred isn't confined to a single -ism. Those same people who would make a young child of color grow up wishing to be white would love nothing more than to remove from GLBT people in California the right to share their lives with the the person they love with the support of our society.
As I was writing this piece this morning, the following news
The Associated Press
Friday, October 10, 2008; 11:54 AM

HARTFORD, Conn. -- Connecticut's Supreme Court ruled Friday that same-sex couples have the right to marry, making that state the third behind Massachusetts and California to legalize such unions.

The court ruled 4-3 that gay and lesbian couples cannot be denied the freedom to marry under the state constitution, and Connecticut's civil unions law does not provide those couples with the same rights as heterosexual couples.
"Inevitably" didn't have to take very long today. There are already voices on the left decrying the timing of the decision. People are throwing their hands up and/or wringing their hands over how this will cost Obama the election.
To those people, I can only give my own opinion: "How dare you!"
If the election is lost with a 12 point lead and three weeks to go because of another state enacting marriage equality, then the onus is on you, not us. It will be because you stopped working. It will be because some of you unfortunately prefer your own passive homophobia over electing Obama.
If a candidate cannot make the case to the American why gay rights are important with a 12% lead and three weeks to go, he is never going to try to do so.
Equal rights should never have to wait.
Outside a Warped Box
Now or Ever?

Do we all walk forward
together
or are some of us
left behind
forever to be told
later
is the time
maybe in two or three
generations
things will change
magically?

How many years
constitute a someday?
How many limits
should there be
on equality?
--Robyn Elaine Serven
--October 10, 2008