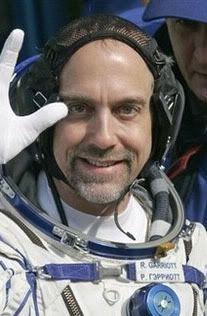 After raising $30 million to get himself into outer space aboard the Russian Soyuz space capsule, Texas video games millionaire Richard Garriott (r) suddenly got cold feet at the last minute, when he was informed the trip would be more than just a virtual experience. Giamatti ? Garriott
"Yes, I'm the son of an astronaut, but I'm also the son of someone who was not and astronaut, the 47 year old Garriott told reporters. This space thing sounded great at first"...his voice trailed off.
Because Garriott did not want the nonrefundable ticket to go to waste, he approached longtime friend Giamatti – who, through a quirk of alphabetical seating, had always occupied a desk adjacent to his throughout their junior high years.
He prevailed upon the actor to furtively join the Soyuz crew in his stead. According to the millionaire entrepreneur, what clinched the deal was explaining to Giamatti that the space voyage would be not too dissimilar from the delightful romantic ballon ride he had taken over Sonoma County during the filming of the motion picture Sideways. At least the landing back in Kazakstan would be -- if slightly more robust.
Due to the fact that Giamatti was wearing Garriott's space helmet during the launch countdown, and that their passport names and photos were virtually identical (see above), the Russians were none the wiser. That is until the craft had achieved orbit and Giamatti let it slip that the 10 day voyage would be a piece of cake compared to the time it took to either shoot or watch the John Adams TV series. Fortunately, the Russian launch team realized that -- for $30-million -- they didn't care.
The Academy of Motion Picture Arts and Sciences said it would be monitoring the actor's condition throughout the flight and they had already spoken with him earlier Monday afternoon. Giamatti explained his primary mission was to deliver Garriott's relatively new Tabula Rasa video game to the International Space Station, to replace the outdated Ultima II that Astronauts and Cosmonauts had employed not only to maintain contact online with players back home, but to keep from going stir crazy stuck in space for several months at a stretch with somebody who didn't even speak the same language. Hey just trying to take my mind off the market. Ok? OK? My investment bank was just taken over by a food bank. reb, Texas :)