I just got off the phone with Sherrif Butler (an elected DEMOCRAT) from the Fayetteville, NC Police Department.
He was kind enough to give me a call this morning because I had been working with Matt Rogers of ActBlue, the Fayetteville Police Department's Community Service Director, and the local Fayetteville DNC to try to establish a fund to help those whose tires were slashed during the Obama rally on Sunday the 19th.
This morning, Sheriff Butler called to tell me that they had caught the people responsible for this and that they were taking care of things. He told me he was grateful for the support that myself and other members of the DailyKos community have given, and that it was very much appreciated.
While I can't be certain, I have a funny feeling that these folks will be footing the bill for their malicious act of vandalism through either community service or with having to pay restitution to those affected.
Kudos to the good Sheriff, who, in a candid moment told me "There's a whole lot of Obama folks around here so don't you all worry about us handling things."
Call me an optimist, but I believe him.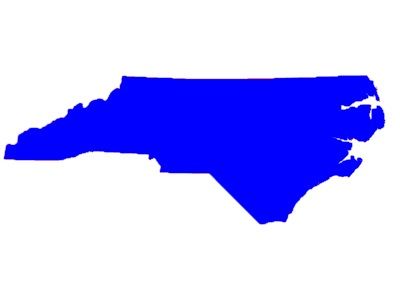 Wouldn't North Carolina look lovely in a nice shade of blue?
UPDATE: I will edit this diary when the press reports it, but he was kind enough to call me about it before the news got a hold of it because he knows I've been working on helping these folks. So gosh, this really IS breaking, isn't it...lol.
UPDATE 2: The FayObserver just asked me for a comment on this. They're in touch with the Sheriff's department and will be shortly posting a story on it. And in the interim, can we take our tin hats off please? Seriously, guys. This wasn't the bombing of a federal building, this was morons slashing tires. To treat it any differently is giving them much sought after credibility that they don't deserve.
UPDATE 3: I'm on the phone with the FayObserver now. You guys crashed their server! They'll have more details soon. Reporter Nancy McCleary will call me when she has the story.
UPDATE 4: Okay, so maybe when I told Sheriff Butler that I would share the happy news with my online community he wasn't aware of how BIG my online community was? Nancy tells me she's getting nothing from them, but she'll be in touch. Does anyone know how these things work? Do they have to formally charge people before talking to the press? Yikes, then this WAS early info. I will update this diary when I can. And if it rolls off rec list, I will update with a new diary. If anyone sees a news link before me, please post it below or in a new diary. I've really gotta go clean my house before my kids get home and destroy it again.
Update 5: Dirty toilets will have to stay dirty for a few more minutes. FayObserver posted this a few minutes ago.
"No one has been arrested and we have no suspects," said Debbie Tanna, spokeswoman for the Cumberland County Sheriff's Office.
So, could they be stonewalling the FayObserver until they're ready to dish details? That was a STRONG statement they released. I certainly didn't call the Sheriff's department. They called ME. I fully stand behind what I wrote above and I fully expect the MSM to get details later. Would it be bad etiquette to call the Sheriff back? I think I might be in over my head here. I'm not a reporter and I don't even play one on TV. I thought this was going to be just a happy little diary....yikes.
UPDATE 6: All I will say is that I feel better now after speaking with my source so please look out for reports coming down the pipe and let the community know when you see one. I'll be on the lookout, too.
And remember! You heard it here first! BUT PLEASE, Power's that be! RELEASE INFO SOON! I Feel like I've arrived at the prom three hours too early with NO DATE.
From Hellenic Pagan, who puts what's going on with this diary quite nicely.
That's standard Press Release Speak. Until they have warrants for arrest or have the individuals under arrest.

Sometimes the element of a surprise arrest - especially when the perps think "there's no way we'll be caught, much less punished for this" - is what you need. It can cause the perp to reassess the situation and to understand that the detectives are smarter than him/her, and to hopefully give a confession.

What you got was very breaking news. You just need to accept it and understand that the perps are going to be caught and arrested. It may just be a matter of getting more evidnce or a warrant, which can take a little time.
Okay, well, I shall sit here with my prom dress and my wilting corsage and wait for the MSM to arrive. But I'm SO not putting out.

UPDATE YAYAYAYAY!!!
From the AP Release:
Associated Press
Published: October 27, 2008

FAYETTEVILLE, N.C. (AP) - A teenager has been cited in connection with slashing tires on several vehicles during a Barack Obama rally in Fayetteville.
The Fayetteville Observer reports that 18-year-old Timothy Michael Strickland will be in court Thursday for 11 counts of willful injury to personal property.
You can read the story here:
From the FayObserver claiming the teen wasn't politically motivated:
A Dunn teen has been cited in the slashing of tires on vehicles parked outside the Crown Coliseum during presidential candidate Barack Obama's speech last week.

The Cumberland County Sheriff's Office says in a news release that the slashings were a prank, that the vehicles were targeted randomly and that the vandalism "in no way was politically motivated."
And here's a storywith info regarding the "kid" the Sheriff was talking about with me.
Timothy Michael Strickland, 18, of the 8300 block of Norris Road, was cited with 11 counts of willful injury to personal property. Juvenile detectives with the Cumberland County Sheriff's Office also are questioning a 15-year-old in the case, but no charges have been filed yet.