Again and again, I can thank Daily Kos for being there when I need a place to vent. As my husband runs his campaign on his own and we struggle to figure out the political landscape of a very strange place called Orange County, CA, I've found that my time at Daily Kos has helped me focus and vent about the process.
Gary wouldn't be running for State Senate if it were not for Daily Kos. I started writing here over a year and a half ago during the heated primary season and my interest in politics had been reignited. I was on fire for Edwards. That's another story though and I would rather not go there, if you know what I mean.
But that journey brought me to earlier this year when I had asked my husband if he would run for State Senate for the sake of the Democratic Party and for our Five year old. Yep.
Gary Paul Pritchard is a 37 year old teacher at a Community College in South LA, Cerritos Community College to be exact. He is a tenured Professor in their Fine Arts Department, music to be more specific. In 2006, Gary finally finished his Ph.D. in 2006, which allowed us to also purchase our first home here in South Orange County.
Gary has been the chair of his department and he recently got a grant for the Fine Arts Division, a very important grant that I think shows what an amazing legislator he has the possibility to be.
When the grant was first proposed the prior year it was rejected. The Chair of the Fine Arts Department asked Gary to come aboard and help rewrite the grant. He was happy to do so and this year in June, the grant was fully funded. So what is the grant for?
Job training. Yes, it is to help train those students who didn't graduate from high school and have no plans to go further in their education in stage craft. South LA is obviously very close to Hollywood and there are many jobs of this kind in the area. The program is also working with local employers such as Disneyland. Gary is actually walking the walk so to say.
Now the 33rd district in California is huge. It is bigger than any of the Congressional districts in Orange County and covers over 500,000 registered voters. The registration layout is quite discouraging as well for any Democratic candidate and it's the reason it is so difficult to get Democrats to run in Orange County. It is an uphill battle as they say.
So, 29% of those registered voters are Democratic, 48% Republican and 19% Declined to State. Yes, it's that bad. But if Democrats don't run then how can Democrats win? We have to run in every seat possible, it's how we build the party even in the very red districts like the 33rd.
Orange County is home of many of the obstructionist legislators that helped create the gridlock that happens every year when we enter budget time. In California you must have 2/3'ds in order to raise any taxes or pass any budget. The Republicans in Orange County see themselves as conservative warriors that battle back the wasteful spending of all those evil liberals in Sacramento. No, really, they do.
Meet Mimi Walters, "The Taxpayer's Hero". Mimi Walters handily won the primary in June and it's thought that her trip to the Senate is guaranteed. Some even call her "Senator-Elect" and talk about how she's moving on up from the Assembly to the State Senate in January.
Poor, lonely Mimi Walters. I've done some research on Ms. Walters legislative record and found that in 137 votes she only voted yes five times. FIVE TIMES. And according to the Sacramento Bee, Mimi Walters was one of the most ineffective legislators they have.
Number crunch: The 2008 legislative year in numbers

Who passed the most bills? Who had the most vetoes? Which GOP lawmaker finished with the most new laws? Who didn't pass anything.

We've got the skinny.

Fewest bills signed into law
0 - Assemblywoman Audra Strickland (R)
0 - Sen. Tom McClintock (R)
0 - Sen. Ed Vincent (D)
1 - Assemblywoman Nicole Parra (D)
1 - Assemblywoman Mimi Walters (R)
This is why we have to run in every race, we have to challenge every Republican seat that is taken for granted because we have to challenge their ideas on the issues. Mimi Walters blames many of our budget woes on Illegal Immigrants and high taxes. But just like John McCain, Republicans fail to mention that just because our taxes on Corporations are high in the State doesn't mean that those taxes are paid.
And of course the second question is, if you hate Government so much, if you think that it is so ineffectual and useless, then why do you want so much to work in Government? Why? Why not stay in the private sector and do what you think you do best?
Here is a clip of Mimi Walter's speaking to the CRA. I think it says it all.
The odds are that Mimi Walters will win this seat. We know the reality of the situation but Gary still chose to run and to work hard. He has walked almost every weekend since May of this year. Gary has been putting up his own signs for the last week, sometimes getting up as early as 3am in the morning (As told in my Diary, Three AM Phone call? Not Quite...). Gary is working as hard as any full time employee with a five year can (Gary also volunteers in Charlotte's classroom on Wednesday mornings!).
Daily Kos has really come through for this campaign in the generous donations that helped us pay for Gary's ballot Statement. But when Mimi Walters didn't buy her ballot statement it left us holding the other half of the bill, which is $7,400!
So, I'm back again asking for your support, Gary needs it and I know we are all stretched. Friday we got the new coupon book for Gary's student loans, the payment has gone up $250 at a time when we can least afford it. I haven't been able to cut my hours at work (Which would be helpful since I've been diagnosed with a chronic condition) because we are making ends meet, barely, as it is. We understand that people are hurting, we are one of those families who have lost a tremendous amount of their equity in their home. It's an endless list isn't it? But I also know we are blessed in having two stable jobs, a roof over our head and a beautiful, healthy five year old to care for, it's just how you look at it. We see ourselves as one of the lucky ones.
Here is Gary's Act Blue page. If you can spare a few dollars it could add up here fast at Daily Kos. Thank you.
Some other diaries I've written about Gary's campaign:
Berry Gordy, MLK Jr. and Barack Obama
Please Help my Candidate, my Husband, stand up for Democrats in Orange County, CA
Candidate's Wife, My husband's letter to NARAL
Pat Buchanan and Gary Pritchard, Native American running for State Senate
Some photos...
One of Gary's signs!
Charlotte and Gary...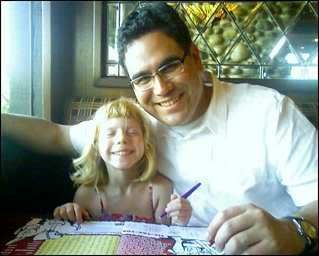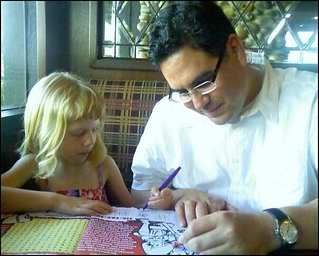 Gary bringing a box of food to the Orange County Employee Association's food drive this summer.