993_3 McC Linc


Wednesday, October 29, 2008. 8pm. Tom McClintock addresses a group of potential voters at the McBean Park Pavilion in Lincoln, CA
980 castle

Over four hundred people stood in line outside at a fundraiser put on by the Lincoln Police Auxiliary and Lions Club, to donate canned goods to enter this Halloween Haunted House, also at the Lincoln McBean Park Pavilion last night, Oct 29, 2008, adjacent to the building McClintock was in.
*
*
990 BG Linc


"Vell- come to my House of Economic Horrors" . That's McClintock campaign spokesperson Bill George guarding the door making sure the Democrats and other Subversives, like Independents and other people with notepads, don't get in. It worked, George. There were 18 people. At least 5 of them were campaign staff.
Note the Igor force field effect. He's not in the viewfinder but within a few yards so the picture blurred again.
*
*


Another view of the Secret Republican Political Meet Tom McClintock in Lincoln event. Peering thru the camelia bushes outside the building
*
*
976_2 Linc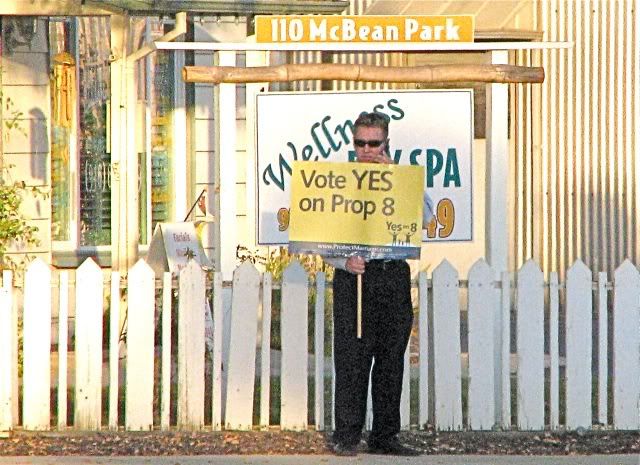 This is Team McClintock's sentry standing in front of the local Lincoln Massage Parlor 2.5 hours before the Lincoln McClintock event that evening. It is across the street from the McBean Pavilion. He whipped out that cell phone when I pulled into the parking lot. I think it's time to mention that the former Lincoln Planning and Zoning commissioner during the time Lincoln was approving every single proposed commercial development (during the early 2000's, when Kevin Ring, Doolittle's ex legislative aide, was a lobbyist for the city ) was eventually busted on prostitution charges and owned another massage parlor in town. While we're at it, McClintock voted against regulating massage parlors while in the State Senate.
It just writes itself, sometimes. I can't make this stuff up. More pics to come.
*
*
977_2 Roseville McC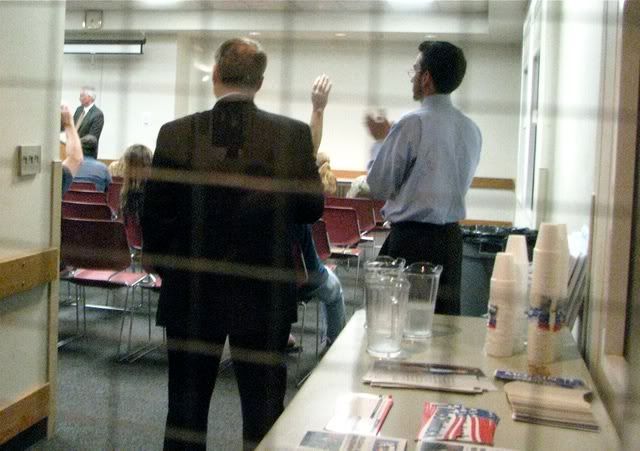 Roseville, Maidu Community Center, 6:30 pm, Wednesday Oct 29 2008. McClintock addressing potential Republican voters at his first event that evening. View from outside the room, looking through the window. McClintock is to the far left, light grey hair, suit, standing facing audience. Doesn't look too crowded in there, does it ? Note door sentries.
*
*
978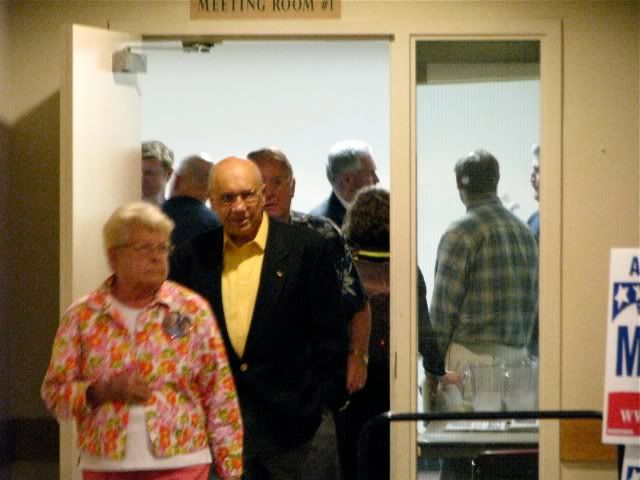 Roseville, Maidu Community Center, Wednesday Oct 29, 2008. It is 7:10 pm. They just had about 35 people total dribble out of the room, including the staff and others working as Republicans. The yoga class next door had more people. McClintock is supposed to be in downtown Lincoln at 7:30 pm. Is this going to happen ? Not unless he teleports.
*
*
This is the fun part. Meanwhile, back in Lincoln, at the main road into town from the south, there's some serious Brown support going on ! A demonstration with at least 50 to 60 people is showing their public support for the local candidate.
McClintock is going to have to drive past this to get to his next event in Lincoln. ( I was there very early and as it ended, but left to see what was going on in Roseville, so these are not my pictures )
10.29 Lincoln 65 + FR road 4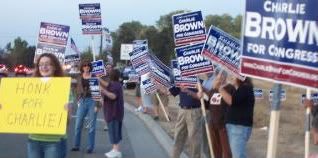 Charlie Brown supporters waiting along the highway, Lincoln, evening of Oct 29,2008, during commuting hours, ready to give Travelin' Tom McClintock that Big Lincoln Hospitality Welcome he deserves !
*
*
10.29 Lincoln 65 +FR road 1


This is one of the first people that was out there that evening. Veterans for Brown.
*
*
10.29 Lincoln 65 + FR road 5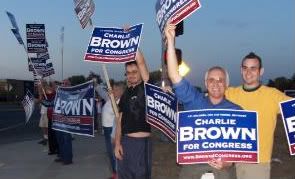 Young people for Brown.
*
*
10.29 Lincoln 65 + FR road 3


Older people ("seasoned and sage" ) for Brown.
*
*
10.29 Lincoln 65 + FR road 2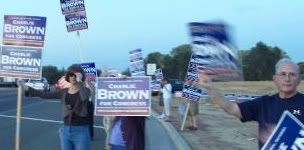 Working people for Brown
*
*
10.29 Lincoln 65 +FR road 7


Ladies and Gentlemen of Lincoln for Brown
*
*
10.29 Lincoln 65 +FR road 6


Jumpin' for Joy for Brown !
*
*
And once McClintock and his crew got past that, they still had to go thru this .
*
*
983_2

The families waiting in line to donate food to the Lions Club, and visit the Haunted Castle House in Lincoln, next to the McBean Pavilion building, Oct 29, 2008.
*
*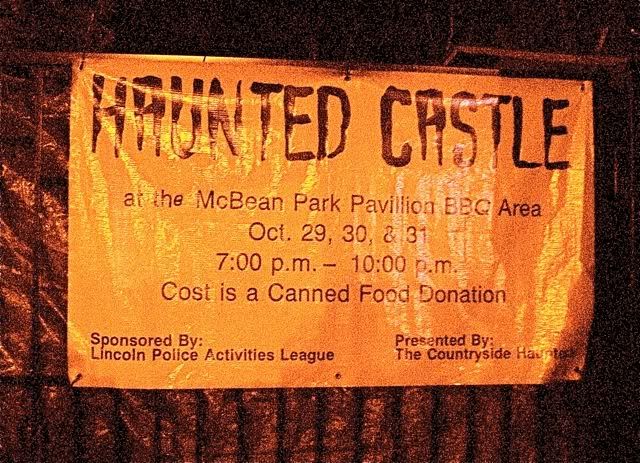 Happy Halloween from Lincoln, CA. The Great Pumpkin has Arrived, Charlie Brown.
*
*
McClintock's bloggers are making bizarre claims about having 3 thousand donors making over $300,000 in donations over the last 10 days- this is bloviating nonsense, his campaign is still in debt, but getting big money from outside the district via independent expenditures. And you should see where some of the dough is coming from, you'd be shocked. Well, maybe not, after all, it's McClintock, running the Doolittle playbook. Remember one of those Indian tribes involved in the Abramoff scandal ? Remember some companies that Doolittle did earmarks for, then they contributed to his legal defense fund? Remember how McClintock makes this stupid dig all the time, about how we can't send somebody to Congress who would implement the same policies as Herbert Hoover ? So what does he do? He takes a big donation off of a old Reaganite who works for the Herbert Hoover Institute.
__
For just one example, on the latest McClintock F6 filing,
http://query.nictusa.com/... there is a 10/27/2008 donation to McClintock of $2000 from the HERGER PAC, which is Congressperson Wally Herger's (R, CA- 02) slush fund. A look at the latest filing of the HERGER PAC show that they just received money from the Credit Suisse Securities PAC, a Swiss Investment Bank. From Opensecrets: http://www.opensecrets.org/...
Here's a list of the individual large donors for Credit Suisse Securities. Note all the New York addresses. http://www.opensecrets.org/...
and from Wellpoint WELLPAC in Indiana. (Wellpoint was based in THOUSAND OAKS CA, which McClintock uses as his current legal residence for collecting per diems from the state of CA- what a coincidence )
This is an HMO health insurance PAC. From Opensecrets: http://www.opensecrets.org/...
Now they're in Indiana. Same business. http://www.opensecrets.org/...
Check the donors to this PAC, they're the executives of this HMO administrator.
http://www.opensecrets.org/...
Foreign investment banks based in NYC and HMO's are giving money to McClintock via Bush enabling Republican Wally Herger. You'll never hear McClintock bragging on this while he's busy playing the "family values" card. He attempts to go to DC not to change anything but to preserve the Republican status quo of NO regulations and more tax cuts. And this is one of the more pedestrian donations. Don't forget Jeff Morris is running against Herger in CA- 02.
So much for all of McClintock's alleged "local support." Here's the pictures. Here's the FEC filings. Undeniable. The polls are the 3rd key. Charlie Brown has the support of the voters. McClintock just has a PR consultant.
__
Now let's not let all the outside the district forces like ex- Congressman Richard Pombo, sworn enemy of the Endangered Species Act, and his PAC/West Communications, a lobbyist group dedicated to the Drill Baby Drill mantra in the Artic National Refuge, buy out our congressional district. Let's keep Charlie Brown on the airwaves for the last 5 days.
Charlie Brown for Congress site http://www.charliebrownforcongress.org
Actblue donation link
http://www.actblue.com/...
___
edited to add more pictures from myself or from N.P.
If you're the AP, bite us.
edited to add links to FEC filings and opensecrets
cross posted at calitics
___
2nd addition: Tomorrow, Friday, Oct 31 Charlie Brown will make his last donation to the Veterans Charity Challenge to Hospitality House of Grass Valley, at 11 am at the Gathering Inn in old Downtown Roseville, 201 Berkeley St. Contact the campaign for more details.