Throughout the general election season, I have been witness to just about every Republican excuse for failure and crackpot reason for hating Obama that can possibly be made:
Obama reversed course on public financing
Obama has the support of the media (except Fox News, of course)
Obama wasn't born in America (See the reactionary, radical Right-wing lunatic fringe on this one. Even Neal Boortz debunks this lunacy)
Obama has 'radical' associations (because Rev. Hagee, Charles Keating, and domestic terrorist/Fox News employee and host Oliver North aren't radical associations - as long as you're a Republican)
Obama is a "socialist", "communist", or "Marxist" (all because he wants to restore the same equity and prosperity for all classes that propelled America to the greatest economic expansion in the history of our country. Those of us in the working class who lived and prospered through the 1990s do not see that time quite the same as conservatives do)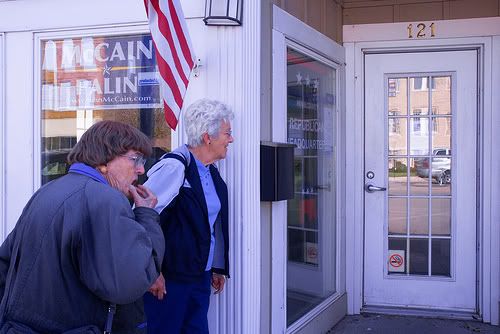 Two McCain volunteers stare at an empty office in Troy, OH. In neighboring Indiana, another battleground state, McCain has ZERO campaign offices and has not made a single campaign stop
You know what they say about excuses. They are like a**holes - everybody has one. The only problem with all these excuses for failure submitted on McCain's behalf is the excuse that Right-wingers are leaving off the list, which will be added as excuse #6:
When he had the chance to lay the foundation for a ground game to compete with Barack Obama, McCain sat on his hands
There you have it, Republicans. For every whining, complaining, delusional excuse offered for the failure of your candidate to push ahead of his Democratic Party opponent, the blame for his inability to mount anything that resembles a ground game in ANY battleground state is McCain's - and McCain's alone.
Consider, as an example, McCain's lack of organization in Ohio and my home state of Indiana. Back on October 11, we reported Nate Silver's account of what he uncovered on the ground in Troy, Oh:
We tried to go to the McCain office just down the street in Troy at noon on Saturday. At the exact moment we arrived, we found two nice elderly women peering inside the locked, closed office. They'd come to volunteer. Unfortunately, McCain's Troy office isn't open on weekends, according to a sign in the window.
24 days til the election.
We also reported Nate's account of the Obama office in that same Ohio town:
The first thing that stands out about the Troy, Ohio Obama field office is its placement. It's right in the heart of town. It catches everyone's attention -- you can't miss it.
The next thing that caught our attention was that, since the office had first opened, 800 different people from Miami County had come through the office's doors to volunteer. There were only 51,760 voters in the entire county in 2004, and a mere 17,606 were Kerry voters. As of the writing of that article, 4.5% of the entire Miami County Kerry vote had walked in the doors to volunteer for Obama.
It wasn't enough that McCain had failed to institute a sufficient ground game to compete in a state as important to his election as Ohio (where Obama now leads by six points according to nearly every state poll there). His failure to open even a single office or campaign in my home state of Indiana turned a once-friendly solid Red state against him. His negative campaign and slimy Johnny-come-lately personal attacks were launched in direct conflict with a more popular Republican, current (and likely to be re-elected) Governor Mitch Daniels.
Daniels has led here by more than double-digits for most of the campaign. However, rather than sit on what some thought would be certain re-election, Daniels launched a relentless radio and television ad campaign that focused very little on his Democratic and Libertarian opponents and more on his economic accomplishments and vision for the state. I cannot remember a single instance when Governor Daniels has spoken with or about John McCain during the general election season. Could this be because Daniels sees McCain's appalling lack of attention to his state and the uselessness of negative attacks in a state where the economy reigns supreme?
This disjointed campaign and nonexistent ground game of McCain's is not limited to Ohio and Indiana. In every Red battleground state - NV, IA, NM, MO, FL, VA, NC, and CO - McCain is fighting for his life to combat Barack Obama's superior organization leading up to Election Day. Most attribute this to Obama's lengthy primary battle with an opponent as strong and considerable as Senator Hillary Clinton (D-NY) - and to be certain, Obama was forced in many respects to initiate his organization during that long and contentious campaign. But McCain's failure to take advantage of his early presumptive nomination (which occurred in March - a full eight months before Election Day) and the three month head start he had to work toward getting settled on the ground not only wasted valuable time that he could acclimate himself with the electorate and those he meant to pull into his column, but it gave his opponent the opportunity to draft staffers and volunteers, set up offices, and re-draw the electoral map in a way that made victory a long-shot proposition for McCain.
And let's be honest here: McCain was arrogantly banking on traditional Republican states like NC, VA, IN, and FL being in his column with little or no (see IN) effort on his part. He never imagined that his opponent, a relatively new Democratic Senator with less than four years in the Senate, could possibly generate the amount of support, excitement, and organization that would ultimately suffocate his campaign. For all the excuses that Republicans have offered for McCain's likely demise on November 4, they would do well to remember that the single most viable explanation for his inability to compete on the ground was McCain's own political incompetence and arrogance - with a little help from the most dynamic and articulate candidate ever to step on stage in a presidential election: Democratic nominee Barack Obama.