In an unassuming house on a quiet suburban street in Columbus, Ohio, is the home base for <drum roll> the Justice League!
OK, well, rather a band of a score or so advocates for change called Vote From Home '08, who've been registering voters since Aug. 1 around Columbus: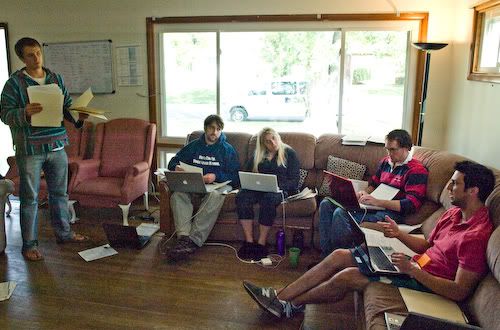 At the close of the registration deadline yesterday, VFH08 had amassed a total of 10,684 registration and absentee forms. A message on the VFH08 website this morning reads:
Sports metaphors are perpetually overused in politics, but today - the last day of registration in Ohio - the Vote From Home team left it all on the field. From an 8am donut handout that yielded 250 last-minute registrations to the final shuttle to the early voting site, VFH fought hard to enfranchise the residents of Franklin County - and by enabling these new voters, enable Ohio and the rest of the country to lead the charge for change.
VFH has held voter registration events all around Columbus, concentrating on black and diverse lower-income areas, reaching voters who in many cases have fallen off the radar. One middle-aged man who had just mailed his absentee ballot for Obama said, "haven't voted since Jimmy Carter--didn't make any difference." An old (before his years?) fellow waved his hand dismissively when I asked if he needed to register. He walked away for a bit but then made a U-turn and said, "how would I go about doing that?"
A free barbeque was sure to attract a good crowd, whether in need of registration or not: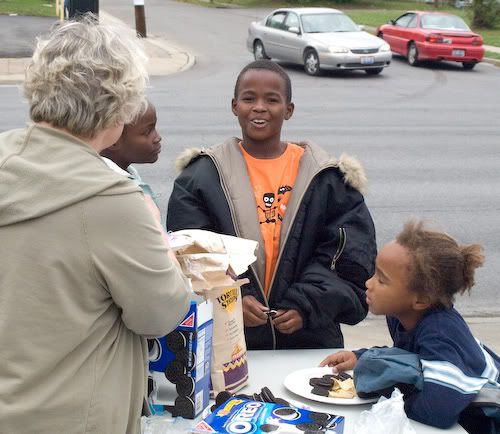 That event was held last Friday, Oct. 3, at the intersection of Cleveland Ave. and Minnesota Ave., in the parking lot of the Linden Resource Center: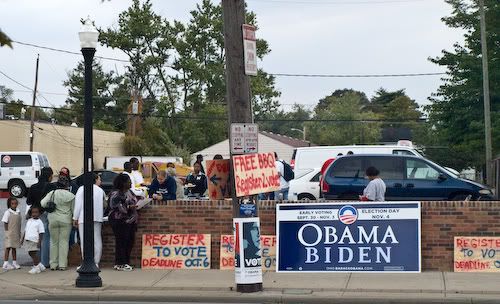 Of course, barbeques attract all types, including some local Obama volunteers who brought a huge Obama-Biden sign (above) and put posters on telephone poles lining Cleveland avenue:
The fellow with the bullhorn kept up a good patter to advertise the event to passing motorists. We also had these fancy signs:
One of the main organizers of VFH, Marc Gustafson, is on the left below:
This is from his capsule bio on the VFH web site:
Marc Gustafson is a graduate of NYU and is now a Marshall Scholar at the University of Oxford. Ten years ago, at the age of 19, Marc co-founded the non-profit organization, Reach the World. RTW's mission is to connect underprivileged students to world travelers via the Internet. For RTW's first journey, Marc captained a 43-foot sailboat on a 2.5 year circumnavigation of the world, while broadcasting his adventures online to students in NYC's disadvantaged schools.
Just down the street was a humorous church marquee:
Of course, many people registered to vote and filled out requests for absentee (vote by mail) ballots:
A small mosque was nearby:
The volunteer is kossack Thunder Road.
VFH is really pushing the idea of early voting by absentee mail-in ballot (thus Vote from Home!). The idea is that all voters who sign up can be entered into a database, and now that the registration window has closed, the team's efforts can switch to follow-up. That is, absentee ballot status for each voter can be tracked online on the Board of Elections website and we can use that information to follow up with voters in the next four weeks before Election Day, the idea being, of course, to make sure that these 10,000+ potential voters actually vote. Hopefully, most of them will do so my mail well in advance of election day, but we will see & gently remind them if not!
There's also the possibility of giving voters rides to the early voting location, which has been open since Sept. 30 and will remain open until Nov. 3. VFH has a number of magnetic signs that magically convert any car (in this case mine) into an early voting taxi: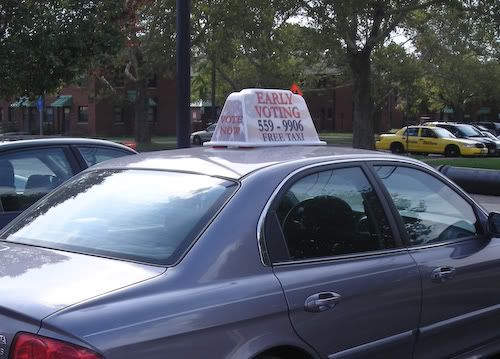 The buildings in the background of that picture are part of Poindexter Village, a low-income housing project that has a storied history in the area. It was one of the first federally-funded housing projects in the country, constructed 1939-40.
Here's a photo from 1940:
The sign reads:
On this site
Poindexter Village
A Low-Rent Housing Project
is being developed by
Columbus Metropolitan Housing Authority
under loan contract with
FEDERAL WORKS AGENCY
United States Housing Authority
Here's the same view today: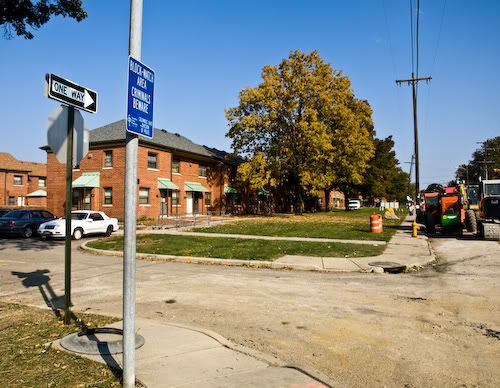 Poindexter Village features prominently in the art of Aminah Robinson, who grew up there 1940-1957. For example: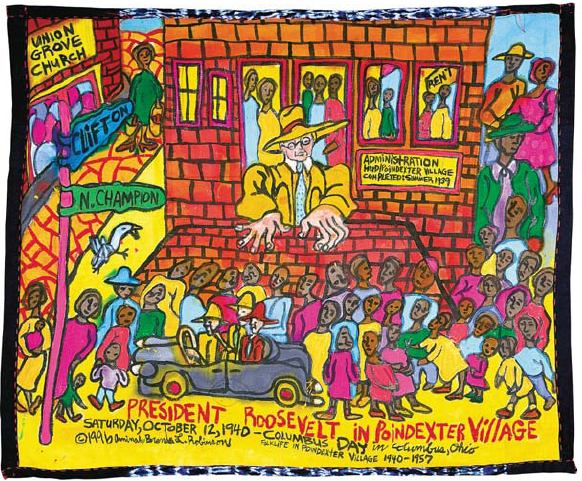 It was built on the site of a shanty-town slum known locally as The Blackberry Patch, where many poor blacks lived who had moved from the South. The painting commemorates a visit by Pres. Roosevelt while on a campaign swing in 1940.
Columbus Dispatch, Oct. 12, 1940

20,000 See Chief Executive On Poindexter Village Trip

[The President] ...drove through Poindexter Village, low-cost government housing project, and talked to officials there...

Successful in restraining downtown crowds, police met greater difficulty at Poindexter Village where they were brushed aside by a great throng that stopped the parade and nearly broke it up.

Spectators pushed secret service men aside and crowded around the presidential automobile. Mr. Roosevelt, in a jovial mood, greeted as many as possible during the 10 minutes the procession was halted...

Without a doubt, it was the BIG day in the brief history of Poindexter Village. There was a brief flurry of excitement some 45 minutes before the president arrived (even by this time there were approximately 7000 persons assembled, principally Negroes, when six youthful Negroes carrying signs "We Want Jobs. No WPA. No Third Term" appeared.

On one side of the street, onlookers grabbed the signs and tore them up. On the other side, W. M. Good, a special policeman for the village, persuaded the boys to lay down their burdens.

As early as 9:30 a.m. preparations were under way for the reception, with some 601 pupils from Mt. Vernon avenue elementary school gathered at the administration building at Champion and Clifton avenues, each carrying an American flag.

Most all of the 426 families in the $2,500,000 community center were out along the sidewalks, and by the time the president's caravan arrived there was an assemblage which some authorities estimated at 25,000 on hand for the visit.
OK, enough digression, but it seemed appropriate in these days of housing crisis and "Second Great Depression" being bandied about.
Flyers for the VFH taxi service are posted in the village community center. We also canvassed door-to-door along the apartment rows. These two young women, age 22 and 20, took advantage of my taxi service to vote (Obama) for the first time ever: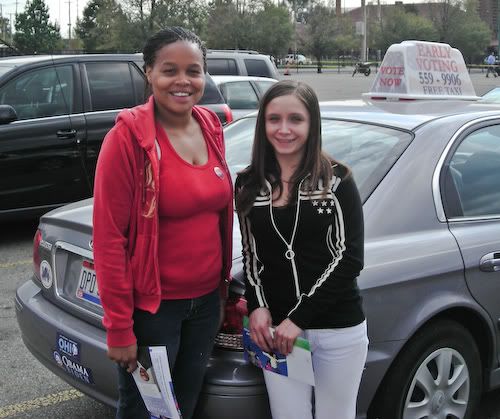 Another day, another barbeque, this time at Joyce & 12th: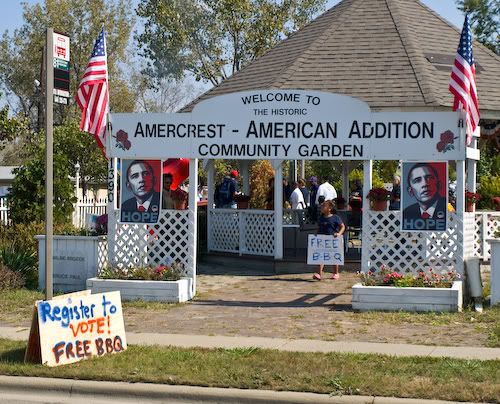 This one attracted a fair number of local residents, as well as some local community organizers, and a cadre of ward heelers from SEIU, investigating what was happening on their turf & enjoying the food. Gotta love the old school!
Too young to vote, but not too young to pitch in: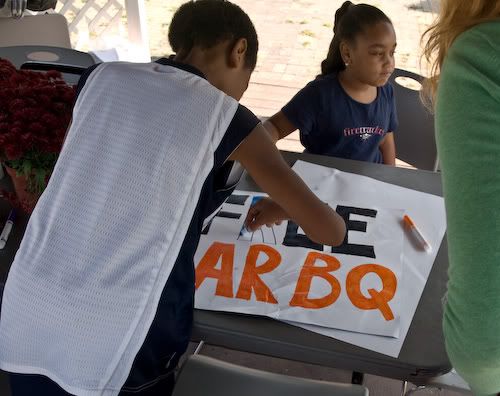 Here's a mural on the nearby community center: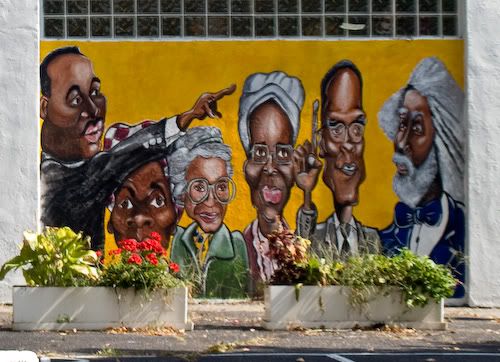 They unfortunately turned away from the camera, but this lady is sporting Obama-button earrings made by Frankie Coleman, wife of Columbus Mayor Mike Coleman: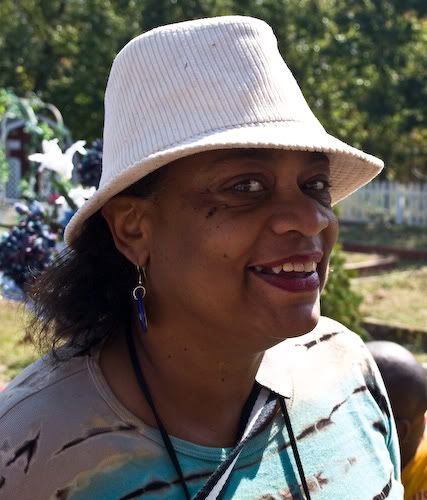 Back to data entry: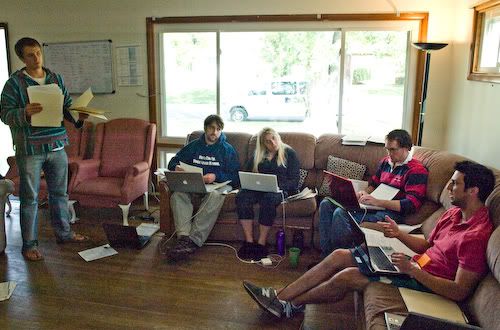 Still a ton of work to do following up on the new registrants. Donate to the cause if you can!