There were so many tears of happiness last night and this morning. When Keith Olbermann declared the race for Obama, I just burst into tears. I think I'm still in shock that we actually did it and Americans actually stood up and said they wanted a change in this country. It will take a few days to sink in, but I'm so proud to be a part of this movement. We have given President-elect Obama quite a mandate and I'm so excited to think of what we can accomplish starting in January.
Today, I have reaction from newspapers in the United States and around the world reacting to Obama's overwhelming victory.
From The Sun (UK) with the headline Obama's army ready to party: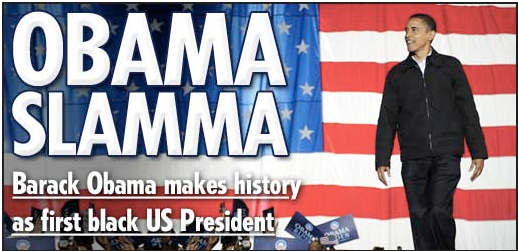 The rookie Senator smashed Republican rival John McCain as he made history with a landslide victory. Democrat Obama will become the 44th United States President after romping past the magic 270 votes needed to secure the White House in the early hours.
::::::
On a dramatic election night that will reshape US politics, Obama took an insurmountable lead by grabbing key states Ohio and Pennsylvania and needed only certain Democratic pickups to be reach the 270 electoral votes needed for victory.

Tens of millions of people had earlier stood in long lines to cast votes with America locked in a moment of deep crisis, mired in the worst financial meltdown since the 1930s and waging two foreign wars in Iraq and Afghanistan.
::::::
::::::
The 47-year-old Illinois senator was propelled to victory after reshaping the U.S. electoral map, with voters in every region of the country embracing his call for sweeping change. Mr. Obama captured states that had long or recent histories of voting Republican -- from the Midwestern heartland of Ohio and Iowa to Virginia, the old capital of the Confederacy, to Florida, the state which broke Democratic hearts eight years ago.
:::::::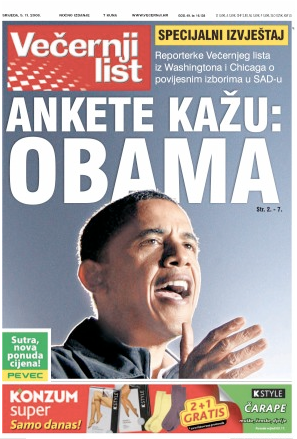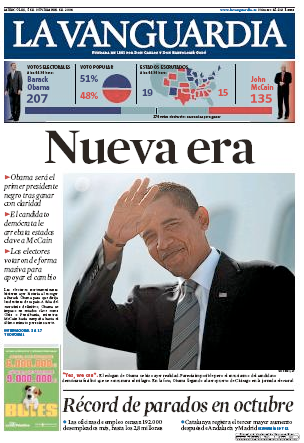 ::::::
But wonder is almost overwhelmed by relief. Obama's election offers most non-Americans a sense that the imperial power capable of doing such good and such harm — a country that, they complain, preached justice but tortured its captives, launched a disastrous war in Iraq, turned its back on the environment and greedily dragged the world into economic chaos — saw the errors of its ways over the past eight years and shifted course.

They say the country that weakened democratic forces abroad through a tireless but often ineffective campaign for democracy — dismissing results it found unsavory, cutting deals with dictators it needed as allies in its other battles — was now shining a transformative beacon with its own democratic exercise.
::::::
The Washington Post Editorial board:
BARACK OBAMA, 44th president of the United States: Like so many millions of Americans, we savor the phrase, and congratulate the winner, and celebrate the momentousness of the occasion. It is momentous for the generational change it heralds, the geographic realignment it reflects and the racial progress it both acknowledges and promises. Most of all, Mr. Obama's victory is momentous for the opportunity it presents to put the country on a new and better path.
::::::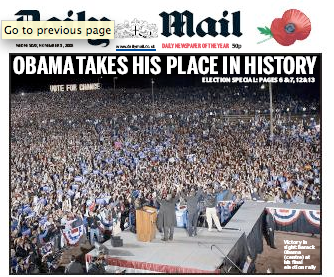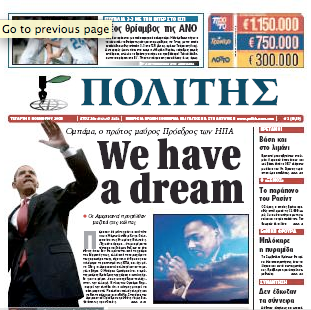 ::::::
The New York Times Editorial board:
His triumph was decisive and sweeping, because he saw what is wrong with this country: the utter failure of government to protect its citizens. He offered a government that does not try to solve every problem but will do those things beyond the power of individual citizens: to regulate the economy fairly, keep the air clean and the food safe, ensure that the sick have access to health care, and educate children to compete in a globalized world.
::::::
"We have a righteous wind at our back," Obama proclaimed in the closing days of the campaign. It turned out to be a gale-force wind. He won decisively with more than 350 electoral votes and 51 percent of the popular vote, the first time a Democrat has achieved a majority of the popular vote since Lyndon Johnson in 1964. Obama won among women, who are 53 percent of the electorate, by 14 points. He inspired a host of new voters and young voters, who helped make him the first post-baby boomer president. They all call him Barack, and he responded by texting them on victory night: "All of this happened because of you. Thanks, Barack."
::::::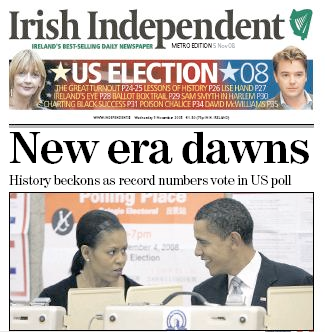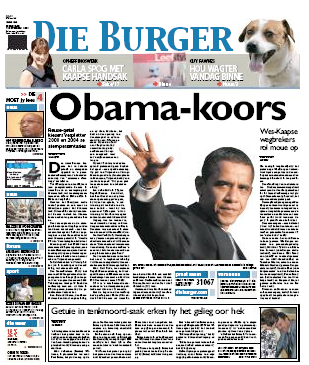 ::::::
For all the wild celebration in Chicago, there were quieter moments that captured the full weight of history.

Former U.N. Ambassador Andrew Young, a veteran of protests in Selma, Birmingham and other racial flash-points, was among hundreds of black Atlantans who crowded the pews for an election-watch party at the Rev. Martin Luther King's Ebenezer Baptist Church. When CNN called the state of Pennsylvania, an early harbinger, Young pulled out a handkerchief and dabbed away tears.
::::::
The Philadelphia Enquirer Editorial board:
Today, the rest of the world can see that America is reaching its ideal as the land of opportunity for all - regardless of ethnicity.
::::::
Barack Obama earned his ticket to the Oval Office by running a technically near-flawless campaign, dominating three debates and picking a vice president, Joe Biden, worthy of the office. It was, of course, Ronald Reagan's slogan, but as the sun comes up Wednesday on a land that has dramatically turned away from the Bush-Cheney years, it will feel for tens of millions like "morning in America."
::::::

::::::
More newspaper front pages in Zain's recommended diary.
::::::
What did you think of McCain's concession speech? I thought he was very gracious... which is more than I can say of his supporters in the audience.
There are quite a few races that are still too close to call, including the MN and OR Senate races and Georgia is still in play as well. Anyone have any new news on those? There was also a very disappointing aspect of last night's election - Amendment 2 in Florida and Proposition 102 in Arizona both passed, and Proposition 8 has not been called yet. We still have a lot of work to do to ensure equality for all.
Thank you all for supporting and encouraging me in these diaries. I think I'm far too engaged to give up Morning Reaction now, so I plan to continue writing these diaries to document the media reaction to the transition and eventually, the Obama presidency. We will still have a lot of work to do!