Dharma Version: Debunking RedState America -v.2008.




(Credit: University of Michigan)

















What happened to this map????? All is answered after the fold!
(Hint: It's Cool Map thingy time! ;) )
Two plus years ago, I wrote a diary Debunking the Myth of RedState America.
Whoever said a picture is worth a thousand words wasn't kidding. In 2004 Kossacks and the world waited anxiously for the U.S. Presidential results. And no matter where you viewed them, it's almost certain you saw a map like this one.
As you probably know, maps like this (and the even more distorted county map, right) paint an unfair picture of the political demographics of the United States. Republicans and the traditional media exploited these maps to spread lies and deceptions about the size of the Republican "victory" and the "mandate" they didn't actually earn.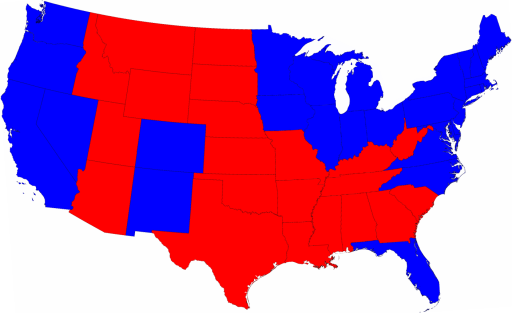 The 2008 map is also flawed in overstating Republican strength.
So why are these maps wrong and how do they distort reality? The answer is that they give a geographical representation of statistics that are actually about people, and give an appearance of Republican strength that's vastly over-rated.






A quick look at a simple population map of the U.S. (1 dot = 7500 people) shows why - a large portion of Republican "strength" is actualy in the least populated portion of the country.
Or to put it more simply - large geographic areas with small population don't really equate to votes!
To overcome this bias in the maps, we use a cartogram, which changes the size of a state to represent its population. (huh?)




Looking at this map it gives the impression that the Republicans won the election handily, since there is rather more red on the map than there is blue. In fact, however, the reverse is true – the Democrats won by a substantial margin. The explanation for this apparent paradox, as pointed out by many people, is that the map fails to take account of the population distribution




We can correct for this by making use of a cartogram, a map in which the sizes of states are rescaled according to their population ...

On such a map, for example, the state of Rhode Island, with its 1.1 million inhabitants, would appear about twice the size of Wyoming, which has half a million, even though Wyoming has 60 times the acreage of Rhode Island.





Larger version:
America
Is
Blue,
Baby!!!
















We should all take pride in the blu-ing of America.
Now let's go out and advocate with progressive voice to our friends in Congress and (soon to be) in the BlueWhite House!
:: ::
Credits:
The above are the best cartograms and explanations I've found - from the Department of Physics and Center for the Study of Complex Systems at the University of Michigan and cited under a Creative Commons License. Many thanks to U of M's Michael Gastner, Cosma Shalizi, and Mark Newman.