Many of my friends found themselves in awe the past few days. In awe of the fact that this nation has elected it's first black commander in chief, but also in awe at its continued penchant for bigotry.
"Thousands Protest Over Prop 8, LAPD on Tactical Alert"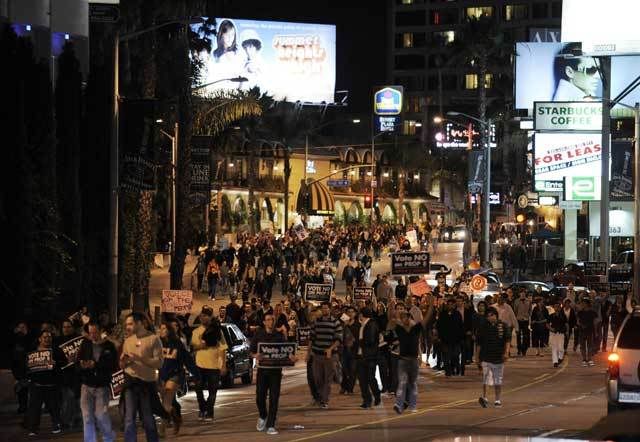 George Takei, one of the most visible gay Asians-Americans today, was one of the few Americans able to articulate their frustrations so soon after these humiliating defeats for the LGBT movement:
Best known for his role as Mr. Sulu on "Star Trek," Takei on Wednesday was disappointed but philosophical about California voters' decision to yank that right by passing a constitutional amendment restricting marriage to heterosexual couples.

"There are going to be heartbreaks, setbacks and sacrifices to be made," he said, "but we will soldier on."
Indeed we will soldier on...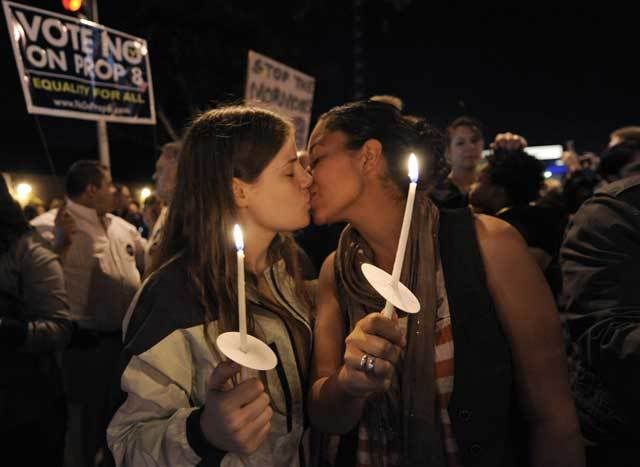 You may write me down in history
With your bitter, twisted lies,
You may trod me in the very dirt
But still, like dust, I'll rise.

Does my sassiness upset you?
Why are you beset with gloom?
'Cause I walk like I've got oil wells
Pumping in my living room.
From the darkest moments of the LGBT rights movement have risen the greatest coming together of our community. If victories make us complacent, it is our defeats that rally us to a new level of community and activism. We stood up after mortal blows from Anita Bryant pushing her anti-gay vitriol in Florida. We rallied to the bedside of Matthew Shephard in his family's time of tribulation. More recently, we re-committed our vows to protect our youngest members in the wake of the murder of Lawrence King by a fellow classmate. In the wake of the passage of Prop 8, we see now and will see another historic re-awakening of our community.
Just like moons and like suns,
With the certainty of tides,
Just like hopes springing high,
Still I'll rise.

Did you want to see me broken?
Bowed head and lowered eyes?
Shoulders falling down like teardrops.
Weakened by my soulful cries.
Our temporary defeat only makes our eventual and inevitable victory all the more sweeter and cherishable. We are millions of human beings who love, mate, embrace, parent, mentor and live. The only difference is our non-heteronormativity.
Does my haughtiness offend you?
Don't you take it awful hard
'Cause I laugh like I've got gold mines
Diggin' in my own back yard.

You may shoot me with your words,
You may cut me with your eyes,
You may kill me with your hatefulness,
But still, like air, I'll rise.
To every hurt soul out there, prop 8 is not your future. Your future is happiness, your future is community, YOUR FUTURE IS THE OPTION TO START A FAMILY OF YOUR OWN. Your future can be wedding vows. Your future can be love. Your future can be all those annoying things married couples complain about. Your future is not defined by the forces of the past, the forces behind Prop 8. Your future is the only age demographic that opposed Prop 8, those 18-29 years old.
Does my sexiness upset you?
Does it come as a surprise
That I dance like I've got diamonds
At the meeting of my thighs?

Out of the huts of history's shame
I rise
Up from a past that's rooted in pain
I rise
I'm a black ocean, leaping and wide,
Welling and swelling I bear in the tide.
We're going to continue the struggle because a wise human once said, the arc of the moral universe is long, but it bends toward justice.
I am motivated and energized by our TEMPORARY setbacks.
Conservatives are on the wrong side of history.
My fellow progressives, just remember:
They once fought us on women suffrage, yet on Nov. 4th we had the highest women voter turnout in 90 years.
They once fought us on interracial marriage, and love prevailed.
They once fought us on segregation, and now we have a black President.
They fight us now on marriage equality, but one day I will marry the man of my life.
They demean our relationships, but one day I will adopt my 1st child.
They call us immoral, but one day a Hindu priest will consecrate my committment to my future husband.
They will fight us, but we will always prevail.
It may still be dark, but morning in America is always a few moments away.
Leaving behind nights of terror and fear
I rise
Into a daybreak that's wondrously clear
I rise
Bringing the gifts that my ancestors gave,
I am the dream and the hope of the slave.
I rise
I rise
I rise.
Featured Poem: "Still I Rise" by Dr. Maya Angelou