File this one under YGTBFKM (you've got to be f*cking kidding me).
Yup, he's back, two time-loser and major nutjob and Presidential candidate Alan Keyes, his American Independence Party (AIP) and his "running mate, vice-presidential candidate Wiley S. Drake yesterday filed suit in California Superior Court in Sacramento seeking to bar Secretary of State Debra Bowen from certifying to Governor Arnold Schwarzenegger the names of Electors, and from transmitting to each presidential Elector a Certificate of Election, until documentary proof is produced and verified showing that Senator Obama is a "natural born" citizen of the United States, and does not hold citizenship of Indonesia, Kenya or Great Britain.
In addition, they have asked that the court issue a peremptory writ barring Senator Obama's California Electors from signing the Certificate of Vote until such documentary proof is produced and verified.
Geez...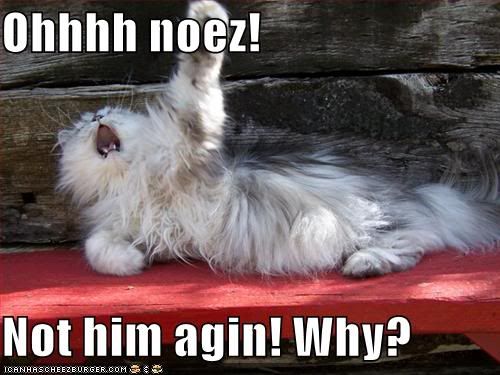 Former Reagan administration official Ambassador Alan Keyes and Wiley S. Drake were the 2008 presidential and vice-presidential nominees of the American Independent Party, which is the California affiliate of the new national America's Independent Party.
Mission Viejo, California attorney Dr. Orly Taitz and United Justice Foundation Executive Director Gary Kreep are representing the plaintiffs in this case.
(Check the Kreep link - his name suits him)
Excerpt from the suit:
74. A press release was issued on October 31, 2008, by the Hawaii Department of Health by its Director, Dr. Chiyome Fukino. Dr. Fukino said that she had "personally seen and verified that the Hawaii State Department of Health has Senator Obama's original birth certificate on record in accordance with state policies and procedures." That statement failed to resolve any of the questions being raised by litigation and press accounts. Being "on record" could mean either that its contents are in the computer database of the department or there is an actual "vault" original.

75. Further, the report does not say whether the birth certificate in the "record" is a Certificate of Live Birth or a Certificate of Hawaiian Birth. In Hawaii, a Certificate of Live Birth resulting from hospital documentation, including a signature of an attending physician, is different from a Certificate of Hawaiian Birth. For births prior to 1972, a Certificate of Hawaiian Birth was the result of the uncorroborated testimony of one witness and was not generated by a hospital. Such a Certificate could be obtained up to one year from the date of the child's birth. For that reason, its value as prima facie evidence is limited and could be overcome if any of the allegations of substantial evidence of birth outside Hawaii can be obtained. The vault (long Version) birth certificate, per Hawaiian Statute 883.176 allows the birth in another State or another country to be registered in Hawaii. Box 7C of the vault Certificate of Live Birth contains a question, whether the birth was in Hawaii or another State or Country. Therefore, the only way to verify the exact location of birth is to review a certified copy or the original vault Certificate of Live Birth and compare the name of the hospital and the name and the signature of the doctor against the birthing records on file at the hospital noted on the Certificate of the Live Birth.
In response to questions about why the suit was being filed, "Ambassador" Keyes commented,
"I and others are concerned that this issue be properly investigated and decided before Senator Obama takes office. Otherwise there will be a serious doubt as to the legitimacy of his tenure. This doubt would also affect the respect people have for the Constitution as the supreme law of the land. I hope the issue can be quickly clarified so that the new President can take office under no shadow of doubt. This will be good for him and for the nation."
Oh give it up already.
Keys and his nutjobs are, simply not going to back down. Obama is going to face this crap throughout his presidency. It's a sad statement on the far right extremists who still refuse to legitimize the Obama presidency.
So do we care? Well, I'd like to see someone tell Keyes to his face that he ought to just crawl back under his rock, but I suppose no one will.
Who knows, maybe Keys and Palin can get together on a ticket for 2012. It would be a match made in heaven - for us!