Here's a map of the presidential vote in Cuyahoga County (Cleveland) Ohio:
Open this file in Google Earth to zoom in on any neighborhood:
Cuyahoga County presidential vote -- Google Earth KML file
Obama precincts have blue placemarks, McCain red. Precincts with more than 80% Obama support are marked with a star, likewise precincts with more than 60% McCain support are starred.
Cleveland is a largely segregated racially, and Obama's main support predictably comes from the largely black precincts on the east side of Cleveland. Here's a census map for reference: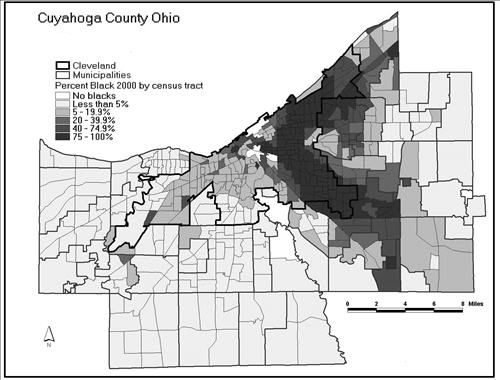 Other blue areas are blue-collar Parma and the university areas such as University Heights, Mayfield Heights, Richmond Heights, Brooklyn Heights, etc.
Here are some more detailed views:
more...
West:
East:
Beyond presidential preference, it'd be interesting to look at turnout stats by precinct, but maybe it's best to wait until all provisional ballots are counted to do that analysis.
When social issues are on the ballot as was the case in 2004 in Ohio (e.g., gay marriage ban, smoking ban) it can be very interesting to see how these issues cut across the usual Democratic/Republican picture. This time there were a couple of statewide issues with a social component, so to speak:
*Issue 6: to allow casino gambling in Ohio
*Issue 5: to restrict the interest rate charge by payday lenders
The casino gambling issue failed statewide, 62-38 against. The payday lending curb, capping the interest rate at 30%, passed 64-36.
One curious thing in my experience--during the early voting period (Sept. 30-Nov. 3) and on election day itself I worked with a group that gave rides to the polls. Being generally people without cars, most of my rides were poor people, usually black but not always, and a large majority of them were in favor of casino gambling and against the payday lending curb (we'd usually talk politics all the way to the polls and back). That's ironic given that the payday lending curb and voting no on gambling were generally pitched as being votes to protect poor people from themselves. But the poor people themselves had a different view.
This is borne out somewhat in the Cuyahoga precinct results: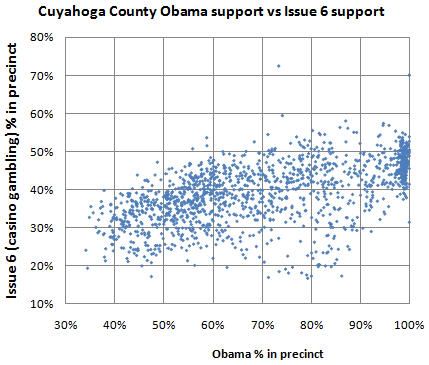 So as Obama support goes up, support for casino gambling generally goes up. The cluster of points on the right, at 95%+ Obama support, represents the largely black precincts on Cleveland's east side. Taking just the relatively few precincts where the casino issue actually prevailed: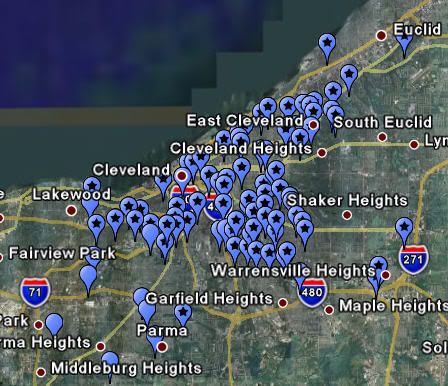 So that's mostly on the east side of Cleveland.
As a contrast, take the case of precincts with high Obama support (>70%) but low support for casino gambling (<35%):</p>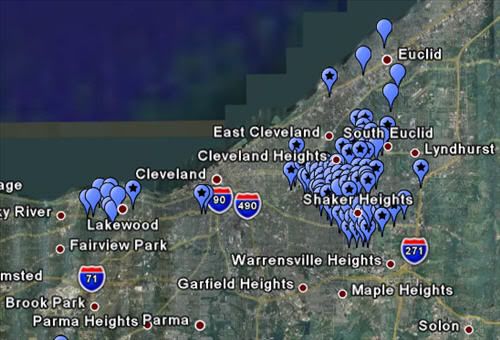 Those are generally white, liberal precincts.
Issue 5 also showed a similar effect of poor folks bucking the trend: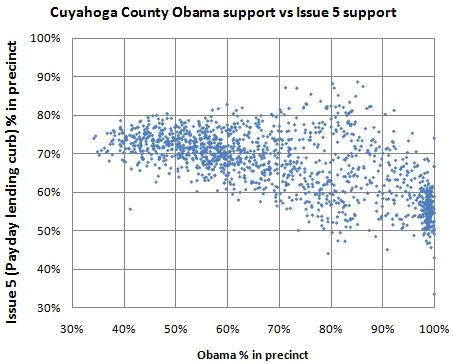 So again the people supposedly most victimized by predatory payday lenders were the least likely to vote to limit their interest rate. By the way, the precincts voting more than 80% for the interest rate cap were again the white liberal precincts, who evidently know better than the poor people what's good for them!
Combining the two issues gives this relationship: