Disturbing news out this morning from the Washington Post, showing that the number of Americans needing assistance from the Simplified Nutrition Assistance Program (i.e., food stamps) will reach its highest level ever this month. This comes on the heels of the USDA reporting last week that 12.2% of all Americans struggled with hunger in 2007 (goodness only knows the number will be much higher in 2008).
Also, Thomas Frank points out why ridiculous amounts of federal outsourcing are bad and Napolitano posts some really impressive approval ratings in Arizona (take that Sarah Palin!).
Just the kind of headline you want to see right before the holidays (not that you would want to see it any other time of the year either). The Washington Post this morning reports that the number of Americans requiring food stamps will likely reach its highest level ever (exceeding 30 million people) this month:
Food pantries and other charitable organizations are also reporting an increase in demand from those in need. Visits to local pantries are up by 20 to 100 percent over the past six months, and calls to the Capital Area Food Bank's hunger hotline have jumped 248 percent. Most are from people who have never used food stamps or a pantry before, said Lynn Brantley, the organization's president and chief executive.
And the problem is compounded because the current Simplified Nutrition Assistance Program benefits are not covering the rising cost of food:
Food stamp benefits are adjusted for inflation only once a year, and as of September, the maximum benefit fell $64 a month short of the cost of the thriftiest, USDA-established diet for a family of four.
Just to refresh your memory about the requirements:
To qualify for the food stamp program, whose name was officially changed last month to the Simplified Nutrition Assistance Program, recipients must have an income below 130 percent of the federal poverty level, or less than $27,564 for a family of four.
30 million people. In the richest country in the world. It's truly a disgrace. Obama has indicted that he will increase food stamp benefits in the stimulus package he wants to approve as soon as he takes office. Beyond the benefits it provides to recipients, the Simplified Nutrition Assistance Program also help stimulate the economy. The Washington Post reports that Moody's Economy.com estimates that for every $1 the government spends on food stamp benefits, it generates $1.73 of fiscal activity.
::::::
This latest story from the Washington Post comes on the heels of a report issued last week by the USDA detailing that 12.2% of Americans struggled with hunger, including hundreds of thousands of children in 2007.
Meteor Blades highlighted this story on an open thread and OrangeClouds115 wrote a great diary about it as well.
::::::
This is a problem that is affecting Americans of every background who live in every region of the country. In Cherokee County, NC there has been a 45% increase in requests for food stamps over this time last year. The Bristol Good Neighbors Soup Kitchen in Rhode Island has also seen a dramatic increase in families requesting groceries:
"We're getting so many new people these days," said Janet Stephenson, who has been director of the Hope Street soup kitchen for four years. "There are new faces coming in, not just the regulars."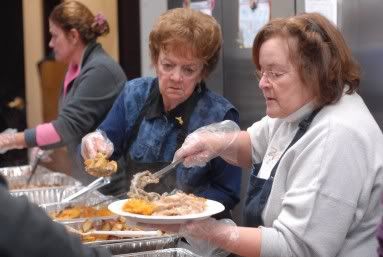 (Photo by Richard W. Dionne Jr)
::::::
Food banks are struggling because donations are not matching up to the increased demand:
Nationally, donations are up about 18 percent, but demand has grown by 25 percent to 40 percent, said Vicki Escarra of Feeding America, the nation's largest hunger-relief charity. Feeding America, formerly called America's Second Harvest, has a network of 206 food banks that supplied food to more than 25 million people a year before the recent surge.
The San Antonio Food Bank is a prime example of how quickly demand is increasing as the economy worsens:
Pleas for help always spike before the holidays. But this year is different. This year, a number of callers and visitors fit an unusual profile: College-educated, suburban professionals — suddenly unemployed.

Social services manager Yvonne Vaughan hasn't seen anything like it in five years at the food bank. "I have a lot of calls from people in the banking industry," she says. "There's a lady in the office now who says, 'I have a degree in the medical field. I'm on food stamps and I can't make ends meet.'"
::::::
If you're not already involved with your local food bank or want to know how you can donate or volunteer, Feeding America is a great resource.
::::::
Some other headlines from this morning. Obama's green priorities are praised by the editorial board of the Asahi Shimbum (Japan):
Obama's economic strategy represents a complete reversal of the economic policy of President George W. Bush, who has turned his back on various efforts to stop harmful climate change, contending they would hinder U.S. economic growth.

Such a radical policy change by the nation that spews out more carbon dioxide into the air than any other country on this planet would be a boon to international negotiations for a new framework on cutting greenhouse gas emissions. The framework will replace the current one under the Kyoto Protocol in 2013 after the 1997 treaty's commitment period ends in 2012.
and:
It is time for all countries of the world, not just the United States, to undertake their own versions of the Green New Deal.
::::::
Who can spot the error in this headline, from the New York Times?
Obama and Bush Working to Calm Volatile Market
A more accurate headline would be Obama and Bush Aides Working... or Obama and Bush Administration Officials Working. Bush is not doing much of anything right now, let alone working to calm volatile markets.
::::::
A few days ago we were talking about the explosion of federal contracts under the Bush administration. In today's Wall Street Journal, Thomas Frank explains why that's such a problem:
Government by contractor also makes government less accountable to the public. Recall, for example, the insolent response of Erik Prince, CEO of Blackwater, when asked about his company's profits during his celebrated 2007 encounter with the House Oversight Committee: "We're a private company," quoth he, "and there's a key word there -- private."
::::::
But I thought Sarah Palin was the most popular governor in America?
An Arizona State University poll conducted Nov. 20-23 with 780 registered voters found Napolitano received favorable ratings of 81% of the 95% who knew enough about her to rate her job performance.
Am I the only one that thinks Arizona needs to have a Lt. Governor? It's ridiculous to me that the Arizona people elected a Democrat to be their governor and a Republican Secretary of State whose policies stand in (very) stark contract will take over. Dumb, dumb, dumb.
And some Arizona Democrats are so desperate to keep Jan Brewer out of the governor's office that they are urging Obama to appoint her as an ambassador or something similar to get her out of Arizona.
::::::
So what's on your mind this morning?