49 states get Fs in college affordability in a new report out by the National Center for Public Policy and Higher Education. Some disturbing statistics about rising tuition costs that - like everything else - are not keeping pace with incomes. Given the fact that a community college costs 49% of the poorest families' median income, are we finally getting to the point where we can say enough is enough?
Also, reaction to the governor's meeting and Bill Richardson's appointment.
And, a mystery is haunting the streets of Paris. Who is behind... "SarkObama?"
The New York Times highlights a new report from the National Center for Public Policy and Higher Education, which explains that higher education is rapidly moving out of reach for most Americans:
The report, "Measuring Up 2008," is one of the few to compare net college costs — that is, a year's tuition, fees, room and board, minus financial aid — against median family income. Those findings are stark. Last year, the net cost at a four-year public university amounted to 28 percent of the median family income, while a four-year private university cost 76 percent of the median family income.

The share of income required to pay for college, even with financial aid, has been growing especially fast for lower-income families, the report found.

Among the poorest families — those with incomes in the lowest 20 percent — the net cost of a year at a public university was 55 percent of median income, up from 39 percent in 1999-2000. At community colleges, long seen as a safety net, that cost was 49 percent of the poorest families' median income last year, up from 40 percent in 1999-2000.
Since 1982, college tuition has risen 439%, while median family income has only risen 147%. The report also gave Fs on affordability to 49 states. And, of course, college is not the only cost that has risen. Families must also deal with rising costs of food, gas, health care and housing. Definitely disturbing to read that a year at a community college costs as much as 49% of the poorest families' median income. How much should an American family have to pay to send a child to college? How much debt should young people have to assume in order to pay for higher education?
::::::
The report also details that the United States continues to fall behind the rest of the world when it comes to higher education:
The U.S. has fallen behind Korea, Poland and Ireland in the percentage of young adults enrolled in college, and higher education is becoming more costly for American students, according to a report.
::::::
Many governors - even Republican ones - are reacting positively to Obama's meeting yesterday, Politico reports:
"It was a very productive meeting," recounted Utah Gov. Jon Huntsman. "Kind of like the days they used to meet in this grand old building," he said, alluding to the home of Congress when Philadelphia served as the nation's capital at the end of the 18th Century. "It was very much a working session, with brainstorming – which is so rare in the upper echelons of politics these day which are so staged and scripted."
::::::
Bill Richardson is expected to be announced as Obama's Commerce Secretary today. A group of Chinese-Americans in California is organizing to oppose his nomination, according to the San Jose Mercury News:
The group is upset at the New Mexico governor for his handling of the nearly decade-old case of Taiwanese-American Wen Ho Lee, a former nuclear scientist at Los Alamos National Laboratory. U.S. officials once suspected Lee of giving nuclear secrets to China when Richardson was President Clinton's energy secretary.

The Chinese-Americans say they realize that challenging the nomination of Richardson, 61, the nation's most high-profile Hispanic politician, will ruffle the Latino community, many of whose leaders felt he should have been named secretary of state instead of Sen. Hillary Clinton.

But the Chinese-American group insists that Richardson's refusal to acknowledge making serious errors in the case makes it a moral imperative to oppose his nomination to Obama's Cabinet. They say their criticism of Richardson has nothing to do with him being Latino but everything to do with his lack of judgment in the case.
Meanwhile, Latino groups are making clear that they want more Latino nominees in the Cabinet. Joe Baca, the chairman of the Congressional Hispanic Caucus, says he will be "disappointed" if Richardson is the sole Latino in the cabinet. I doubt that would be the case, as there are many Latinos under consideration for cabinet positions that have not yet been named. The Philadelphia Inquirer reports that Nelson Diaz, a former Judge who served in the Clinton administration, is under consideration for Housing and Urban Development.
::::::
The Hill examines the implications for Republicans after Senator Mel Martinez decided not to seek reelection:
Still, the fact that the GOP exodus is continuing just one month after the 2008 election is bad news for Republicans, with their deficits in both chambers appearing insurmountable in the near term and 30 House members and six senators already having retired last cycle.

For a Democratic Party aiming for 60 seats-plus, things are heading in the right direction: Martinez is the second GOP senator to step aside for the 2010 cycle, joining Sen. Sam Brownback (Kan.).
Faux News is reporting that Jeb Bush is seriously considering running for the seat in 2010. Two years as a Senator to set him up for a run for the Presidency in 2012? Nah... even Jeb Bush must be smart enough to know that there is no way another Bush will be in the White House anytime soon.
The Miami Herald names Florida Chief Financial Officer Alex Sink the "most formidable" candidate on the Democratic side. So will this race become one of our primary battlegrounds in 2010?
::::::
Sorry, Patch - it looks like former Oregon governor John Kitzhaber will not be the new Secretary of the Interior:
Former Oregon Gov. John Kitzhaber says it's "extremely doubtful" he'll be picked to be interior secretary in the Obama administration.
When asked who he thought would be a good candidate, he specifically mentioned Grijalva. Interesting, no? Makes me think it even more likely that maybe Grijalva will be nominated for the position. And look, even John Nichols approves!
::::::
Daniel Scheschkewitz, columnist for the German newspaper Deutsche Welle, has praise for Obama's national security picks:
"Safety first" is what President-elect Barack Obama is going for. His choices for secretaries of state and defense (US Senator Hillary Clinton and US Defense Secretary Robert Gates respectively) as well as his new national security advisor (former NATO commander James Jones) are proof of a smart security policy that's based on competence and that's consensus-oriented.

It's a policy that cleans up the Bush legacy, but that also attaches the kind of priority to national security policy that it deserves.
Other European papers had a similar reaction.
::::::
Amy Goodman of Democracy Now looks at James Jones' relationship with Chevron:
Chevron has already sent one of its directors to the White House: Condoleezza Rice. As a member of that California-based oil giant's board, she actually had a Chevron oil tanker named after her, the Condoleezza Rice. The tanker's name was changed, after some embarrassment, when Rice joined the Bush administration as national security adviser. So now Chevron has a new person at the highest level of the executive branch.
I'm generally reserving judgement on Obama's administration picks until I see how they perform and whether they carry out his agenda, but I'm certainly not too thrilled that Obama's national security advisor is also a director at Chevron. Even if he has been a critic of some of Bush's policies.
::::::
Can anyone tell me why on earth Rush Limbaugh is one of the most fascinating people of the year?
::::::
Here's another reason to never listen to anything Drudge is hyping. That ridiculous Obama is buying a $30k ring for his wife story that Drudge and other right-wingers were trying to push? Yeah, not true (as if you needed any confirmation):
But there's no truth to the report, said Obama spokesman Dan Pfeiffer.

The rumor began overseas and made the rounds of American blogs, including the Drudge Report.
::::::
Funny headline of the morning - Paris gripped by 'SarkObama' poster mystery:
Suspecting a pro-Sarkozy publicity stunt, French news website L'Express has launched a reader appeal to try to identify the poster gang, who responded with a trail of online clues.

They have posted photo galleries of themselves -- faces masked behind the "SarkObama" images -- plastering the posters at emblematic sites across Paris, on the file sharing websites FlickR and Dailymotion.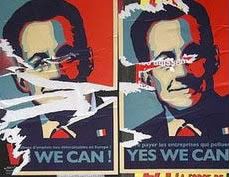 Kinda creepy with the eyes gone, but I had to laugh at "SarkObama." Doesn't exactly roll of the tongue, does it?
::::::
Well, I was disappointed Chambliss won, but I knew it would be an uphill battle for Martin. The Senate would be far better off without Chambliss, but at least he is in the minority. What's on your mind this morning? Any reactions to Richardson?