So you may be sick of the "shoe incident" by now, but as I was scanning newspaper front pages this morning, I had to admit that this certainly was the picture seen around the world.
Also, reaction from the close of the climate change conference in Poznan and Obama is poised to announce his energy and environmental team today, but it looks like that does not include the Secretary of the Interior.
And, the founder of Craigslist offers his suggestions for Obama's "craigslist for service."
I don't really want to get into an argument about whether it was right or wrong for the Iraqi journalist to throw shoes at President Bush. It looks like there are a bunch of diaries on the list right now to do that. But, a quick glance at newspaper front pages this morning illustrates that the world is definitely reacting to this story: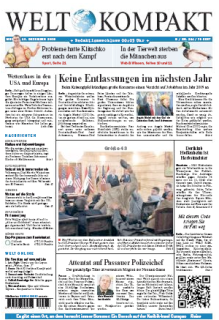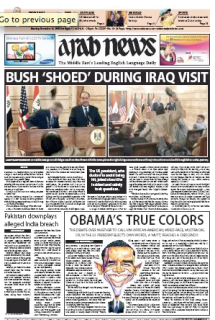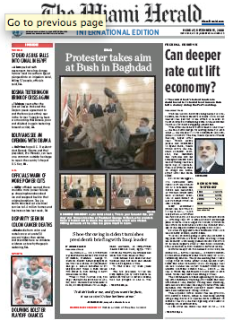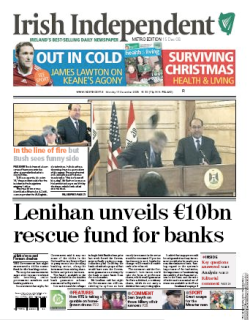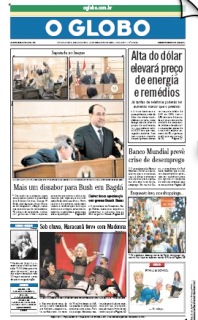 It does seem rather symbolic that this would happen on what is (I assume) his last trip overseas as President. My first thought when watching the video was similar to Josh Marshall:
On a totally unrelated note, I was genuinely impressed by the president's quick ducking response. In all seriousness, if you watch the video, the guy was extremely close to the president (maybe fifteen feet?). He threw the shoe very hard and very accurately. Given how out of the blue the whole bizarre incident was I think the reporter would have beaned most other folks in that situation.
That guy threw the first shoe hard.
::::::
One thing the American media has not been paying attention to (unlike the shoe story) is the climate change conference that just wrapped up in Poland. Michael McCarthy, writing for The Independent (UK), reviews Al Gore's speech on climate change at the Poznan Conference:
But even more intriguing to me was Al Gore's optimism. He expounded lucidly the real danger now presented to the habitability of the earth from the warming caused by greenhouse gas emissions, and instanced a litany of dire effects already being observed, from the rapid melting of the glaciers of the Himalayas, upon which 1.4 billion people depend directly for their water, to the rising acidity of the oceans, produced by the increasing volume of CO2 they are being forced to absorb.

But then he turned to the process designed to stop all this happening, the UN climate change juggernaut rolling off to Copenhagen with 190 countries on board, and said he was optimistic it would succeed. He said: "I believe that the causes for hope and optimism are greater than the causes for doubt and discouragement." And he ended his speech with the three words which will forever link optimism and Obama: Yes We Can.
The AP sure knows how to throw a wet blanket on any optimism you might have felt after reading Gore's speech, with their headline Obama left with little time to curb global warming. Where was the AP's urgency over the last eight years?
::::::
Catherine Jacob of Sky News would like to see a little less conversation and a lot more action at the climate talks:
So, another year, another UN Climate Conference passes and the delegates have flown home to their 192 respective countries for Christmas, safe in the knowledge that they've achieved, well, let's be honest about it, not a lot.
and:
Then again, considering the fact that the 192 countries generally disagree on pretty much every aspect of the new global climate deal they've been discussing, in UN negotiating terms, a formal agreement to begin talking early next year is a major step forward.

There is now exactly one year left before the world comes together again in Copenhagen for the 15th Conference of the Parties and next year, the bar is raised much, much higher.
The New York Times reports that there is still a deep "climate divide" between rich, industrialized countries and the developing world. I'm always impressed with the Obama team's sense of timing, so it is hardly any surprise that he is announcing his environmental and energy team (including Steven Chu) today in Chicago.
::::::
It would make sense for Obama to name his pick for Secretary of the Interior along with the other environmental positions he is announcing today, but it looks like that won't be happening. However, the rumor is he is close to making that decision:
He is also close to naming a secretary of the interior -- the federal department that leases public lands for oil and gas drilling. Sen. Ken Salazar of Colorado, who once practiced as an environmental lawyer, is the leading contender, sources close to the transition said.
Please name someone soon so we can stop the endless drama and speculation over this position! The Denver Post also reports that two sources have confirmed that Ken Salazar is a leading contender.
::::::
Craig Newmark, founder of www.craigslist.org, reacts to Barack Obama's mention of a "craigslist for service" and shares his ideas on how to increase volunteerism and service projects:
My suggestions for the Obama administration:

Select a volunteering tool, perhaps VolunteerMatch.org

Commit to ongoing discussions on change.gov and to whatever it evolves into, and to follow through in terms of actual administration actions.

Commit to a private/public partnership to build a site where Americans will commit to some form of service, possibly building on the work of the Clinton Global Initiative.
I think a pledge system that can interact with social networking sites would be a fantastic idea, especially to encourage younger people. As Newmark notes, if you pledge in public to do something, you are much more likely to follow through.
Here is some background (PDF) from the Obama campaign on their ideas for increasing volunteerism and community service.
::::::
In other news this morning, Reuters is going to start featuring political news from Politico on its wire service:
Reuters said on Monday it would incorporate government and political news from Politico into its newswire in a revenue-sharing deal to offer the combined coverage to newspapers and broadcasters.
I know a lot of people around here think Politico is biased. I don't really think they are biased in favor of one political party, but rather I think they just write dumb stories. My favorite examples are Obama skips church, heads to the gym and No Southerners yet in Obama Cabinet.
::::::
Finally, The Hill reports that the top Republican on the House Intelligence Committee, Pete Hoekstra from Michigan's 2nd District, will not seek reelection in 2010. So, is this a potential Democratic pick-up?
The battle to replace Hoekstra could give Democrats an opportunity to contest another Michigan congressional seat. His district, based on the shores of Lake Michigan, gave President Bush 60 percent of the vote in 2004, but John McCain won just 50.8 percent of the vote in 2008.

Hoekstra will become the latest Republican member of the House Intelligence Committee to announce his departure from the lower chamber. The second-ranking Republican on the committee, Rep. Terry Everett (Ala.), is retiring this year, while Rep. Heather Wilson (N.M.) lost a bid for Senate in 2008.
I'm already looking forward to 2010 because I'm definitely having some election withdrawal.
::::::
What's on your mind this morning?