The following is a little shameless architectural "porn" in case you'd like to see something different from the usual drumbeat of gloom in the traditional media.
Built in the early 1700s, the Frauenkirche of Dresden was a masterpiece of Protestant baroque architecture...
This picture of the Frauenkirche was taken in 1880:
After 200 years as a backdrop to Europe's technological revolutions and Balance of Power conflicts, aerial warfare came to Dresden. In 1945, American and allied troops began the fire bombing of Dresden [truncated]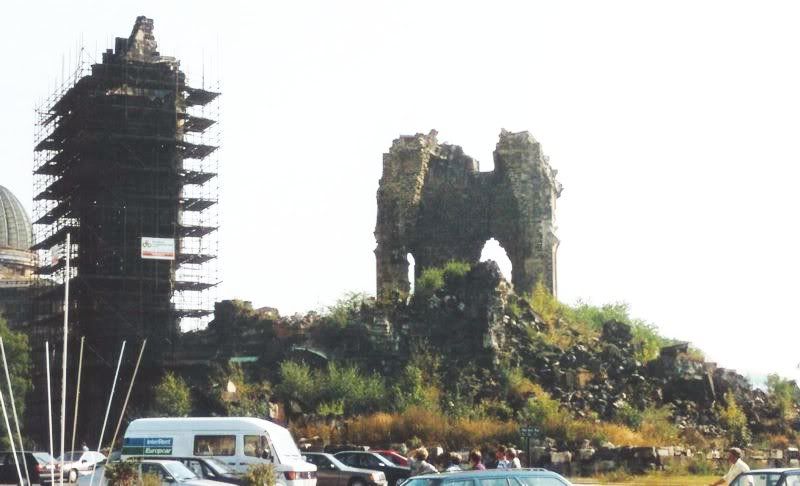 For two days the 200 year old church held up amidst the bombing, but the intense heat that was burning people alive outside pervaded the church's pillars, which glowed red hot. The temperature in the church reached 1,000 degrees. The stones themselves exploded.
For 45 years after, survivors of Dresden trapped in Communist East Germany had no recourse other than to collect tiny pieces of the church and keep them. Stored in hope for tomorrow. And they prevented the government from turning the ruins into a car park.
(above: the Frauenkirche ruins)
After the reunification of Germany, enough blood, sweat and money came together for a reconstruction process to begin in the early 90s.
You can specifically thank Ludwig Güttler and the 13 other members of "The Society to Promote the Reconstruction of the Frauenkirche" and Günter Blobel, an American who donated his million dollar Nobel prize money to the reconstruction effort and for construction of a synagogue for East Germany's remaining Jews. The effort was international and ecumenical.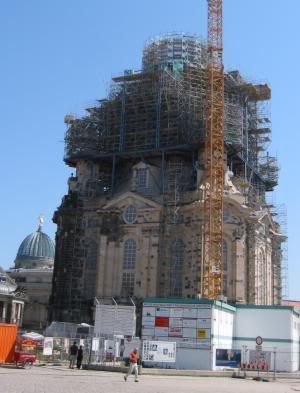 This effort is not without controversy. I think the main point to take away is that the "feel" of the original structure is the key in the reconstruction effort. That ultimately a beautiful church will be restored to its appearance, even if the destruction can never be undone.
And today...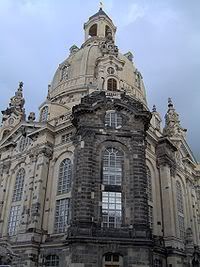 We've stopped creating beautiful spaces, and as a result people flock to locations with the ancient and "nature" more than ever. In areas like Southern California, the increasingly luxurious malls are often the most beautiful thing that a local can access. And for good reason: the malls are now carefully designed to mimic the aesthetic role that beautiful churches and civic buildings once filled, the new central place for consumer life.
While now is not a time for frivolity there's also a need for mirth, grace and difference in troubled times. In a world of increasing sameness. This Frauenkirche is, in a sense, a new building. And we can make beautiful things anywhere, if only we demand, pay and work for them. It's better to have a little beauty in this world than miles of empty tract development.