Attention. Your attention, please. This is the Emergency Blog Alert System. Normal blogs have been temporarily discontinued. Your law enforcement agencies urge you to remain in your homes. Keep all doors and windows locked or boarded shut.
Use all food, water and medical supplies sparingly. Homeland Security forces are attempting to gain control of the situation. Stay near your computer and remain browsing this blog. Do not use your automobile. Remain in your homes. Keep all doors and windows locked. Our live bloggers will convey information from Homeland Security headquarters. This is your Emergency Blog Alert System.
And now here is the latest from the Department of Homeland Security:
There is an aggressive force... army... of unexplained, unidentified... humanoid beings that has appeared in world-wide proportions. These beings are totally aggressive, irrational in their violence. Homeland Security efforts are underway and investigations as to the origin and purpose of the aggressors are being conducted. All citizens are urged to take utmost precautionary measures to defend against the... insidious... alien force.
These beings are weak in physical strength and are easily distinguishable from humans by their deformed appearance. They are usually unarmed, but appear capable of handling weapons. They have appeared with no apparent reason or plan. In fact, they seem to be driven with the urges of entranced or... or obsessed minds.
They appear totally unthinking. They can- I repeat- can be stopped by immobilization: that is, by blinding or dismembering. They are, on average, weaker in strength than an adult human, but their strength is in numbers, in surprise, and in the sheer fact that they are beyond our normal realm of understanding.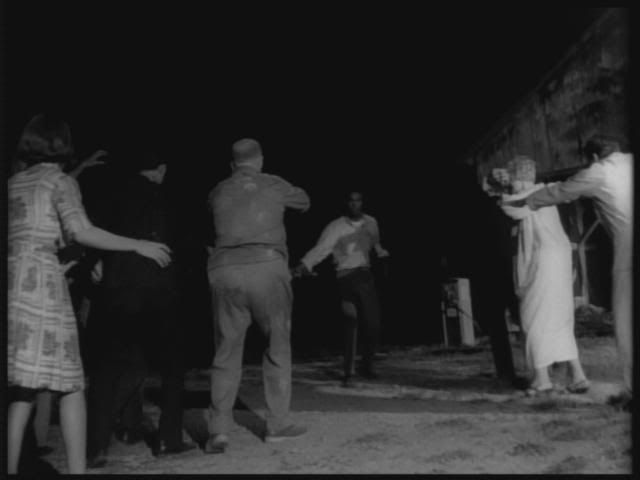 They appear to be irrational, non-communicative beings and they are definitely to be considered our enemies in what the President is calling a state of National Emergency.
If encountered, they are to be avoided or destroyed. Under no circumstances should you allow yourselves or your families to be alone or unguarded while this menace prevails. These beings are flesh-eaters. The principle charactaristic of their onslaught is their depraived, irrational quest for human flesh.
Up to the minute reports inform us that the... seige... first documented in the Midwestern section of the country is indeed spread across the nation, and is in fact world-wide. Medical and scientific advisers have been summoned to the White House and we are informed that the President is planning to make public the result of that conference to the press in approximately one hour.
The strange... beings... that have appeared in most parts of the nation seem to have certain predictable patterns of behavior. In the few hours following initial reports of violence and death, and apparently deranged attacks on the lives of people taken completely off-guard, it has been established that the... alien beings are human in many physical and behavioral aspects.
Hypothesis as to their origin and their aims have to this point been so varied and so diverse that we must only report these factors to be unknown. Teams of scientists and physicians presently have the corpses of the... aggressors, and these corpses are being studied for clues that might negate or confirm existing theories.
The most overwhelming fact is that these... beings are infiltrating through urban and rural areas throughout the nation, in forces of varying number, and if they have not as yet evidenced themselves in your area, please- take every available precaution.
Attack may come at any time, in any place, without warning.