Welcome to the latest in a series of DKos Travel Board diaries on fascinating places where Kossacks live who are willing to host, advise, and/or help make arrangements for visiting Kossacks. Thanks to plf515 for creating this invaluable Sunday resource. A list of hosts follows this article. Today's topic is central Colonial Mexico, or, more specifically, the states of Guanajuato, Queretaro, Michoacan and San Luis Potosí. Follow me to the other side of the arroyo...
If you've never penetrated further into Mexican than the beaches, an entirely different country awaits you in the Central Highlands or Bajío, the fertile high plateau (average altitude: one mile) where the Colonial Spaniards founded a necklace of beautiful towns as they extended their dominion over the country. This is where the gold and silver mine grandees built their casonas and haciendas in the 17th and 18th centuries, against a backdrop of distant mountain ranges -- the Picachos, the Guanajuato Mountains, the Sierra Nevadas, the Sierra Madres Oriental. Fortunately, many of these towns still look as they did hundreds of years ago, albeit with a colorful and pervasive Indian influence.
(Photos, from top to bottom: Calle, San Miguel de Allende; the Parroquia, San Miguel; the Opera House, Guanajuato; cathedral and plaza, Guanajuato)
I live in San Miguel de Allende, Guanajuato State, which regularly ranks in the top five of Conde-Nast Traveler's Reader's Choice awards for cities in the Americas, along with Buenos Aires, Victoria, Vancouver and Quebec City. With a population estimated at between ninety and a hundred and ten thousand people, San Miguel's central historical district has been protected under Mexican law since the 1920's -- this was the birthplace of the Independencia from Spain in 1810, after all -- so in Centro there are no traffic lights or stop signs on the cobblestone streets (drivers are governed by courtesy), and signage is strictly controlled (no neon), as are any renovations of the mostly historic buildings. There is plenty to do and see here, which I'll elaborate on shortly -- but San Miguel has the added attraction of being a good base for exploration of the capitals of the above-named states, which are only a short drive away.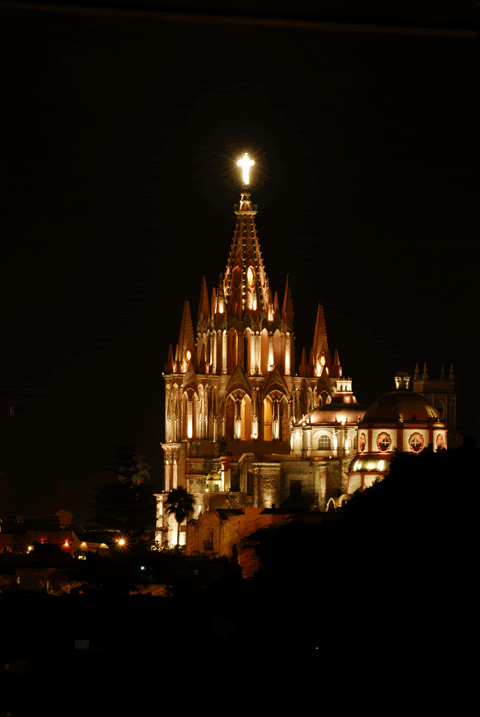 The first thing that will strike you about San Miguel is its visual beauty. It's the very definition of a walking city. You will not need a car. Stroll up and down the maze of narrow streets, popping into shops selling talavera, copper, silver, craft items, tequila products, cigars (including Cuban). You'll be surprised when you come across the bullring in the middle of town, denoted from the outside only by large, closed entrance doors (opened on the day of a bullfight, of course) and posters announcing upcoming events. That's another thing about San Miguel -- the street exteriors of the casas in centro are fairly uniform -- but peek in through an opened doorway or garage, and you'll see the amazing variety of homes here, from elaborate hidden palaces to simple casitas. Some have extensive gardens that seem to go on forever, others the merest central courtyard. (It's cheating, of course, but the best view of these 'hidden' homes is from the gondola of Jay Thomas's hot air balloon.) There are galleries sprinkled all over town, including those centered in Fabrica Aurora, a former factory that's now home to some of the best local artists, as well as dealers in antique and reproduction furniture, linens and jewelry. And with any luck you'll run into one of the many town characters -- like, say, the unforgettable Joanne, who dresses herself and her two chihuahuas in identical over-the-top outfits.
Culture? Each year the city hosts a Chamber Music Festival, a Jazz festival, an early music festival (Pro Musica), and a film festival, Expresión en Corto, featuring short films. There is also a yearly competition for promising young Mexican opera singers, which is sponsored by Opera San Miguel. All of these events take place in the wedding cake Angela Peralta Opera House, as well as in other venues.
For less structured entertainment, see Doc Severinson (who lives here) play with the awesome gypsy jazz duo Gil & Cartas at Bella Italia. Watch the mariachi bands compete from different corners of the Jardin, hang out with the hip happening young crowd at the Azotea, or try the bar at Harry's, which is always lively. There is also a vibrant theater scene, with something to see (in English yet) pretty much any day of the week.
Just outside of town are thermal hot springs, as well as ancient pyramids on private land, which the government recently opened up for visitors. Just up the road is the city of Dolores Hidalgo with its fantastic deals on talavera and tile (and its unusual ice creams, which vendors sell in the zocalo -- helado de camarones, anyone?)
Incidentally, the weather in this part of the world is as close to ideal as weather gets. From October to February, the nights are chilly, but the days warm up into the 70's. (I still have tomatoes growing on the roof.) The only hot months are May and perhaps part of June, then the rainy season comes with downpours of no more than an hour or two in duration, and very pleasant conditions the rest of the time.
The recommended method of visiting Guanajuato, Queretaro, Morelia or San Luis Potosí from San Miguel is to hire a car and driver, unless of course you intend to stay overnight. It's not much more than a car rental, and your driver will also act as your guide. Even the monarch butterfly roost can be seen in a day-trip from San Miguel.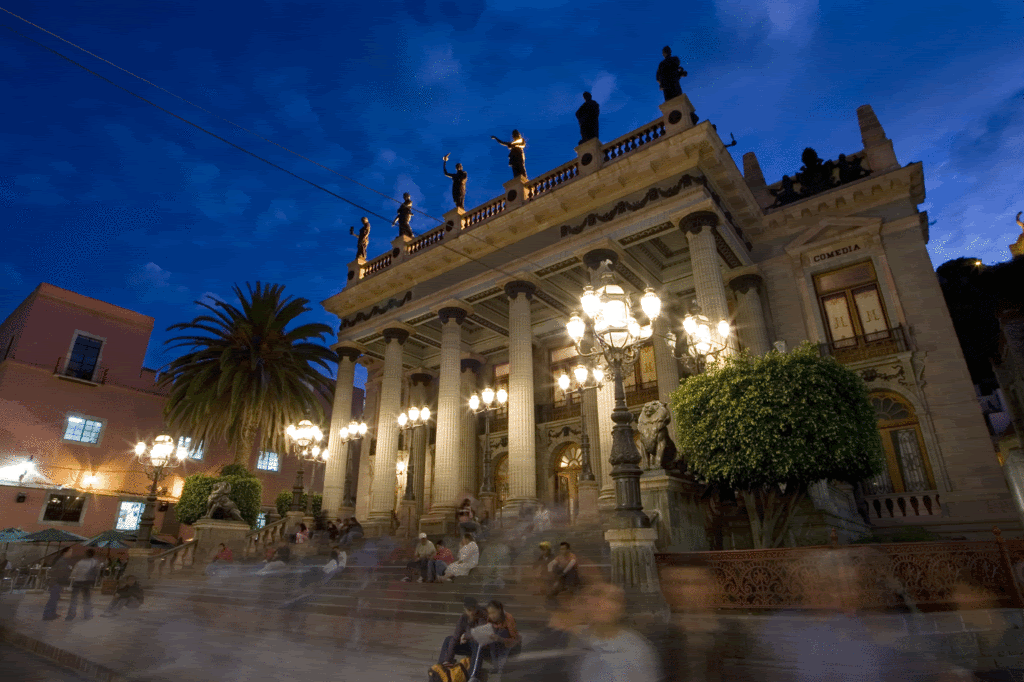 Guanajuato, the capital of Guanajuato State, is well worth seeing for its colorful casas, its tunneled roadways, and its Spanish colonial architecture. Diego Rivera's birthplace is here, and contains examples of his work. The opera house is gorgeous. Two famous ceramicists work here, Capella and the son of the legendary Gorki. Their studios are open for visits during business hours. If you have kids, they'll probably flip out over the Mummy Museum. Ick. (The mummies ain't Egyptian, I'll just say that!)
Queretaro. A rapidly growing city with a beautiful, graceful colonial core, Queretaro has good musuems, an impressive cathedral, and an interesting history. It was the wife of the Spanish Governor of Queretaro who tipped off Father Hidalgo, Lt. Col. Allende and Pipila that their plot to overthrow Spanish rule had been found out, which triggered "the Grito" and the actual start of the independence struggle in 1810. Over a hundred years later, the Emperor Maximilian was executed in Queretaro after Napolean III withdrew his protective troops. On his way back to Mexico City from the North, President Benito Juarez stopped off in Queretaro and saw the corpse, memorably saying, "I never knew he was so short!" Queretaro is a good place to buy semi-precious stones, especially opals and amber. It has excellent restaurants and a thriving gay scene.
Morelia. Called "the coolest place you've ever been" by the Lonely Planet Mexico guidebook, Morelia features a well-preserved colonial center and a gorgeous cathedral. 16th and 17th century baroque buildings and archways line narrow downtown streets crowded with restaurants, hotels, museums, chocolaterías, and sidewalk cafes.
San Luis Potosí. A city of plazas and parks , San Luis Potosí is the center of a prosperous region of ranches, agriculture and mining. It was the seat of the Mexican government led by Benito Juarez during the French "intervention" during the 1860's, and is a great place for wandering and soaking up history.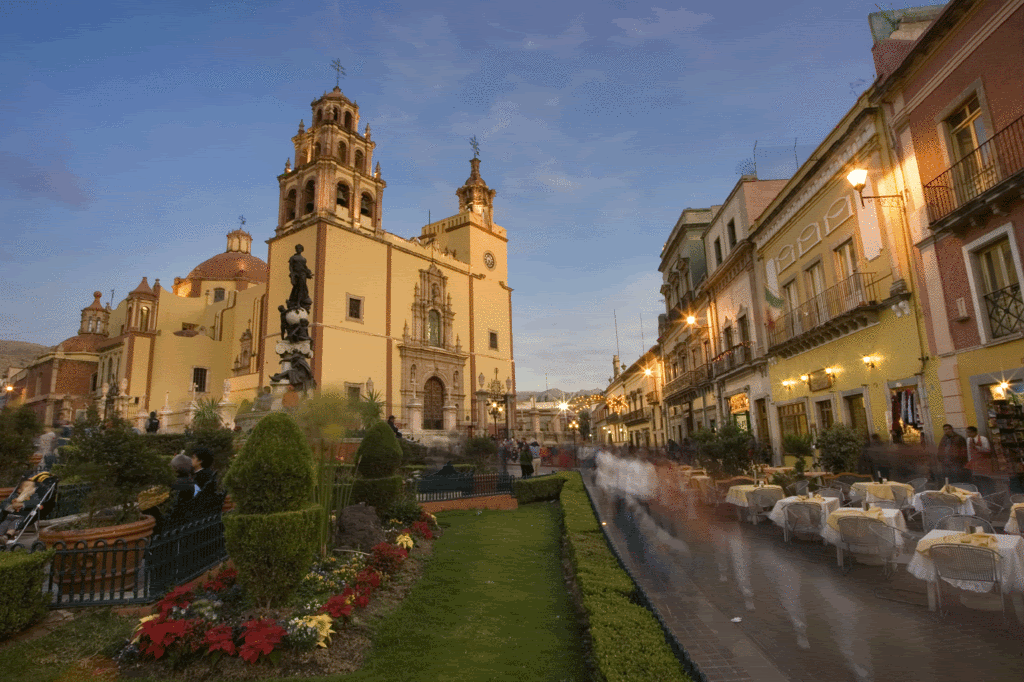 There are, of course, splendid Colonial cities in other parts of Mexico -- Mexico City itself, Zacatecas, Mérida, Puebla, Oaxaca City and Taxco to name a few. I look forward to seeing and exploring them myself.
Information on the DKos travel board follows. Volunteers and diarists are needed. If this project interests you, please contact plf515.
Volunteer hosts, by country and state (in the USA). If you are traveling to a city, please contact the person listed to see what they can do for you.

They may be able to host a person, or have a meal, or just offer advice. Note they are not obligated to anything these are just people who have told me what cities or areas they live in. Also, any arrangements you make are between you and the person you write to.

USA
Alabama - left my heart

Arizona
Phoenix - Leftcandid

California
Northern CA - SallyCat
Northern Orange County - Seneca Doane
Sacramento - tgypsy
San Diego - SDChelle (can offer advice)
Southern - Jbeaudill

Colorado
Lakewood/Denver - carver

DC area
lulu57

Florida - ObamOcala
Oceanview
Panhandle area - panicbean

Hawaii
Purple Priestess (can give information)
jlms qkw

Indiana
Southern part of state - kathryn1812

Maine - Cartoon Messiah
Coastal Islands - ksingh

Massachusetts
oceanview
Boston - tnichlsn

Minnesota
Minneapolis - parryander

New Jersey - Blue Jersey Mom

New Mexico - linc
Santa Fe and north - claude
Albuquerque - votingformydaughtersfuture

New York
New York City - plf515, LarryinNYC, DrSteveB

North Carolina
Charlotte - eeff
Chapel Hill - chunyang

Oklahoma - karesse

Oregon
Portland - arenosa
coastal - Jbeaudill

Pennsylvania
Pittsburgh - Pandora's Box, housesella
Lancaster - spedwybabs
Central PA, Harrisburg - wishingwell

South Carolina
Charleston – CamillesDad1

Tennessee
Great Smoky Mountains – RantNRaven
Nashville – fiddlegirl
Chattanooga – Sandy on Signal

Texas
Dallas-Fort Worth – drchelo

Utah
Salt Lake City – jlms qkw

Vermont
North-central - 4freedom

Virgin Islands Caneel

Washington
Leavenworth - marlakay

I-90, WI-MN border - 1864 House

Other countries
Belgium - Cartoon Messiah

Canada
Alberta – TexMex
Montreal - dragOn
Thunder Bay - Howth of Murth
Vacounver - Purple Priestess (can give information)

China
Shanghai - mweens

Colombia
Bogata - bogbud

Costa Rica - Alice Olson

Croatia - seenos

England
London – shazzbot
North England – Cartoon Messiah

France
Lyon - melanchthon

Germany - lizah

Italy
Rome - lizah

Mexico
Cancun, playa del Carmen, Tulum - davidseth
Colonial Mexico - TKWow
Jalisco (SW Mexico) – mango

Scotland - linc
Edinburgh - SDChelle

Spain - Cartoon Messiah

Thailand - anniesamui
Bangkok – Shunpike

Wales - linc
------