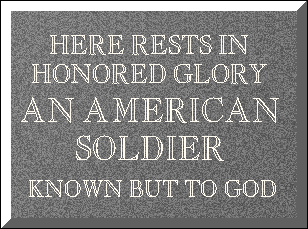 Tonight, we gather to pay tribute to 2nd Lt. John F. Lubben, of Wisconsin Rapids, Wis.; Sgt. Albert A. Forgue, of North Providence, R.I.; and Sgt. Charles L. Spiegel, three World War II airmen who, after sixty three years on post, have been finally been relieved and called home to their families.
[ Update - See the JPAC website on the DNA ID efforts that brought these airmen home: http://www.jpac.pacom.mil/
On Friday, the Department of Defense announced that the remains of three U.S. servicemen, missing from World War II, have been identified and will be returned to their families for burial with full military honors. They are 2nd Lt. John F. Lubben, of Wisconsin Rapids, Wis.; Sgt. Albert A. Forgue, of North Providence, R.I.; and Sgt. Charles L. Spiegel, of Chicago, Ill.; all U.S. Army Air Forces. They will be buried on April 18 in Arlington National Cemetery near Washington, D.C.

On Dec. 12, 1944, these men crewed an A-20J Havoc aircraft departing from Coullomiers, France, to bomb enemy targets near Wollseifen, Germany. The aircraft was last seen entering a steep dive near Cologne, Germany. Several searches and investigations of this area and reviews of wartime documents failed to provide information concerning the incident.
http://www.defenselink.mil/...
Hard as it is to believe, these brave soldiers have been missing in action, buried as "unknown soldiers, for sixty-three years. When I read that, it brought a recent trip to mind.
A few weeks ago, I revisited Arlington National Cemetery while in D.C. for the bat mitzvah of the daughter of a dear college friend. I hadn't been there in almost thirty years. Now that I have grey hair on my head, and a sense of my own mortality, it was a sobering experience. Rows upon rows of identical white headstones, each stone marking the final resting place of a brave hero who gave their last full measure for their country. I wept to realize how many people "got the news today" for each one of those stones.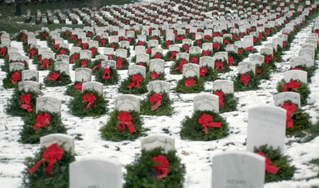 I also visited the Tomb of the Unknown Soldier, where members of the U.S. Army's Old Guard stand watch over the remains of unknown heroes who made the ultimate sacrifice in prior wars, when DNA testing was not even dreamed of. When you visit the Tomb, you must maintain complete silence, in respect for the dead. A lone sentry walks guard duty for a full hour, twenty four hours a day, three hundred and sixty five days a year, an all kinds of weather.
Each of these dedicated sentinels walks a twenty one pace post in front of the Tomb, pausing for twenty-one seconds at each turn, and then retracing his steps, until relieved by one of his brethren in the Old Guard.
My wife was with me when I visited the Tomb. As we left, we walked in silence, until she broke the silence with the observation that watching that sentinel reminded her that, somewhere in the world, twenty four hours a day, three hundred sixty five days a year, the brave men and women of our Armed Services are standing guard, protecting our freedoms, until they are relieved from their posts. Sometimes, that call never comes.
This week, though, our brave World War II airmen were relieved from their anonymous and extended posts via the wonders of modern science. Mitochondrial DNA testing finally identified their remains, so they finally came home from Belgium this week, after laying in their graves in the Ardennes Military Cemetery in Belgium [below] for sixty three years. Imagine being lost for sixty three years, buried as unknown soldiers, until DNA science and caring people brought you home. Can you imagine that? I can't.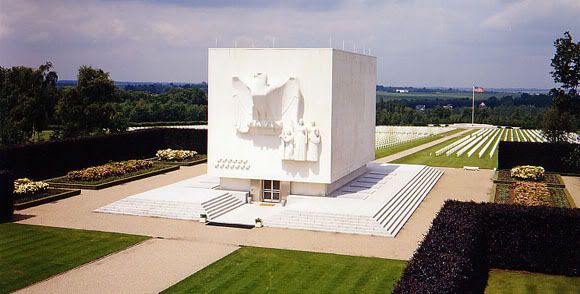 [Ardennes Cemetary]
These are our formerly unknown soldiers. Let's welcome them home:

Sergeant Albert Forgue, USAAF

Florence Leal was a teenager when her brother, Sergeant Albert Forgue, a gunner on an A-20J Havoc aircraft [ pictured below], disappeared more than 60 years ago during World War II. Barely a day has gone by when Leal has not thought of him.

"He was 20 when he was lost," said Leal, 78, of North Providence, Leal said in a phone interview yesterday that her parents died without knowing what happened to their son. She worries that something bad could happen to her grandson who is serving in Iraq.

Forgue was born in North Providence and entered the Army in 1943, according to the military. He never married, Leal said. "I'm the last of the family," she said.
Even before the pharmacist reached the Forgue residence at 22 Aldrich St., Florence, then 15, sensed there might be some bad news. All three of her older brothers, Francis, Walter and Albert Forgue, were serving in World War II . Her oldest brothers, Francis and Walter, were with the Marines in the South Pacific, and her youngest brother, Albert, 20, was a U.S. Army Air Force sergeant and a gunner on a plane that was making bombing runs over Germany. "My father went to get the telegram, but never came up," says Florence. "That's when I went down and saw him at the bottom of the stairs crying."

The telegram from the Department of War said that Albert and two other men were on a plane that had been shot down near Wollseifen, Germany, on Dec. 12, and that they had been missing since. Later, the family would learn that the A-20J Havoc aircraft that had flown out of Coulommiers, France, was last seen entering a steep dive near Cologne, Germany.

Florence, now 78, says the news was devastating for everyone in the family. "But what else could we do except go on with our lives."
Sergeant Forgue will be laid to rest in Arlington National Cemetery on April 18th.
The A-20J was a variant of a famous line of light bombers used by the U.S. Army Air Force and several other groups during WWII including the RAF and the Soviet Air Force.

This model of the twin engine light bomber carried an additional bombardier in an extended acrylic glass nose section.

These were intended to lead bombing formations, with the following standard A-20s dropping their bombs when signaled by the leader. A total of 450 of these aircraft were built.

The Death of the Ball Turret Gunner

From my mother's sleep I fell into the State,
And I hunched in its belly till my wet fur froze.
Six miles from earth, loosed from its dream of life,
I woke to black flak and the nightmare fighters.
When I died they washed me out of the turret with a hose.

Randall Jarrell
2nd Lieutenant John F. Lubben:
[photo not available]
Paul Lubben will go to Arlington National Cemetery for the first time in 18 years in April when his brother's final remains are laid to rest. "It's good to know that it's at a conclusion now, done with, because that was 63 years ago that that happened," Paul Lubben said in a phone interview.

Paul Lubben said they had a burial for his brother's first positively-identified remains last July. "He's buried here in our hometown in our family lot," Lubben said. "We're glad we got him back here, and that burial, they had the full military rights, flyovers and everything for him."

Lubben said the military's most recent announcement means that his brother will have two markers — one in Wisconsin Rapids and one in Arlington National Cemetery. "The remains that they couldn't identify of him and the two other men in his plane, that's where they're going to be, in Arlington," Lubben said.
Sergeant Charles L./ Spiegel:
[photo not available]
Sergeant Spiegel will be laid to rest in Arlington National Cemetery on April 18th.
I was not able to find any personal information about Sergeant Spiegel. If you have information about this Airman, please post it in the comments, and I will update the diary.
Welcome home, gentlemen. Welcome home. At ease.
I Got the News Today is a diary series intended to honor, respect and remind. This series, which was begun by i dunno, is currently maintained by Sandy on Signal, noweasels, monkeybiz, silvercedes, MsWings, greenies, blue jersey mom, Chacounne, Wee Mama, twilight falling, labwitchy, moneysmith, joyful, roses, SisTwo, Avila,a girl in MI and me, SpamNunn.
These diaries are heartbreaking to write, but, we believe, an important service to those Americans who have died, and to our community's respect for and remembrance of them. If you would like to volunteer, even once a month, please contact Sandy on Signal, monkeybiz, or noweasels.
As you read this diary, please consider that the families and friends of those profiled here also may read it and that many members of our community have served in the Armed Services of the United States of America. I hope that our comments tonight will demonstrate our respect for the sacrifices of our fallen military and our compassion for their families, whatever our personal or political feelings about the current war or any war happen to be.