Some of you might have gotten an email from Hillary's campaign today announcing a fundraising effort. They want to raise $3,000,000 in just 3 days. Pretty lofty goal right?
Well guess what? They've already met that in less than 24 hours. Money started pouring in on line (yes from folks with computers – like us) after the polls closed last night and it hasn't let up yet.
They blew past that initial goal and are upping the stakes. This money is coming in from new donors – tens of thousands of new donors.
YEAH!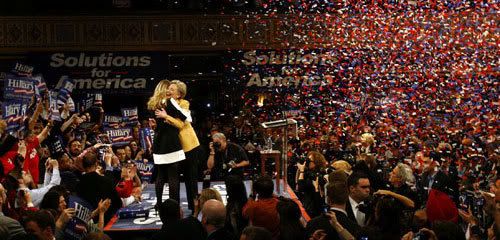 Follow me...
What follows is an unverified excerpt from an email from Hillary's campaign that's being passed around on the Net.

"Now THAT is what I call two good days. Not only did we celebrate huge victories for Hillary all over the country on Super Tuesday, but you matched our success with a breathtaking show of support. You exceeded our $3 million goal in less than 24 hours. Incredible. So we're doubling it to $6 million in 72 hours because of your amazing response."

So that's it. Short and
oh so sweet!
If you're interested in helping to make history and can spare a few bucks, please help Hillary reach this new and record-setting goal.
PLEASE HELP HILLARY WITH WHATEVER YOU CAN SPARE!
$5, $20, $50, $100 or even (!!!) a thousand bucks. It all adds up and you'll be a part of history by helping out.
Thanks!
Developing
UPDATE
Ok it looks like other blogs are starting to post this - Link