Today's papers all note that we have reached another milestone in the Iraq War; 4000 Americans have died since the war began five years ago. Each one of these numbers represents a real man or women who volunteered to serve our country. These soldiers, sailors, airmen, and marines leave behind families and friends whose lives will never be the same. Follow me below the fold to learn more about one of the 4000, Army Sgt. Gregory D. Unruh.
On Friday afternoon, the Department of Defense reported the following:
The Department of Defense announced today the death of a soldier who was supporting Operation Iraqi Freedom.

Sgt. Gregory D. Unruh, 28, of Dickinson, Texas, died March 19 in Mandali, Iraq, of injuries suffered in a vehicle accident. He was assigned to the 2nd Battalion, 3rd Armored Cavalry Regiment, Fort Hood, Texas.

This incident is under investigation.
The Star-Telegram reports that Sgt. Unruh was killed when his vehicle rolled over. He had joined the Army in 2006 as a fire support specialist and was deployed to Iraq in November of 2007.
KXXV reports that Sgt. Unruh was the recipient of many military awards and honors including:
the Army Achievement Medal, National Defense Service Medal, Iraq Campaign Medal, Global War on Terrorism Service Medal and Noncommissioned Officer Professional Development Ribbon.
Very little published information is available about Sgt. Unruh's family and background. An Army mom offered the following tribute in Sgt. Unruh's condolence book at the Patriot Guard Forum.
SGT Gregory D. Unruh earned my respect and gratitude when he volunteered to serve our country. His efforts to make the world a safer place will be remembered with honor and appreciation by this American family.
My sincere condolences to the family and friends. You are in my prayers during this time of sorrow.
I know that all of us here at DailyKos share her sentiments.
Let us honor Sgt. Unruh's memory with part of a famous poem from the First World War:
In Flanders Fields
by John McCrae, May 1915
In Flanders fields the poppies blow
Between the crosses, row on row,
That mark our place; and in the sky
The larks, still bravely singing, fly
Scarce heard amid the guns below.
We are the Dead. Short days ago
We lived, felt dawn, saw sunset glow,
Loved and were loved, and now we lie
In Flanders fields.
Since World War I, poppies have been the symbols of remembrance. In honor of all 4000 servicemembers who have lost their lives in Iraq, let me offer a moment of silence. Thank you all for your selfless service to our country. Rest in Peace.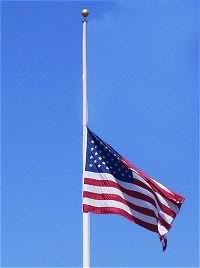 About "I Got the News Today" (IGTNT)
I Got the News Today is a diary series intended to honor service members who have died as a result of the wars in Iraq and Afghanistan; its title is a reminder that almost every day a military family gets the terrible news about a loved one. Diaries about the fallen usually appear two days after their names are officially released, which allows time for the IGTNT team to find and tell their stories.

The series was begun by i dunno and is maintained by Sandy on Signal, monkeybiz, noweasels, MsWings, greenies, blue jersey mom, Chacounne, twilight falling, moneysmith, labwitchy, joyful, roses, SisTwo, SpamNunn and AGirlinMI.
Please bear in mind that these diaries are read by friends and family of the service members chronicled here. May all of our remembrances be full of compassion rather than politics.