To-day, the road all runners come,
Shoulder-high we bring you home,
And set you at your threshold down,
Townsman of a stiller town.
Smart lad, to slip betimes away
From fields where glory does not stay,
And early though the laurel grows
It withers quicker than the rose.
Eyes the shady night has shut
Cannot see the record cut,
And silence sounds no worse than cheers
After earth has stopped the ears:
Now you will not swell the rout
Of lads that wore their honours out,
Runners whom renown outran
And the name died before the man.

To An Athlete Dying Young
~ A.E. Housman (1859-1936)
Tonight we stand in silent vigil with the family and friends of a young soldier, missing since April 2004, who is finally coming home.
Staff Sgt. Keith M. Maupin, 24, of Batavia, Ohio

The armed forces medical examiner confirmed on March 29, that human remains recovered in Iraq were those of Staff Sgt. Keith M. Maupin, 24, of Batavia, Ohio.
Staff Sgt. Maupin had been listed as missing-captured since April 16, 2004. His convoy came under attack by individuals using rocket-propelled grenades and small arms fire on April 9, 2004. He was assigned to the 724th Transportation Company, Bartonville, Ill.
Almost four years to the day after learning that he was missing, Keith and Carolyn Maupin got the news Sunday that no parent wants to receive: their son, Staff Sgt. Keith Matthew Maupin was dead.
"Matt is coming home; he has completed his mission," said Keith Maupin, outside the Yellow Ribbon Support Center in Eastgate. "After years of prayer and hope, we learned today that Matt died while in captivity. While this is not what we had hoped for, at least we know."
This is a photo of Staff Sgt. Maupin taken April 1, 2004: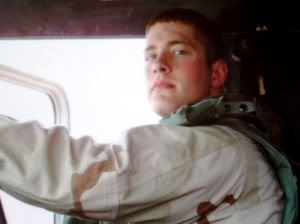 On April 9, 2004:
(The) 724th Transportation Company, from Bartonville, Ill., (was) set to make an emergency fuel delivery. The original assignment to transport the fuel to western Iraq had changed earlier that morning.

The 26-vehicle convoy headed out from Balad around 11 a.m. en route to Baghdad International Airport. The hour-and-a-half trip dissolved into complete chaos five miles from its destination.

As the convoy approached the five-mile juncture, then-Pfc. (Jeremy L.) Church and 1st Lt. Matt Brown in the lead vehicle said they encountered empty streets. There were no vehicles, unusual in Baghdad, Brown noted, and no people on the stretch of road.

The one person they did see was sprinting away from the road. That's when Brown, the convoy commander, realized the gravity of the situation.

He looked to another soldier in his vehicle and said, "Hey, I think we might be in trouble."

The answer was barely uttered when the small-arms fire began, Brown said.

"It was like a downpour on a tin roof," he said. "It was so noisy we couldn't talk.

"It was truly chaotic."

Five minutes into the firefight two bullets came through the windshield and struck Brown's Kevlar helmet just above his left eye. Had he not just turned to his right to try and locate a source of fire, he said he feels the shots may have hit him directly in the face.

As it was, his helmet imploded causing a deep gash and forcing his left eye from its socket. Simultaneously, there were explosions on either side of the vehicle, said Church, who was driving.

(snip)

According to Brown and Church, from the time Brown was hit, it took between 15 and 20 minutes to get to the secured zone. From there, Brown was medevaced to the to Baghdad's heavily fortified International Zone, and he eventually ended up at Walter Reed Army Medical Center, where he spent two months.

(snip)

When all was said and done, two 724th Transportation Company soldiers died. Another, Spc. Keith "Matt" Maupin, was captured and remains missing.
Ceremony Awarding Silver Star to Spc. Jeremy L. Church April 13, 2005
Two weeks later, on April 23, 2004, the Department of Defense announced
. . . . a change in the status of a soldier serving in Operation Iraqi Freedom from duty status - whereabouts unknown to captured.

Pfc. Keith M. Maupin, 20, of Batavia, Ohio, was declared captured on April 16.

On April 9, Maupin (was) categorized as duty status - whereabouts unknown when individuals using rocket-propelled grenades and small arms fire attacked (his) convoy. (He was) assigned to the Army Reserves 724th Transportation Company, from Bartonville, Ill.
Department of Defense April 23, 2004
Matt Maupin was a 20-year-old private first class when he was captured April 9, 2004, after his fuel convoy, part of the 724th Transportation Company, was ambushed west of Baghdad.

A week later, the Arab television network Al-Jazeera aired a videotape showing Maupin sitting on the floor surrounded by five masked men holding automatic rifles.

That June, Al-Jazeera aired another tape purporting to show a U.S. soldier being shot. But the dark and grainy tape showed only the back of the victim's head and not the actual shooting.

The Maupins refused to believe it was their son, and the Army had listed him as missing-captured. The Maupins lobbied hard for the Army to continue listing their son as missing-captured, fearing that another designation would undermine efforts to find him.

"You never stop hoping. You never know," his mother, Carolyn Maupin, said in 2006 after Iraqi al-Qaida leader Abu Musab al-Zarqawi was killed in a U.S. airstrike, leading to speculation that U.S. intelligence could be getting closer to learning Maupin's fate.
A year ago, the Maupins were still hopeful.
Yellow ribbons across Sgt. Matt Maupin's hometown are constant reminders. Fundraising events in his honor draw overflow crowds. Soldiers back home relay details of the ongoing search for him in Iraq.

(snip)

Keith Maupin said he took comfort hearing from the father of a military interrogator in Iraq who said detainees are asked if they know anything about his missing son.

"He said, 'These guys are not going to give up on Matt. Their mission is to stay focused on finding Matt and get all the information they can out of these detainees,'" Keith Maupin said. "That made me feel good."

(snip)

More than 1,000 people are expected at a banquet fundraiser Monday, the third anniversary of Maupin's capture. Some 700 bikers are expected the following Saturday for a motorcycle ride sponsored by Rolling Thunder, a POW-MIA awareness group. A youth baseball tournament in May drew more entries than it could handle, even though games will be played on several fields.

All are raising money for the Matt Maupin Scholarship Fund, seed money for scholarships given by the high schools attended by Cincinnati-area soldiers who died in Iraq or Afghanistan.

Keith Maupin has lost track of the number of briefings he and his former wife, Carolyn, have received from the Pentagon. They've been persistent and he thinks the Army is doing its best to find his son.

(snip)

As long as the Maupins keep Matt's name alive, he is alive, they reason.

There's a yellow ribbon on every parking meter in Batavia, a close-knit, county-seat community east of Cincinnati.

"We won't let people forget," Clermont County Commissioner Bob Proud said. "Whenever we see yellow ribbons, we think about Matt and all our warriors. It always reminds me of the sacrifice that Matt and all of our troops have made."

Keith Maupin now works full time with the Yellow Ribbon Support Center, which Carolyn founded before their son was captured. Carolyn and Keith Maupin, though divorced, have united in their effort to be a touchstone for families who have lost loved ones in the war.

(snip)

"A lot of people come in here and a lot of people call, and they just want to talk," Keith Maupin said. "That's OK by me; that's what we're here for."
Source ~ ABC News April 7, 2007
All that is ended.
"It hurts -- it really hurts. You go through four years of hope," said Carolyn Maupin.

(snip)

His father, Keith Maupin, said military officials informed the family Sunday afternoon that the remains of the 24-year-old Army reservist had been identified.

"Every parent knows the possibility exists that they may have to face the death of their child when they volunteer to go to war," he said. "However, those who are fortunate make peace with that and support their soldier, because they enlisted at their own free will."

(snip)

Maupin, who was 20 at the time of his capture, and another soldier, Sgt. Elmer Krause, 40, were captured by insurgents April 9, 2004, after their convoy came under attack near Baghdad International Airport. A week later, Maupin was shown on a videotape, surrounded by several armed masked men.

"My name is Keith Matthew Maupin," he stated in the video. "I am a soldier from the First Division. I am married with a 10-month-old child. I came to liberate Iraq, but I did not come willingly because I wanted to stay with my child."

Krause's body was found two weeks later.

Later that summer, Al-Jazeera aired a videotape purportedly showing the execution of Maupin, but U.S. officials haven't confirmed the identity of the person on the tape.
Staff Sgt. Maupin's hometown is in mourning.
In this small town, where support for the Iraq war remains strong, residents held to the belief that Staff Sgt. Keith "Matt" Maupin was alive and would return home.

It was something folks spoke of with matter-of-fact assurance, even four years after Maupin was captured, and they grew irate whenever their reasons for hope were called into question. They planned homecoming parties -- backyard barbecues and baseball games and weekend fishing trips -- for the handsome young man who loved the outdoors.

They routinely tied fresh yellow ribbons around mailboxes and telephone poles, staking them across the rolling hills of Clermont County, where they fluttered like daffodils. After all, when Matt came home, it wouldn't do for him to see tattered ribbons.

Then on Sunday, after 1,451 days, word came that Maupin's remains had been identified.

The loss of a soldier, and of a powerful faith, have cut deep into this southern Ohio town of 1,600, where nearly a quarter of the residents are veterans.

(snip)

"Did Matt suffer? When did he die?" wondered June Izzi-Bailey, 69, who volunteers at the Yellow Ribbon Support Center, a nonprofit group founded by the Maupin family that packages boxes of donated snacks and toiletries for shipment to soldiers in Iraq. "How did he die? And why?"

(snip)

On April 9, 2004, while on a security detail protecting a civilian convoy west of Baghdad, Maupin's Army unit was attacked and the young soldier abducted. Within days, his kidnappers released grainy video of the weary-looking 20-year-old, wearing camouflage and surrounded by five masked men.

About three months later, Iraqi insurgents released another video showing a man being shot in the back of the head and falling into a shallow grave. The narrator said it was Keith Matthew Maupin. But the video never showed the soldier's face.

(snip)

"I told the Army all this time that they would bring my son home," said Matt's father, Keith Maupin. "I forgot to tell them they had to bring him home alive."

(snip)

At Glen Este High, where Matt had played football before graduating in 2001, students and teachers covered the chain-link fence with posters of his Army photo -- jaw jutting, green eyes gleaming -- and arranged hundreds of red, white and blue cups to spell out messages, one of which read: "Lighting the way home."
Matt Maupin graduated from Glen Este High School, just east of Cincinnati, in 2001 and attended the University of Cincinnati for a year before joining the Army Reserves. Dan Simmons, the athletic director at Glen Este, remembered Maupin as a quiet but hardworking backup player on the school's football team. "Matt was a selfless kid on the football field," Simmons said.

(snip)

A month after his capture, Maupin was promoted to the rank of specialist. In April 2005, Maupin was promoted to sergeant.

"Flags are flying at half staff on Clermont County government buildings as a tribute to Matt, our native son, our hero," said Clermont County Commission President Bob Proud.

(snip)

"As parents, we are deeply saddened and still letting it sink in," said Keith Maupin in a prepared statement. "As Americans, we are proud of the continued efforts made by our military to return Matt home to us. With the nation's continued support, we will make it through this and hope to find answers about what happened to Matt."

"I want to thank everyone who searched for Matt," said a tearful Carolyn Maupin, his mother. "I also want to thank everyone who has kept Matt and us in their prayers over these four long years."

(snip)
As the Cincinnati Enquirer opined in an editorial, Matt Maupin's life and legacy made a difference.
We all would like to think that our lives have made a difference. Army Staff Sgt. Matt Maupin, we now regrettably have learned, died not knowing that he has made - is making - a far greater difference than he could have imagined.

(snip)

His plight gave family, friends and strangers - here at home and nationwide - a cause to rally around, a focus on which to achieve worthy goals. Thousands in Greater Cincinnati fervently held out hope for his safe return.

But it was not to be. An Army general visited Carolyn and Keith Maupin in Batavia early Sunday afternoon to inform them that the remains of their son . . . . It is not yet known how long ago he died.

Later on Sunday, friends and longtime supporters of the Maupin family gathered with them for a candlelight vigil at the office of the Yellow Ribbon Support Center, which has gone far beyond its original mission to help in the search for Matt.

(snip)

However you feel about the war in Iraq, the story of Matt Maupin - who had joined the Army Reserve to earn money for college - brings home the human cost of war, the lost potential, the lives not fully lived.

Through it all, Matt's family acted with incredible grace, strength and courage, looking beyond themselves and their pain.

(snip)

Their focus remained on unifying people on Matt's behalf, and despite the finality of his loss, the results - the community's varied and heartfelt responses - speak for themselves.

The Yellow Ribbon Support Center has taken on various projects, most notably providing 90 computers with Web cams to a camp in Iraq were he was based, establishing an Internet café and computer lab in his name for soldiers to communicate with loved ones.

(snip)

"Matt is coming home," his father said Sunday. "He's completed his mission."

Mission, perhaps. But Matt Maupin's legacy of service and healing may have just begun.
Staff Sgt. Maupin is survived by his parents, Keith and Carolyn Maupin, a brother and a sister. Funeral plans have not been finalized.
Matt Maupin's younger brother, Micah, is a Marine Corps sergeant based at Marine Corps Air Station Miramar in San Diego. The 23-year-old is due to fly to the East Coast this week to pick up his brother's remains.
Thank you, Staff Sgt. Maupin. Your mission is done.
________________________________________________________________________
To date, 4012 members of the United States military have lost their lives in Iraq. Of these, 102 have been women. The death toll for March was 38. More than 30,000 men and women have been wounded, and 145 have taken their own lives while on active duty. All of the fatalities can be seen here. The Department of Defense Press Releases, from which the information at the start of this diary was drawn, can be seen here. The death toll among Iraqis is unknown, but is at least 100,000. and perhaps many times that number. More than 900 Iraqi security officers were killed during March.
To date, 491 members of the United States military have lost their lives in Afghanistan. The death toll thus far for 2008 is 16. 298 members of the military from other countries have also lost their lives.
Other sites have stories, video, pictures and remembrances, including: Honor the Fallen.
If you want to do something to assist our military and their families, please visit anysoldier.com or Fisher House. If you have frequent flyer miles you would like to donate to hospitalized veterans or their families, please see Fisher House's Hero Miles program. Finally, if you would like to assist the animal companions of our deployed military, information is available here.
Sending a care package to a soldier in Iraq or Afghanistan is easy. Read how in this great series by Ninepatch. Brighten the day of a soldier in 2008.
And don't forget them when they get home! Read welcomebackveterans.org to learn what you can do.
I Got the News Today is a diary series intended to honor, respect and remind. Click here to see the series, which was begun by i dunno, and is currently maintained by Sandy on Signal, monkeybiz, silvercedes, MsWings, greenies, blue jersey mom, Chacounne, Wee Mama, twilight falling, labwitchy, moneysmith, joyful, roses, SisTwo, Avila, SpamNunn, a girl in MI and me, noweasels. These diaries are heartbreaking to write, but, we believe, an important service to those Americans who have died, and to our community's respect for and remembrance of them. If you would like to volunteer, even once a month, please contact Sandy on Signal, monkeybiz, or me, noweasels.
As you read this diary, please consider that the families and friends of those profiled here also may read it and that many members of our community have served in Iraq or Afghanistan or have loved ones currently serving in Iraq and Afghanistan. As the very proud daughter of a Navy pilot, and the granddaughter of a Marine pilot and a submariner, I hope that the comments tonight will demonstrate our respect for the sacrifices of our fallen military and our compassion for their families, whatever our personal feelings about the war and occupation happen to be.