This primary race can be shortened into one phrase: It's the Women, Stupid! Not the African Americans, not the Hispanics, not the Independents, not the young or the old. Women.
It is obvious that the race between the first Woman and the first African American candidate is an historic one. However, there seems to have been far greater emphasis placed on the voting public's reaction to a black candidate compared to a woman. Elton John's claims aside, there is little evidence that gender has occupied the media narrative to anything approaching the degree that race has. However, an intriguing analysis suggests that, in fact, gender loyalty is a strong part of the division between Hillary and Obama voters. Jonathan Tilove take a look at the question here.
...an analysis of the Pennsylvania results indicates that Obama's trouble may not be so much with white or white working-class voters generally, but with white women. And their overwhelming preference for New York Sen. Hillary Clinton may have less to do with any resistance to the prospect of a first black president, and more to do with their powerful desire to see the equally history-making election of a first woman president.
Tilove goes on to explain...
the exit polls found, 14 percent of the Pennsylvania electorate were women who said that the candidates' gender was important in deciding how to vote. Clinton won that group by 77 percent to 23 percent. Bositis said that means those voters accounted for 7.6 percentage points of her overall advantage over Obama, or 82 percent of her total victory margin of 9.2 percentage points.
In short, women are keeping Clinton in this race.
To look at this a little closer, I exmained MSNBC's exit poll data from 28 primary races - 13 Clinton wins and 15 Obama wins. I looked at the impact of the gender and race for each candidate. In this chart, the state is one the left, followed by percentage of women who voted in that race. Next is the % won by Clinton (C) and Obama (O) followed by the net gain in points. The same analysis is shown for African American (AA) voters. The last column shows the final margin of victory. Clinton wins are shown in the top chart, Obama wins in the bottom.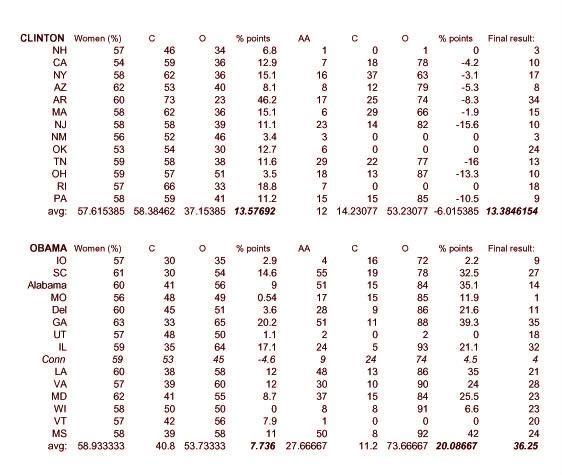 First, lets look at race. Obama won the majority of the African American vote in 22 races, Clinton won 0, and in 6 contests, the % of AA voters was very small or none.
* In the primaries that she won, Clinton
lost
an average of 6% points from African American voters to Obama. Obama received a majority of the black vote in 9 contests that Clinton won, suggesting that, unlike the female vote, winning the African American vote is not sufficient to win overall. * In the races where he won, African American voters contributed an average of 21 points. However, his overall average margin of victory was 36.3 points. This means that about 55% of his winning margins can be attributed to his net gains among African American voters.
Next, gender. The winner of the majority of women's votes won the race in 27 out of 28 contests. Only once did the primary winner lose the female vote - Obama won Connecticut even though 53% of women voted for Clinton.
* On average, net gains among women voters contributed 7.7 points to Obama's winning margins. * Looking at Clinton's margins, a startling fact jumps out. in the races she has won, her net gains among women voters was an average of 13.6 points. Her margin of victory for these races is 13.4 points. Clinton's wins can all be directly attributed to her net gain among women.
There are two important take-home messages. First, only one race has been won where the winning candidate did not garner a majority of the female vote. We can conclude, therefore, that to win the primary, one must win the majority of women's votes. The second interesting fact that these data show is that women are keeping Hillary in this race.
While probably not suprising, it is interesting to me to see the power women are exercising in this primary race. In my opinion, this is likely to be the root of the strong opposition to Obama from Hillary supporters. Rather than race or even party politics, the desire of women to see a female President is perhaps stronger than people realize. And Clinton's defeat will go down very hard for her supporters. These disapointed women will be the constitutiency that Obama will have to win back.