This past Tuesday announcements of the deaths of four of our servicemen were made by the Department of Defense (DoD). Those who died were:
Corporal Steven I. Candelo
Sergeant Terrell W. Gilmore
Specialist Durrell L. Bennett
Private 1st Class Patrick J. Miller
Some days it seems that heaven must be needing more heroes, and now there are four more.

Corporal Steven I. Candelo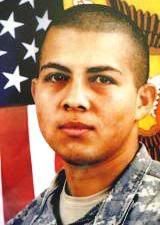 Cpl. Steven I. Candelo, a native son of Texas, was born in Houston. He died March 26 in Baghdad, when his vehicle was struck by a rocket-propelled grenade. He was assigned to the 1st Squadron, 2nd Stryker Cavalry Regiment, Vilseck, Germany. He was 20 years old.


Yellow ribbons can be seen throughout the neighborhood as the Candelo family awaits the arrival of the corporal's remains according to a story in the Houston Chronicle:
Among those waiting to welcome Candelo home is his fiancee and high school sweetheart, Erica Vasquez, 19, who has worn his engagement ring for a year.

On Tuesday, the University of Houston-Downtown student proudly showed the wedding band she had purchased for Candelo for their planned nuptials next year.

"All my crying and everything won't bring him back," said Vasquez, her voice breaking with emotion. "I know he's in a better place. Of course, I am proud of him. I will always love him until the day I die."
The article also reveals that Candelo had recently purchased a home next to his mom's house in Houston.
There is a story inStars and Stripes which reports on the memorial service for the three recently fallen 2nd SCR soldiers honored in Vilseck, Germany. In the article, Capt. Emmanuel Sioson, 1st Squadron's rear detachment commander, relates some information about Corporal Candelo:
Candelo, also 20, was raised by his grandmother and dreamed of a life of service like his grandfather, who served in the Colombian Navy, he said.

"He wanted to join the Army and later become a police officer," he said.

Candelo could find a Colombian restaurant wherever he was stationed and even found one in Germany
The 2nd SCR was responsible for finding the remains of Staff Sgt. Keith Matthew Maupin. He had been MIA for nearly four years.
Steven Candelo is survived by his parents, Alvaro Candelo and Julia Martinez, and by his fiancee, Erica Vasquez. His funeral will be held in Texas in April. The Patriot Guard Riderswill be attending.

Sergeant Terrell W. Gilmore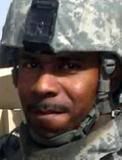 Sergeant Terrell W. Gilmore of Baton Rouge, died March 30 in Baghdad. He was killed when an improvised explosive device (IED) detonated near his vehicle. The 38-year-old was assigned to the 769th Engineer Battalion of the Louisiana Army National Guard in Baton Rouge.
Terrell Gilmore entered the Army to help get a college education according to the WBRZ news and The Advocate site. He didn't want to burden his mom, who was raising 6 kids on her own, at the time with the expense.
When Sgt. Terrell W. Gilmore returned to Baton Rouge last month for an almost two-week vacation from Iraq, his mother knew it would be the last time she would see him.

"The Lord was dealing with me," Nancy Lawson said Tuesday from her Baker home.

"I had a feeling he wasn't coming back."
The news channel, WAFB, contacted the family and got several quotes:
BATON ROUGE, La. (WAFB) - Another local family has lost a loved one in Baghdad on military duty. In fact, 23 soldiers from the Louisiana National Guard have lost their lives in Iraq since the war began. Two nights ago, Terrell W. Gilmore of Baton Rouge became casualty number 24.

...His mother got the news Sunday evening by phone and from her church. "Well, somebody had already called us and when they came, Terrell's children and his ex-wife came with them and I knew it was something that wasn't good," says Nancy Lawson, Gilmore's mother. She says her son was an outgoing, loving son who knew what he wanted to do. "Terrell just wanted to do something to help his country. And he was very proud of what he was doing," she says.

Terrell's sister, Dietra, says she and her brother had a connection. She says he had been home on leave for about two weeks just recently and when he went back that he only had a few months left to serve. "In fact, he had less than four months before he was coming back. He would have been finished," she says. Dietra says Sgt. Terrell was a man with a huge heart who would give you the shirt off his back, even if it were freezing outside. She says she can't believe she will never speak to him again. "I didn't understand the danger and I think that with a lot of us, the war is what it is, but it's not personal until it comes home..."
Terrell's brother, Odis, followed his big brother's lead and entered the service. The brothers were both veterans of Desert Storm. Chief Petty Officer Odis Gilmore, is escorting his brother home. The funeral for Sergeant Gilmore will be held in Baton Rouge. The Patriot Guard Riders will be attending. Gilmore is survived by his parents, George and Nancy Lawson; his wife, Billy; his two children; and 5 siblings.
`````````````````````````````````````
Two soldiers were killed March 29 in Baghdad from wounds suffered when they encountered an improvised explosive device (IED) and small arms fire. Specialist Durrell L. Bennett and Private 1st Class Patrick J. Miller, who bring the total from Fort Riley to 147 soldiers and airmen.
Specialist Durrell L. Bennett of Spanaway, Washington, was an infantryman assigned to 2nd Battalion, 16th Infantry Regiment, 4th Infantry Brigade Combat Team, 1st Infantry Division. He entered the Army in August 2005. He began serving with the 1st Infantry Division in December 2005. This was his first deployment. He was 22 years old.
According to a story in the Seattle Times, Durrell was scheduled to come home this month:
A 2004 Bethel graduate, Spc. Bennett was less than two weeks from completing his 15-month tour when he was killed.

His father, former Army Ranger Dempsey Bennett, said his son had already packed up his prized music equipment and sent it to his family home in Spanaway.

The box postmarked Baghdad arrived just a few days before they learned their son had died.
His mom is quoted in a site for KIRO TV:
"He was a joy, he was a joy," said Doris Bennett, Durrell's mother.

"He just loved people and he did as much for people as he could and he gave of himself," said Doris.
The Army Specialist was a musician. On his MySpace page, he wrote "Most of my spare time i love to do music thats my first love, im not tryin too make it big or anything like evrybody else. This is just a hobbie, but if it happens i wont complain."
The Iraq Page quotes the infantryman's father:
Bennett, who attended Bethel High, had recently re-enlisted and planned to return to the area and share an apartment with his 18-year-old brother.

"He had so many friends," said his dad, Dempsey Bennett. "Everybody knew Durrell."

Throughout high school Durrell Bennett wrote songs and wanted to be a music producer. His dad urged him to hit the books and focus on more practical pursuits, he said.
Durrell Bennett is survived by his parents, Doris and Dempsey Bennett. His memorial is set for Saturday in Tacoma, Washington.

Private First Class Patrick J. (PJ) Miller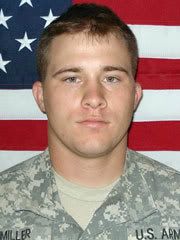 Private First Class Patrick J. Miller of New Port Richey, Florida, was an infantryman assigned to 2nd Battalion, 16th Infantry Regiment, 4th Infantry Brigade Combat Team, 1st Infantry Division. Miller entered the army in March 2007. He began serving the 1st Infantry Division in July of 2007. This was his first deployment. He was 23 years old.
The following is a quote from the Tampa Bay.com:
He was a standout on the Mitchell High wrestling team and did a work-study program as a lifeguard at the YMCA. That is where he met his future fiancee, Tara Nelson, who also was a lifeguard. They've been together since they met as teenagers.

"He was perfect," Nelson, 26, said Wednesday between sobs.

After his high school graduation, Miller earned a degree in biology from the University of South Florida. He planned on going to medical school to become a surgeon. His family said he enlisted in the Army last March to help pay for medical school, and because he believed it was his duty as an American.
What is more heart-breaking for Tara is that she now knows that the Private had some special plans. According to the Fort Mill Times
Army Pfc. P.J. Miller had it all planned out.

His upcoming 30-day leave from a tour in Iraq would provide ample time for a cruise to the Bahamas and an impromptu wedding to his high school sweetheart. His stint in the Army would provide enough money to pay for medical school.

An attack in Baghdad on Sunday ended those dreams. Instead of planning a homecoming, Miller's Tampa-area family and fiancee are preparing for a funeral.
The Iraq Page quotes PJ's dad:
"He was a fantastic human being," Patrick Miller said.
P.J. Miller was a graduate of Mitchell High School in New Port Richey and earned a degree in biology from the University of South Florida. He planned to go to graduate school to study genetics. Funeral arrangements have not been set yet.


******************************************************************

Helping our troops:
If you wish to assist our military and their families, consider Operation Helmet, or Fisher House. If you have frequent flyer miles, they can be donated to hospitalized veterans or their families. See Fisher House's Hero Miles program for details. Consider sponsoring a deployed service member at TroopCarePackage.com. Letters or care packages can make a real difference in a military person's life. To assist the animal companions of our deployed military, information is available here. Also, you could visit:

When our veterans come back home, they need jobs. Look at the programs of Hire Heroes USA and Welcome Back Veterans to see if you can help out.
There are two recent diaries that have some great suggestions too. Ninepatch's diary about care packages, and Greenies' diary, about supporting our troops
About the IGTNT series:
"I Got the News Today" is a diary series intended to honor, respect, and remind us of the sacrifice of our troops. Click here to see the series, which was begun by i dunno, and which is maintained by Sandy on Signal, monkeybiz, noweasels, MsWings, greenies, blue jersey mom, Chacounne, twilight falling, moneysmith, labwitchy, joyful, roses, SisTwo, SpamNunn, and a girl in MI. These diaries are heartbreaking to write, but an important service to those Americans who have died and to our community's respect for and remembrance of them. If you would like to volunteer, even once a month, please contact me, Sis.

Fallen service members whose names have been released by the Department of Defense will usually be diaried two days after the official announcement on the DoD website. This allows the IGTNT team to cover each person more fully, but still in a timely manner

Please bear in mind that these diaries are read by friends and family of the service members mentioned here. May all of our remembrances be full of compassion rather than politics.