This Mother's Day, I offer these lines from "The Mother," by May Herschel-Clarke:
...She lives as though for ever in your sight,
Loving the things you loved, with heart aglow
For country, honour, truth, traditions high,
--Proud that you paid their price. (And if some night
Her heart should break--well, lad, you will not know.)
Tonight two more broken-hearted mothers mourn their sons -- Pfc. Aaron J. Ward, 19, of San Jacinto, Calif. and Spc. Alex D. Gonzalez, 21, of Mission, Texas. Please join me in remembering their lives and service.

Pfc. Aaron J. Ward, 19, of San Jacinto, Calif. and of the 170th Military Police Company, 504th Military Police Battalion, 42nd Military Police Brigade, Fort Lewis,
Wash.

He was only 19.
Aaron Ward would have marked one year in the Army in July and had been in Iraq for less than two months when he was killed by hostile fire on May 6 in Anbar province while conducting cordon and search operations.
"He wanted to make a difference," as his uncle, Gary Tolle of Menifee, Calif., told the Press-Enterprise. "He respected the military and he felt it an honor to serve." Tolle also told the newspaper that his nephew looked up to family memberswho had served in the military and dreamed of a career in the Army.
Ward, who attended San Jacinto High School and Mountain View High School, enlisted April 17, 2007 and trained at Fort Leonard Wood, Mo., where he completed the Military Occupational Specialty 31B: Military Police Officer Qualification Course. He also earned the National Defense Service Medal and the Army Service Ribbon, says the Olympian.
He was assigned to Fort Lewis on the first of this year and left for Iraq almost two months ago. Fort Lewis has been hit hard; he is the base's 182nd service member to be killed in Iraq, says the (Tacoma) News Tribune. The Press-Enterprise notes that the loss has also hit Ward's home hard too, as " The San Jacinto Valley has had one of the highest concentrations of military casualties in the country since the war began in March 2003." (Army Staff Sgt. Bryan E. Bolander, remembered here just days ago, was a fellow graduate of San Jacinto High School.)
There's very little information available about this soldier so I offer you these words from his family, taken from a memorial guest book:
Aaron, you always and will forever be my MOST favorite but then you
know that. You will be in my hart always and that will keep us close. I
will forever miss hearing you say "I love my aunt Kathi" in that little
special way you did. I am so proud to have had you as my nephew. I will
never forget your perfect face and dorking personality, you will be
greatly missed by so many yet never forgottern. you made so many people
very proud. I love you very much and untill we meet again I LOVE YOUR
FACE!!!!!!!!!!

LOVE AUNT KATHI
Aaron until we meet again you will forever be in our hearts. We
love you and miss you so much. Your sweet little round baby face will
forever be our Aaron. We are so proud of you honey. You touched the
lives of so many people and that big grin of yours always made us just
a little happier then we were. The world is a better place because you
were in it. We love you so much.

G-ma and Grandpa
As much as I got in trouble with you and as long I may have been grounded I will not forget how much fun it was while it lasted. Me and you were BUDS and will forever be BUDS. everywhere I go whether dangerous or harmless I know you will be walking right next to me. And im glad and proud of you that you fulfilled your calling and made a career for yourself. And I will forever remember that my cousin was a "Hero" I will be happy to tell all my friends that my cousin Aaron was a FULL ON BADBUTT MP (military police). Well I love you and I will talk to you in my dreams. :}
Cody Tolle
To my Aaron (what up fool)... you know I didn't always understand you, in fact most of the time I didn't. But that's what made me love you the most. I would get so annoyed that you were always trying to take care of me but to tell you the truth I couldn't be happier that you did and that you cared. I loved you SO much and I was so proud of you I really hope you knew that. I told everyone that my little cuz was away in the army and that he wasn't scared to do what he had to do. I will never forget you Aaron you will always be my crazy lil' cousin forever and always also (MY HERO). I will think of you everyday and I will make sure that Emily knows how great you were. And As hard as it is to say I'm happy you left doing what you loved not many people can say that. I look up to you buddy for what you did and the man you turned in to be. Ur a cool kid in my eyes and I wish I had the chance to tell you that. But there will come a day when I see you again so wait for me and save me a spot right next to you we will have so much to talk about. And please watch over Emily you can be her bright star in the sky. I love you Aaron more than you will ever know come see me anytime in my dreams! You will always be in my heart buddy... good bye for now.
P.s. Tell God to take care of you and tell uncle Jimmy I said hello
Jennifer Reiter
He was 19. He was loved.
He is survived by parents Paul and Debra Ward; sister Samantha Daye and brother-in-law Michael Daye; grandparents Ron and Jeannie Tolle; grandmother Betty Johnson; aunts Kathi Poppert, Shannon Tolle, Julia Tolle, Brenda Bertain; uncles Gary Tolle, Ron Tolle Jr., Joe Poppert, Hayle Bertain, Dale Ward, Uncle Tom ; and cousins Ronnie and Jennifer Poppert, Cody, Cassidy and Kyle Tolle, Connor and Adam Tolle, Emily Symonds, Becky and Joe Bertain.
The viewing will be held on Tuesday May 13th in Sun City; the memorial service will be held Wednesday May 14th, followed by Army Honor Guard services at Riverside National Cemetery. The Patriot Guard will be in attendance and will escort Ward's casket to the cemetery.
Godspeed, Pfc. Aaron J. Ward.
******************************************************************************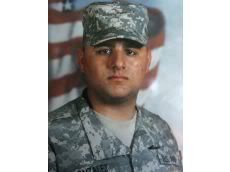 Spc. Alex D. Gonzalez, 21, of Mission, Texas and of the 43rd Combat Engineer Company, 3rd Armored Cavalry Regiment, Fort Hood, Texas.

Alex Gonzalez's dreams of becoming a police officer were cut short when his vehicle "encountered small arms fire and a rocket-propelled grenade attack," according to the Department of Defense.
While at Mission High School, he was a baseball and football player -- but in the Army, he was an explosives expert and enjoyed his chosen profession. "When he came to visit he couldn't wait to go back. He loved the Army," as his cousin and good friend Arturo Casanova Jr. told the Monitor, a local newspaper. "And then he got (to Iraq). ... Of course, everything changed."
KGTB4.com spoke with Gonzalez's adoptive father, uncle and former paratrooper, Alfredo Gonzalez:
"He told me, 'You know what dad, once I get back home after this deployment, I've already applied for Airborne school because I want to be like you'," said the grieving father who adopted Alex when he was 6 months old.

Alex went on to tell his father, "And if I can, more than what you used to be."

The grieving father recalled telling his son, "Mijito, you're okay. You don't have nothing to prove to me. The way I see it, I'm very proud of you."

In one of his last e-mails, Mr. Gonzalez said Alex told him he wanted to re-enlist for 10 more years.

"I told him, "What?" and he said, 'Yeah you heard me. I'm going to re-enlist," the grieving father said. "And I told him, 'If you can, don't deal with explosives no more. Try to get a different MOS."

Alex replied, "I've got a lot of options, Dad. So, I'll let you know later."

The grieving father fought back tears as he explained that was the last time he heard from his son.
And from MySA.com: "He told me he just wanted to be just like me, or even better," Alfredo said Wednesday, fighting back tears. "He just wanted to wear the uniform, join the Army, ever since he was small. That's what he was."
He saw his family last in January while home on leave. That was when he spoke with Mission police Chief Leo Longoria about his civilian dreams. "He was a great young man and I was really fond of him," Longoria told the Monitor. "I would (have done) everything possible I could to assist him and help him and guide him in his pursuit of being a police officer."
The Monitor ran "R.I.P., Soldier" in memory of Gonzales:
Understandably, his family and friends are suffering extreme grief, and across the Valley, we all grieve with them - just as we have mourned the loss of each of the Valley servicemen who've died in Iraq or Afghanistan. God only knows that with 24 lives lost, the Valley has suffered more than its share of grief, and still the conflict drags on with seemingly no final resolution yet in sight.

(snip)

However, whether you oppose or support our continued involvement in the conflict in Iraq, nothing diminishes the fact that Pfc. Gonzalez made the ultimate sacrifice doing his duty on behalf of the rest of us. For that, he deserves not only our tears, but also our respect and our gratitude.

He will be missed by all who knew him - as well as by those of us who were never fortunate enough to meet him. By all accounts, he was a good soldier, a good son, a good nephew, a good friend and we have little doubt that he also would have been a good police officer.
The Gonzalez family invited the Mission community to join them in praying the Rosary last Thursday night; a candlelight vigil and a flag-raising ceremony were held at their home last night.
"He died with a lot of honor. He died for what he believed in," said his father.
He is survived by his adoptive parents, his biological father, his biological and adoptive siblings and a number of cousins.
Funeral arrangements are pending, as the Army is not sure when Gonzalez's casket will arrive home.
Godspeed, Spc. Alex D. Gonzalez.
******************************************************************************
May the memories of all 4,075 of our fallen continue to shine brightly for all those they leave behind. May their families, friends and brothers and sisters in arms find healing and peace.

We also remember those coalition service members who have given their lives. Our condolences go out to their loved ones.
******************************************************************************
What You Can Do
More than 30,000 service members have been wounded and soldier suicides are at a record level. Those currently serving in the wars in Iraq and Afghanistan would also be grateful for support, even if it's only a letter or a small care package.
Go visit: * Anysoldier.com and Ninepatch's diary on sending care packages * Operation Helmet * Fisher House * Greenies' diary, "Random Acts of Remembrance and Other Ways to Support the Troops" * Noweasels' diary, "Top Comments: In Honor of Major Edition"
******************************************************************************
About "I Got the News Today" (IGTNT)
I Got the News Today is a diary series intended to honor service members who have died as a result of the wars in Iraq and Afghanistan; its title is a reminder that almost every day a military family gets the terrible news about a loved one.

Diaries about the fallen usually appear two days after their names are officially released, which allows time for the IGTNT team to find and tell their stories.

Click here to see the series, which was begun by i dunno, and which is maintained by Sandy on Signal, monkeybiz, noweasels, MsWings, greenies, blue jersey mom, Chacounne, twilight falling, moneysmith, labwitchy, joyful, roses, SisTwo, SpamNunn and a girl in MI..
Please bear in mind that these diaries are read by friends and family of the service members chronicled here. May all of our remembrances be full of compassion rather than politics.