Last week I posted a Macaw story in a comment in lineatus' wonderful Saturday morning birding diary. She expressed an interest in seeing pictures which I was unable to supply at the time but promised her for this week. I realized this morning that she may have meant for me to post a diary rather than just post the pictures in a comment in her diary (as none has yet appeared). So I will post a short diary about my birding experiences in Ecuador with the Macaw pictures.
I first traveled to Ecuador in July 2004. Some colleagues of mine had been taking students down for a couple of years for a biology field course and they asked me to join them, bringing students from my own institution. We visited two sites in the Amazon basin (locally called the Oriente). Since then I have been back twice more, once with a course and once on vacation.
Ecuador is one of the most biodiverse countries on earth. I believe in ranks 4th in terms of recorded bird species with almost 1600 which is about twice the number for North America north of Mexico.
Most of my time has been spent in the Amazon region to the east of the Andes. For the courses we have visited the Tiputini Biodiversity Reserve which is run by the Universidad San Francisco de Quito. This is an amazing location that is far enough away from the tourist lodges and oil exploration that most of the larger animals can still be seen. In my two visits we've seen 8 primate species, tapir, anaconda, caiman, anteater, sloth, giant river otter, river dolphins, and capybara.
Oh wait - this is supposed to be about birds.
My students have tended to be less interested in birds than in other aspects of the fauna and flora. Tropical forests are a challenging birding environment and most of them are inexperienced with using binoculars. They tend to 'zone out' when the guide spots an antbird jumping around elusively in the underbrush.
However they are impressed by Macaws, even when seen from a distance. Anyway here are a couple of pictures of the juvenile Scarlet Macaw I mentioned last week. It had fallen in the river (twice) and was being fed and dried in these two pictures
Macaw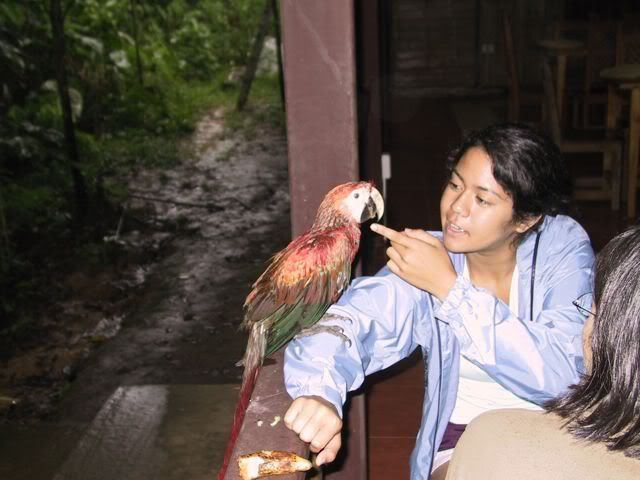 Macaw being fed
I also mentioned that the Macaw was chased away by a Gray-winged Trumpeter. Trumpeters are really cool birds. They look like a chicken or a turkey but they are actually more closely related to rails. Indigenous people commonly keep them as pets. They socialize very easily and will live in communities, following people around. The trumpeter at Tiputini did not like his social group being invaded by the Macaw and chased it away.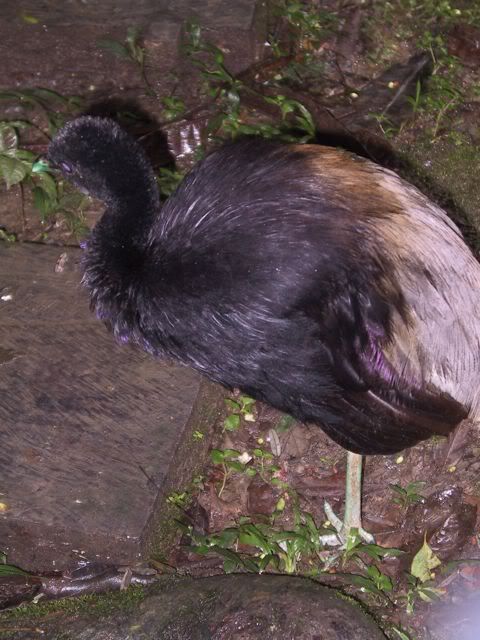 The trumpeter
The trumpeter interacting with our guide
Mayer. I apologize if I have spelled his name wrong.
On my most recent trip we visited a different location in the Oriente, the Kapawi Lodge in southern Ecuador. This lodge is owned and run by the Achuar people who had no contact with the outside world until the 1970s. It is not as good a place for seeing larger animals because of subsistence hunting but it was still and amazing biological and cultural experience. It is also very distant from the oil exploration that has been so devastating to north-eastern Ecuador.
I will finish up with a couple of hummingbird pictures from a more conventional ecotourism location in Ecuador, Bellavista Cloud Forest Lodge.
Here is a
Booted Racket-tail.
And the hovering bird is a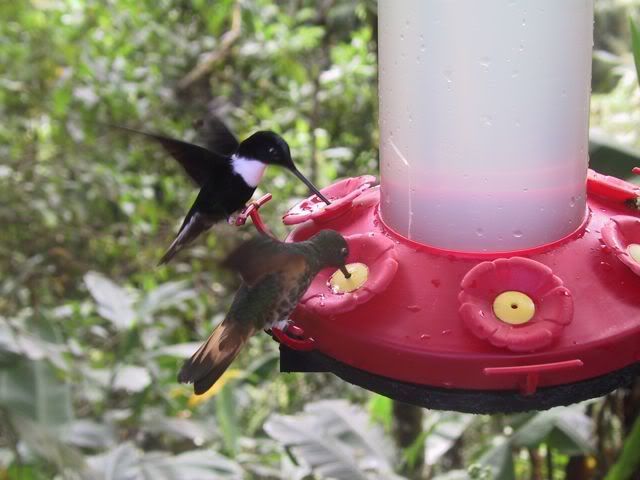 Collared Inca. I forget the name of the other hummer in the photo although it was by far the most commonly seen species.