There's a beauty in the river
There's a beauty in the stream
There's a beauty in the forest at night
When the lonely nightbird screams
And there's so much time for singin'
And so much time for words
There's so much time to listen
And so much time to be heard

There's a brighter day round the corner
There's a crown behind the hill
There's a city of light on that foggy mountain top
Where the wind is never still
And there's so much time for livin'
And so much time to die
There's so much time for laughin'
And so much time to cry

From "Beauty in the River"
Ozark Mountain Daredevils



The hearts of the Highland Lakes region of Central Texas are doubly broken this week. On the heels of lowering their flags in mourning for Sgt. Mark Stone (beautifully honored by moneysmith here), comes the news that Specialist Jeffrey F. Nichols, 21, of Granite Shoals, Texas was killed in Baghdad on May 2, when his vehicle struck a roadside bomb.

Please join me in honoring the memory of this young husband and father who gave his life in service to his country.
Spc. Jeffrey F. Nichols, 21, Granite Shoals, Texas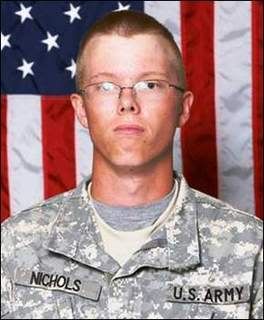 From the DoD:

The Department of Defense announced today the death of a soldier who was supporting Operation Iraqi Freedom.

Spc. Jeffrey F. Nichols, 21, of Granite Shoals, Texas, died May 1 in Baghdad from wounds suffered when his vehicle encountered an improvised explosive device. He was assigned to the 3rd Squadron, 89th Cavalry Regiment, 4th Brigade Combat Team, 10th Mountain Division (Light Infantry), Fort Polk, La.


A young husband and father of a toddler son who reside in Marble Falls, TX, Spc. Nichols was a field artilleryman on his second tour. His awards and decorations include the Purple Heart, National Defense Service Medal and the Iraq Campaign Medal.

The Highland Lakes community will welcome him home tomorrow complete with military escort and the support of the Patriot Guard Riders, whose message board has been visited by someone who served with Spc. Nichols in Iraq:

RIP Jeff. I spent several months in Baghdad Iraq, attached to 3/89 CAV and spent many days and nights out in Eastern Baghdad with SPC Nichols. He was a true American, friend and patriot. May his memory and legacy live on this Earth as he is now in the Kingdom of Heaven...


As KVUE reported, the flags between Granite Shoals and Kingsland were lowered to half staff at the end of last week to honor Sgt. Mark Stone. And they will stay that way in memory of Spc. Nichols. Not only did they grow up right near each other, but also both were with the 10th Mountain Division out of Fort Polk, LA.

"I don't know how to describe it, this community is so small, for this to happen so soon, and consecutive sessions of each other it is pretty tough right now," said Austin Stanphill, Granite Shoals fire chief.

Chief Stanphill, at first, thought it was all a mistake -- surely two young men from this area, being killed, was just too hard to believe. But Monday morning confirmation came in and the nightmare would continue. ~Source


Spc. Nichols' guestbook at Legacy.com has been visited by family members of Sgt. Stone. In their own time of grief, they selflessly left this message for Spc. Nichols' family:

Thank you Jeff for your services to our great country. You will never be forgotten. We are loved ones of fallen soldier Sgt Mark Stone and we are very proud of our boys. Our prayers are with Jeffrey's wife, child, family and friends.


While funeral arrangements are not yet complete, Spc. Nichols' mother did tell News8 Austin that her son was "a true American hero."





Your mission is complete, Spc. Nichols. Rest in eternal peace.


REMEMBER THEM WELL

Remember our troops: those who have made the ultimate sacrifice, those who are still in harm's way and those who have returned home:

In Remembrance

Please take a moment to honor the memories of our fallen service men and women who have passed through this world much too quickly.





You can view the stories and remembrances of these heroes at sites such as Iraq Veterans Memorial and Honor the Fallen.
Supporting the Troops

If you haven't had a chance to put together a care package for a unit in Iraq or Afghanistan - it's such a good feeling to know you are sending our troops things they really need. I'm not talking about the comforts of home – it's necessities like socks and underwear and soup packets and feminine hygiene products and paper and pens...and school supplies, treats and trinkets they can pass out to the Iraqi and Afghan children. Basic things that they are so thrilled to receive.

There are a few ways to do this. You can go through troopcarepackage.com or anysoldier.com. If you go to the anysolider site click on WhereToSend for a searchable database. For example if you search "By Latest Email" you'll see the troops who most recently have submitted a request for specific items. You then request their mailing address. Read Ninepatch's wonderful diary on the how-tos of it all – it couldn't be any easier thanks to her.

Operation Helmet is another great organization whose mission is to provide helmet upgrades.

Supporting Our Veterans


We have a solemn duty to ensure that our veterans are properly cared for. Consider visiting sites such as StandUp4Vets.org, Iraq and Afghanistan Veterans of America, Welcome Back Veterans.org and Fisher House to see where your help is needed. Other ways to help can be found in this diary.




The Department of Defense has confirmed 4.067 deaths, according to Iraq Coalition Casualty Count. 496 American troops have died in Afghanistan since 2001.


About the IGTNT series:
IGTNT stands for "I Got the News Today." The phrase is meant to symbolize that terrible knock on the door that any number of families got today, bringing with it the news that a loved one has died. IGTNT is a diary series intended to honor, respect and remind.


Click here to see the series, which was begun by i dunno, and is currently maintained by Sandy on Signal, monkeybiz, noweasels, MsWings, blue jersey mom, twilight falling, moneysmith, labwitchy, joyful, roses, SisTwo, SpamNunn, a girl in MI and me, greenies.



These diaries are heartbreaking to write, but an important service to those Americans who have died and to our community's respect for and remembrance of them. If you would like to volunteer, even once a month, please contact Sandy on Signal, monkeybiz, or noweasels.



Fallen soldiers, sailors, Marines, airmen and National Guard whose names have been released by the Department of Defense will usually be diaried two days after the official announcement on the DoD website. This allows the IGTNT team to cover each fallen service member more fully, but still in a timely manner






Please bear in mind that these diaries are read by friends and family of the service members chronicled here. May all of our remembrances be full of compassion rather than politics.