___________________________________________________________________
>> See the Summary section for a two-step recap of what to do - the rest is a convoluted description of how I derived this suggestion. <<
___________________________________________________________________
From this Dallasdoc diary which referenced an episode of the Countdown show with Keith Olberman, some folks were attempting to directly embed the MSNBC video of that show in their comments.
As usual, directly copying MSNBC code into either a DKos diary or comment wouldn't work. In most cases, iframes were found in the source - but, DKos does not explicitly support iframe tags in our comments.
So, I looked around and found an easy method that does work.
Note: I recommend use of a free Firefox Extension to determine the filename of any video you view on an MSNBC page. If you know of another method, that would be great to offer.
Overall, suggestions to enhance the methodology would be appreciated. Hence, why I'm writing this semi-techie diary.
Background and geeky research:
The DKos diary provided a link to this Countdown episode page, which also allows scrolling to view and play clips from past shows.
Using the Page Info function in Firefox v2, neatly displayed by the All-in-One Sidebar Extension, I located an embedded Flash player that they use to play and manage videos on that page: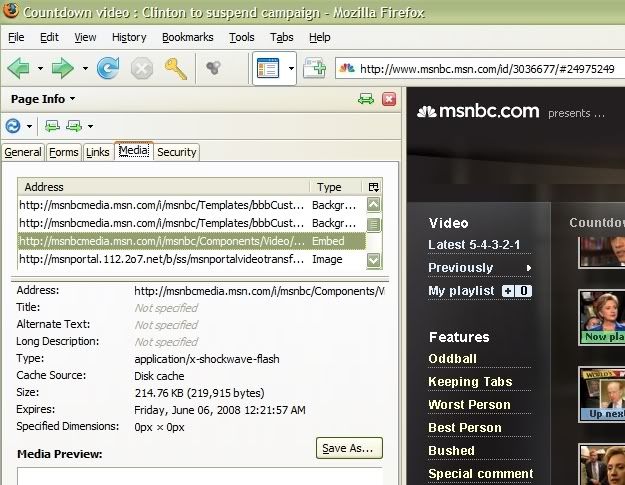 msnbcmedia.msn.com/i/msnbc/Components/Video/_Player/Show%20Players/Countdown/cdvp2.swf
There are parameters passed to the player, which then interprets these values to presumably locate the actual Flash video content that it should show and scroll on that page. However, the full URL address of their video content that actually plays (i.e., it's a Flash video file with .flv extension) is not provided directly in those parameters to their Countdown Flash player - I separated the query string line for ease of reading individual parms:
domain=www.msnbc.msn.com
settings=24525818
useProxy=false
wbDomain=www.msnbc.msn.com
launch=24975249
sw=1280
sh=1024
EID=oVPEFC
playerid=3036677
Nothing of obvious use to us, there. At least, without digging further.
However, if you invoke the URL for their Countdown video player with the full parameter set, it works fine in any web browser. Embedding that video player at DKos is another matter, though.
Unfortunately, embedding the entire Countdown player and passing its parameters in a diary or comment becomes unreasonable due to size it requires on a page to operate. That is, if you take the original link to that MSNBC Countdown page above, you might note that the Coundown Flash video player is kinda large for a typical DKos layout: it calls for a width of 996 and a height of 550 - that width would normally bleed over our right margin.
So, what to do?
Here's one way to embed MSNBC videos:
I use a neat Firefox Extension called DownloadHelper, which enables saving video files that are embedded in web pages (among other useful tricks); for our needs here, the DownloadHelper pulldown menu can easily show the Countdown video filename being played or loaded at the time (in this case, the name of our video being played is shown as n_countdown_clinton_080604.flv):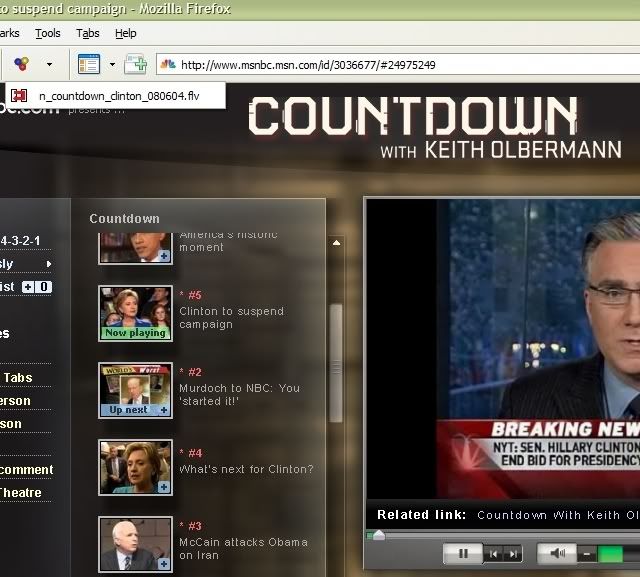 (I may expand this subsection to include other methods for identifying the Flash video filename in a page without relying on the DownloadHelper extension - please let me know if that would be helpful.)
Here's a second way to embed MSNBC videos:
May 13, 2009: I've since determined and tested a second method is available to determine the Flash video filename in an MSNBC video that's playing:
Instead of using a Firefox add-in, you can install the following to your Vista system:
One-time setup:
Download the freeware Orbit Downloader.
Run the install program for Orbit which you just downloaded (or, tell Internet Explorer to Run it instead of downloading in Step 1). I deselected most options it offered - the default is that it will work with Internet Explorer.
Performed each time you want to embed a MSNBC video using Internet Explorer:
If Orbit is not yet running, start the installed Orbit Downloader program.
Within Orbit, select Tools -> Grab++. You'll see a new Grab++ windows popup.
In Internet Explorer, go to the MSNBC page with your desired video. In this case, that link would be here.
Play the MSNBC video in Internet Explorer.
In the Grab++ window, you will see a file that ends in ".flv" associated with the msnbc.com site while the video is playing in IE - that's the name of the actual video being played.
Continuing our embedding workflow . . .
Further, I happen to know the path that seems to be used for MSNBC Flash video content, from links in other pages which embed their Flash videos more explicitly:
msnbc.vo.llnwd.net/e1/video/flash/...
Then, I quickly looked around for a generic Flash video player - any player should be fine to play our desired MSNBC content. I found the JW FLV Media Player with this simple tutorial on embedding the player in a site. I downloaded it and placed it onto a website for my later use at DKos.
Update: I noticed that www.onlineflvplayer.com hosts a free-to-use Flash video player, so you can simply reference their player's address at:
http://www.onlineflvplayer.com/...
for any EMBEDs discussed in this diary, instead of downloading and then hosting your own copy.
Coincidentally, I was looking at this Adobe Knowledge Base page on how to use an EMBED tag for placing a chosen Flash video player into a DKos comment as a URL reference, then passing the URL reference to the MSNBC Flash video content in that EMBED tag's "flashvars" parameter. So, this seemed like the right path to continue traveling.
In plain language, we can use following code for embedding any MSNBC video into a DKos comment:
<embed height="339" width="425"
src="http://www.onlineflvplayer.com/player.swf"
flashvars="file=http://msnbc.vo.llnwd.net/e1/video/flash/filename">
</embed>
Using the filename for our example of n_countdown_clinton_080604.flv (see image above), yields the following:
___________________________________________________________________
Summary:
Determine the filename for MSNBC's Flash video on the page where you found it.
(I showed how you can quickly and easily use the Firefox Extension called DownloadHelper or the stand-alone program Orbit Downloader to determine that filename from a page where you view the video, but there are other methods you may prefer.)
Place that filename from Step 1 into the code block shown below, which goes anywhere in your diary or comment:
<embed height="339" width="425" src="http://www.onlineflvplayer.com/player.swf" flashvars="file=http://msnbc.vo.llnwd.net/e1/video/flash/filename"></embed>
The result is a visually embedded video player with the MSNBC content of your choice, as shown in the example above.
___________________________________________________________________
Hope this helps, or at least is food for thought.
Suggestions welcome.