Tonight we honor two soldiers whose bodies were identified 14 months after they went missing in Iraq.
I would ask you to remember
only this one thing....The
stories people tell have a way
of taking care of them. If
stories come to you,
care for them. And
learn to give them away
where they are needed. Sometimes
a person needs a story more than food
to stay alive.

"Stories" by Barry Lopez (source)
On July 10, the Armed Forces Medical Examiner positively identified human remains recovered in Iraq July 9 to be those of two soldiers who had been previously listed as "Missing-Captured."

Killed were:
Sgt. Alex R. Jimenez, 25 at the time of his capture, of Lawrence, Mass.
Pfc. Byron J. Fouty, 19 at the time of his capture, of Waterford, Mich.

Jimenez and Fouty were part of a patrol that was ambushed by enemy forces south of Baghdad on May 12, 2007. They were assigned to the 4th Battalion, 31st Infantry Regiment, 2nd Brigade Combat Team, 10th Mountain Division (Light Infantry), Fort Drum, N.Y.
Sgt. Alex R. Jimenez
Spec. Shaun Gopaul woke up at 4 a.m. on May 12, 2007, and waited at a battle position south of Baghdad for members of his company to pick him up.

One of those he expected to see was the larger-than-life figure of Sgt. Alex Jimenez, who cared so much about his fellow soldiers that he made sure every one was comfortable and who cared so much about the Iraqis he was fighting for that he learned Arabic on his own so he could talk with them.

"He was a good guy, you know. He had a big heart," Gopaul said.
Source: CNN
Jimenez was a resident of Lawrence, Mass., and long dreamed of serving in the military, but his "big heart" was evident well before he enlisted in the Army, his mother, Maria Duran, told the Eagle Tribune.
Jimenez — then a teenager — was living in the Dominican Republic when he saw the man get hit by a motorcycle. Jimenez reached out to the older gentleman, took him to the hospital, stayed with him until he was discharged, and then took him home.

When the man called Duran last week, he was wailing about her son's death.

"He said, 'Alex saved my life. I had never seen a young man like him.'"
His brothers will also miss Sgt. Jimenez' influence.
Both Bryant and Andy took their brother's disappearance, and now his death, extremely hard. At a press conference at their home in Queens, N.Y., last week, Andy started to thank residents for their support and then broke down in tears. Bryant wiped away a tear running from under his dark sunglasses.

"I looked up to him, and he's not with me right now," Bryant said in an interview last year.

"He was an ideal brother," added his older brother, Javier. "He was honest, giving, and always looked after all of us."
Jimenez, a native of Queens, N.Y. was promoted to sergeant while missing in action, according to the Navy Times.
Pfc. Byron J. Fouty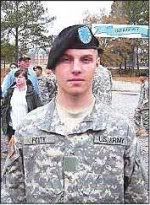 "He was a free-spirited kid," said his stepfather, Charles Meunier, of Schertz, Texas. Meunier has been married to Fouty's mother, Hilary, since 1998.

"He had his own will, he was strongheaded. That was one reason he went there (to Iraq), he wanted to do what he could to help out."

Meunier said Fouty indicated in his final letters last year that he was going to re-enlist.

"He wanted to come to Fort Sam Houston (in Texas) and be a medic and help the guys in the field," he said. "He had lot of compassion for people."
Fouty's life was sometimes chaotic, as his parents were divorced and remarried, and he had to live with another family to attend high school in Michigan, but he left an impression on those he came in contact with, including his high school teachers.
Beth Rexroat, the school's drama and communications teacher, taught Fouty for two years.

"Byron was always an extremely joyful person to be around, whose voice always held a hint of laughter," she said.

"He never allowed his own worries to ever infringe upon his relationship with anybody else. He was first to notice if anybody was upset. He was a very gracious man.

"I've taught over 4,000 kids, and the fact he stands out should really say something about Byron."
As befitting a Michigan boy, Fouty was a huge Detroit Red Wings fan.
"He adored the Wings," Meunier said. The couple has a blanket with the Wings logo made by Fouty's late grandmother. "It's the size of king-size bed," he said. "We plan to put that in the casket."
Source: Oakland (Mich.) Press
Sgt. Jimenez, welcome home to your rest. A grateful country salutes you.
Pfc. Fouty, welcome home to your rest. A grateful country salutes you.
May we never abandon the commitment to support your families, who now face the future without one they love.
To date, there have been 30,324 U.S. military personnel injured in Operation Iraqi Freedom, and 4118 confirmed U.S. military dead, out of a total 4432 coalition dead. (source: Icasualties)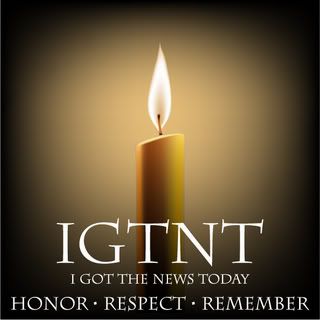 About "I Got the News Today" (IGTNT) I Got the News Today is a diary series intended to honor service members who have died as a result of the wars in Iraq and Afghanistan; its title is a reminder that almost every day a military family gets the terrible news about a loved one.

These diaries are heartbreaking to write, but, we believe, an important service to those Americans who have died, and to our community's respect for and remembrance of them. If you would like to volunteer, even once a month, please contact Sandy on Signal, monkeybiz, or noweasels.

Click here to see the series, which was begun by i dunno, and which is maintained by Sandy on Signal, noweasels, MsWings, greenies, blue jersey mom, chacounne, twilight falling, moneysmith, labwitchy, joyful, roses, SisTwo, monkeybiz, and me, mediaprof.

Please bear in mind that these diaries are read by friends and family of the service members chronicled here. May all of our remembrances be full of compassion rather than politics.