It's becoming increasingly clear that being called a Republican is more than some people can take. Even for the registered Republicans.
So now many of Bush's former vocal cheerleaders have decided they're not really Republicans. The Party nowadays doesn't speak for them. No, they'll tell you, they're actually Libertarians. World of difference, they'll say. Libertarians are nothing like Republicans.
Don't tell Ronald Reagan that! More, below the fold...
In 1975, Raygun gave an interview for 'Reason' magazine. Here it is, but the important part was the opening exchange...
REASON: Governor Reagan, you have been quoted in the press as saying that you're doing a lot of speaking now on behalf of the philosophy of conservatism and libertarianism. Is there a difference between the two?

REAGAN: If you analyze it I believe the very heart and soul of conservatism is libertarianism. I think conservatism is really a misnomer just as liberalism is a misnomer for the liberals–if we were back in the days of the Revolution, so-called conservatives today would be the Liberals and the liberals would be the Tories. The basis of conservatism is a desire for less government interference or less centralized authority or more individual freedom and this is a pretty general description also of what libertarianism is.

Now, I can't say that I will agree with all the things that the present group who call themselves Libertarians in the sense of a party say, because I think that like in any political movement there are shades, and there are libertarians who are almost over at the point of wanting no government at all or anarchy. I believe there are legitimate government functions. There is a legitimate need in an orderly society for some government to maintain freedom or we will have tyranny by individuals. The strongest man on the block will run the neighborhood. We have government to insure that we don't each one of us have to carry a club to defend ourselves. But again, I stand on my statement that I think that libertarianism and conservatism are travelling the same path.
If the Republican Party had since split with the Reaganesque way of doing things, your Republican friend might be able to get away with their weaselly description of their stance. But the primaries dispel any idea of that happening. Fred Thompson wistfuly talking about "the Reagan revolution, the Reagan coalition of limited government and stronger national security", Mike Huckabee staying "faithful to the things Ronald Reagan stayed faithful to".
But let's give them the benefit of the doubt on this issue. After all, we don't profess to know what goes on in someone else's mind...
In the car trade, this kind of thing is called "badge engineering". Taking a Ford Fiesta...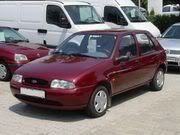 ...and calling it a Mazda 121...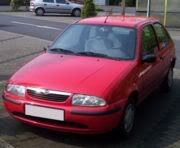 ...does not make it a new car. But if Reagan was the epitome of everything they hold dear, and he says being a Libertarian and being a conservative Republican is the same thing, then that should be more than good enough for... what do you think? Half the Republicans?
So they should have no problem in voting for Bob Barr in November. Ronald Reagan said so.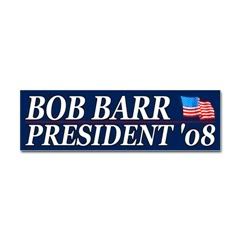 You might want to get them a bumper sticker or two, just to seal the deal!