No, not THAT way. I can assure you, I'm as much of a virgin as Madonna, but at the convention I had a LOT of first time experiences that FELT like losses of virginity. This diary is the first of a series to chronicle each of those: lobbying the TX state legislature, interviewing a future U.S. senator, and stumping a Vice President.
But first up - the kegger. Which got busted up by the cops. Believe it or not, I never did that in high school and I didn't do it in college. (Cedwyn says: "Aw, my little girl is growing up.") And this time it wasn't your typical kegger. We had a keg of local beer on hand (Live Oak IPA) along with local farm fresh veggies, raw milk, pasture raised eggs, sticky toffee pudding (which should have a warning label of "Warning: INSTANT FOOD ORGASM") that was generously donated by Tracy Claros, and more. Plus, we raised money for the Sustainable Food Center. I don't think the cops knew what to think!
Perhaps I shouldn't call the party a loss of virginity. Cuz how many times does the true loss of virginity include an orgasm? Mine didn't. Yet, the sticky toffee pudding... ohhh... that stuff brought me to my knees. If you missed out on this Austin treat, check Whole Foods where you live.
The party started with a request from many Kossacks to include sustainable food in the convention. Not just talking about it this year - we wanted to eat it. I went to Austin in January to check the place out and Judith2007, Kath25, roses, anotherdemocrat, and others showed me a great time.
Judith was especially giving of her time, arranging a meeting with Edible Austin editor Marla Camp, plus trips to three farmers markets and a tour of her farm. I also managed to meet up with the Sustainable Food Center people and I absolutely fell in love with them when I did.
The trip decided a few things: Judith would be a panelist this year, we would raise money for the SFC at Netroots Nation, and we absolutely could NOT bring sustainable food into the convention center... but the hotel was another story. Over time, the plan became a "food party" with donations to cover the food and give to the SFC.
I got to Austin Monday night to start the party prep. Judith was already on it. She had gotten high quality butter and shelled pecans, ordered raw milk, and set aside several dozen eggs from her own chickens. I got to work arranging for a keg. I like my beer either on tap or not at all, and I figured a keg was more eco-friendly too. And what says party like "we've got a keg"???
Wednesday, the two of us hit Boggy Creek, a legendary farm in Austin and a favorite of Jim Hightower himself!!! We came home with so much food that while I was paying for it they asked if I was a restaurant.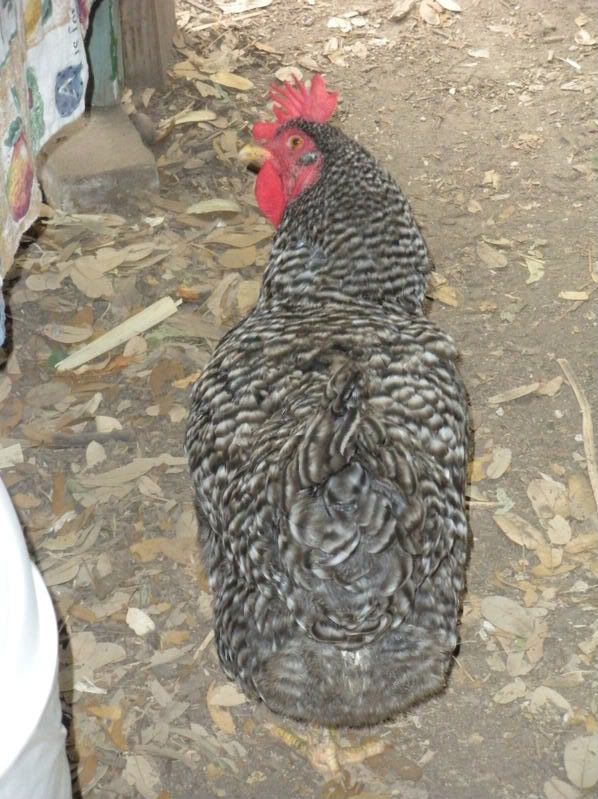 If you thought dogs were good at begging, try chickens. These pampered ladies looove the fresh tofu sold at the market.

Jeffrey, selling his Zhi Tea. I picked up a container of Ginger Peach Oolong for the party.
We put our stuff in the hotel Thursday and planned to meet up Saturday during Pelosi to hit two more markets. Then word came out that Gore was speaking and the plans suddenly changed. The markets could wait until AFTER Pelosi. We went to the Sunset Valley market first to get cheese from Full Quiver Farm, tomatos, basil, peach blueberry cobbler, and if there's more I can't remember it.

At the Sunset Valley market buying figs. Her shirt says "Friends Don't Let Friends Eat Junk" so I asked to get a pic.
On the way home from the market, I spilled the blueberry cobbler all over my shirt and soaked my bra too. How embarrassing. We went to the downtown market while I had a huge purple streak all down me, and then I went home and changed. Unfortunately... I had no other bras. I can't believe I wandered around looking indecent when I met Jim Hightower, Austin's Congressman Lloyd Doggett (we ran into him at the downtown market), and so many others!!
Later in the day, Renaissance Grrrl and jmonch came over to help with party prep. OkieByAccident came by too and ended up being a hero by offering to go pick up the keg (he also returned it and paid for it... what a guy!!!). I was worried about how we'd get it past the hotel front desk but I guess Okie's boyish charm and good looks did the trick.

Kolaches - authentic Tex-Czech cuisine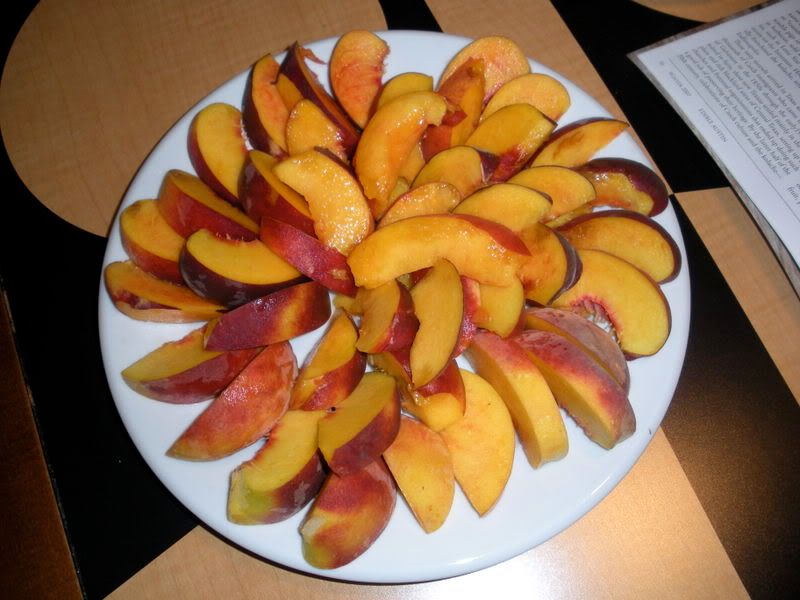 When I think Texas, I think peaches. Mmm... good on the grill too.

Pecans, the REAL state nut. No jokes about George Bush being the nut. He's not from Texas.
After this, I've got no more pictures. That's how you know the food is REALLY good. I get too distracted by eating and forget to take any pictures AT ALL. Fortunately for my liver, I don't like IPAs. It wasn't my intent to get a beer I don't like but the dang liquor store offered to order me some hefeweizen (mmm!) and then didn't do it. I stuck to coffee from Progress Coffee (I LOVE the name) and raw milk instead.
Marla Camp, editor of Edible Austin, came by with pesto, Dr. Krackers (available in Whole Foods but native to Austin), figs, and magazines. Then I did a naughty thing and followed her off to the Hightower party because I was DYING to hear him speak. I meant to stay for 30 minutes but I sheepishly wandered back in the door at 7:50, with ten minutes to go on the Hightower thing so Judith could take her turn going. (She forgave me... the people she wanted to see were still there when she got there.)
Friends new and old came and went from the party all night. We even got visits from Ronnie Cummins (Organic Consumers Association) and Steve Young (running for Congress in CA-48). If you haven't met either of them, well, you should. Ronnie's amazing of course and I don't think I'll have trouble convincing anyone of that, but Steve Young's a politician. Who would've known what a genuine, wonderful, intelligent, fun guy he'd turn out to be??? WOW! Steve Young is the real deal. Bloggers can spot a bullshitter and Steve Young gives you no bull whatsoever.
And then the unwanted guest showed up. The cop. Oy. I don't know what the hell she thought when she saw a pic of a chicken and this pic on the door:
What the hell kind of party is this??? Pictures of chickens? Vegetables???? She must have been pinching herself to wake up. She gave us a warning first, then returned with hotel staff to give us the boot. I know Marriott's a "red" business but I have to give them kudos for the way they handled it. They offered us the breakfast area downstairs and even helped us move the keg!!! So down we went, and the party continued.
I stayed out until 4am that night. I wandered back to the hotel, very tired, and a homeless guy hit me up for food. I told him to wait and I'd give him some. When I got to my room, I saw that my (WONDERFUL) roommates Cedwyn and Gloriana had cleaned up!!!!! I brought the guy down a peach, cherry tomatoes, and some cheese. He said "No offense, but I won't eat this." Oy vey. I don't even know what to say. I ate the peach instead.
On the way out of the hotel the next morning, I brought the hotel staff leftover cake, cookies, melon, and ice cream from the party. The cake was vegan and the cookies were gluten-free because we wanted to have something for everybody. During the party itself, we found no takers on either. I wonder what the hell they thought then... first they bust our noisy party and then we give them cookies? Weird liberals.
In the end we spent $97.40 at Boggy Creek, $32 at Whole Foods, $16 on pics of the farm to display at the party, $100 on the keg, $45 on the food Judith provided, and $108 between the two Saturday markets. The costs were high but that was partially the point - to give a shit ton of business to the local Austin farmers and artisans. We raised enough to cover all costs and then give $46 to the Sustainable Food Center. If you'd like to contribute, please give directly to the SFC since the money doesn't need to go through me anymore. You may also wish to send a thank you to the Sticky Toffee Pudding Company.
UPDATE I figured I should give a brief update on an urgent national security matter. I bought some local honey to use with the tea and then after moving from Judith's farm to the Marriott I couldn't find it. Both Judith and I looked high and low. You know who found it? Freaking TSA. In my laptop bag. And they confiscated it. We MUST keep our airline passengers safe from local food!