In my view, Netroots Nation 2008 was, simply put, the best so far, and future conventions will have a hard time surpassing it. It is certainly true that YearlyKos Las Vegas will always bring back nostalgic memories because it was the first time that we truly announced our presence in the real world. And Chicago, I must say, had more than its fair share of unforgettable moments that must never be minimized.
But in terms of the convention experience, the festivities, the speakers, the quality of the panels, and all the other intangibles, I think that the experience we all had in Austin is unmatched.
Part of it, I think, is a particular fondness I have for the city of Austin. NN2008 was my third time in the city--I was there once for Crashing the States in 2006, and was more recently seen crashing on Kath25's floor campaigning for Obama in the Texas PrimaCaucus.
What follows below is some photos from Netroots Nation, as well as some further observations of what made this convention great.
Part of the reason we come to Netroots Nation is to catch up with all of our best friends we only see once a year. Here's my very good friend clammyc at the Wednesday night Burnt Orange Report party:
It's always great to see blogger celebrities like OPOL, Jerome a Paris, BiPM and Land of Enchantment. I was running into BiPM so much that a couple of days into the convention, he would just say "quit stalking me" every single time we arrived within shouting distance of each other :-)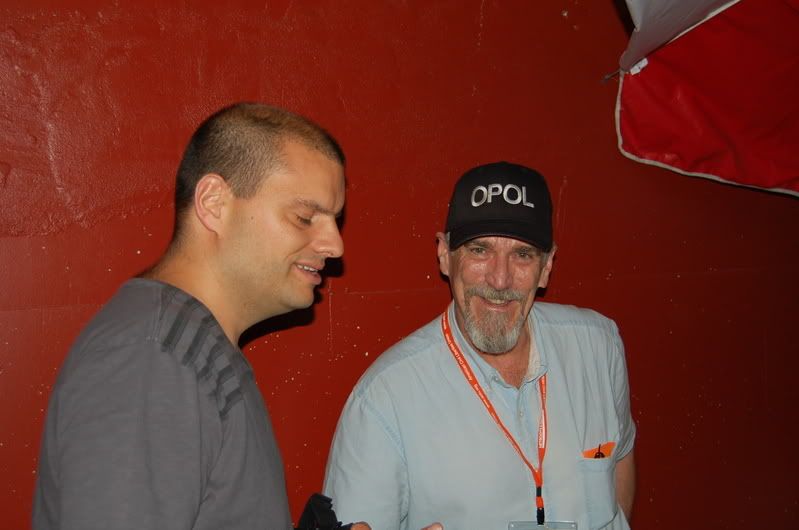 Our campaign graphics are way cooler than their campaign graphics. The "Register for Change" campaign bus proves that beyond a doubt.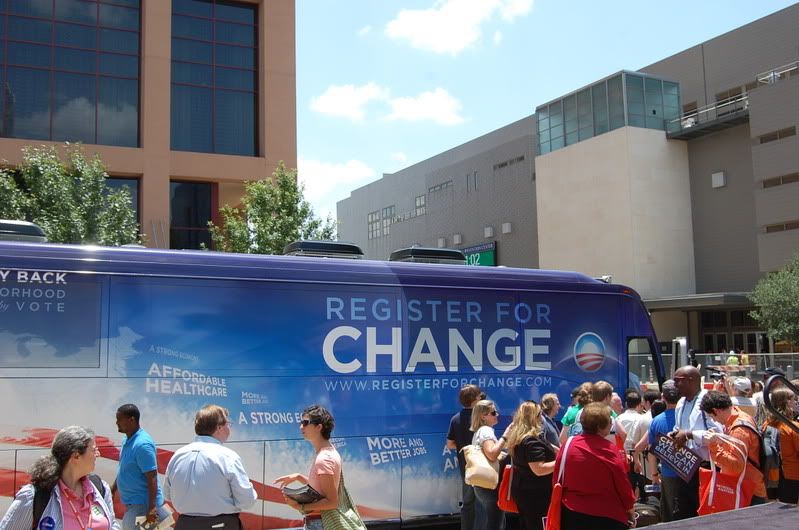 Something you end up learning from Netroots Nation is that the blogosphere is a very veteran-friendly institution. I'm disappointed that I didn't get the chance to help TimRoff and his crew ship off care packages for the troops, but the heroic receptions we give our veterans disproves the standard Republican like that we don't like the military and vice versa. Just look at who comes to our conventions. People like Lt. Col. Charlie Brown (with Calitics bloggers Julia Rosen and Brian Leubitz in the background):
Iraq and Afghanistan veteran and published author Brandon Friedman: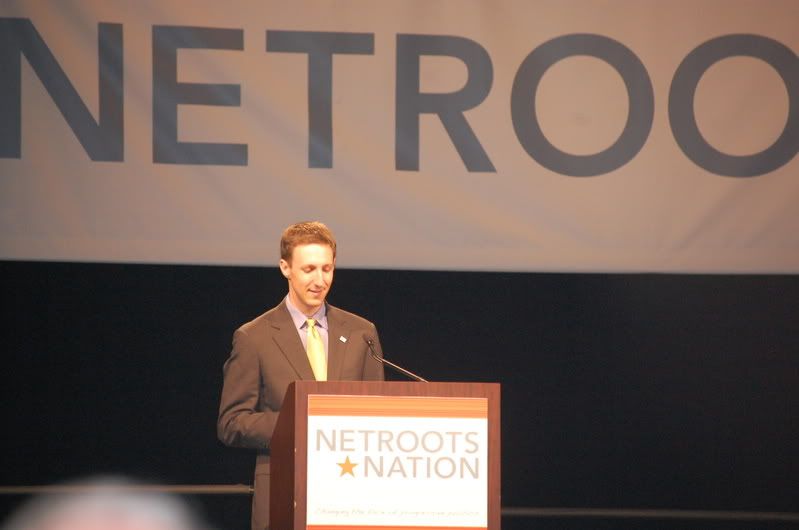 Supreme Allied Commander of NATO Wesley Clark: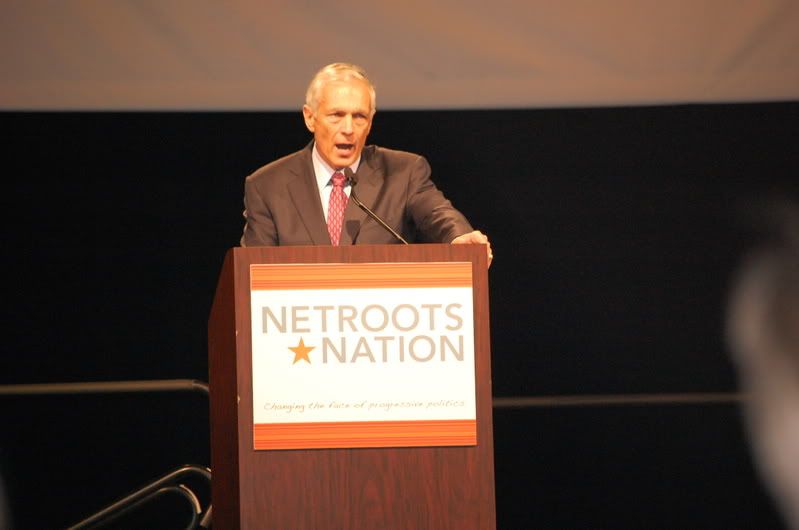 And local hero and Texas Senate Candidate Rick Noriega: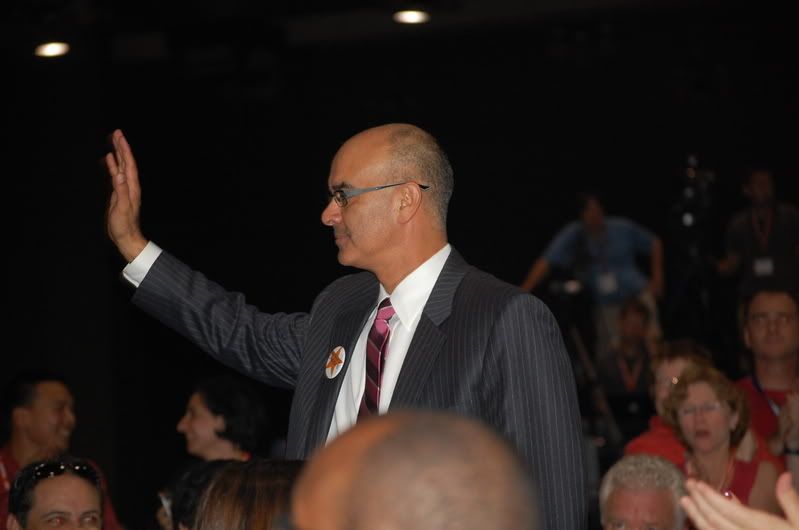 Howard Dean was serenaded with well-deserved chants of "four more years!" for helping to lead the Democratic Party out of electoral darkness:
I would estimate that one of the common themes of this convention was poking fun at Fox News' "terrorist fist jab" remark. There were so many fist jabs flying around at Netroots Nation it was hard to keep track of them all. Even frontpagers got in on the action, like Scout Finch and brownsox (along with Nate Silver on the right!):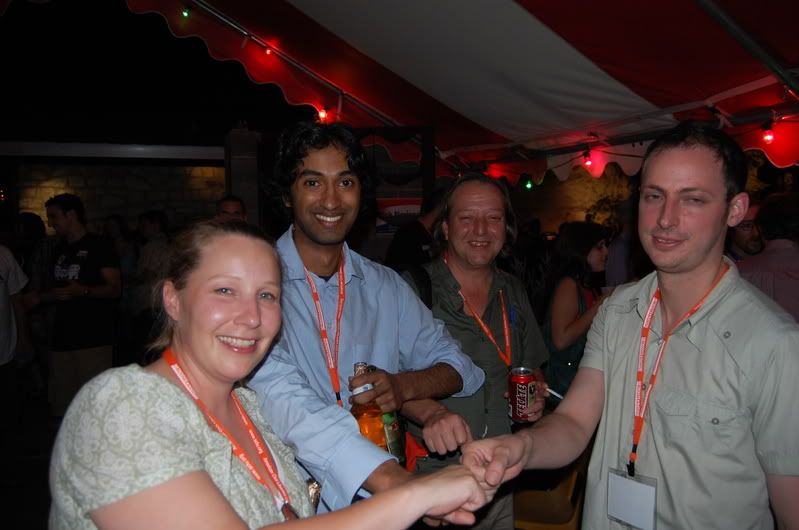 Or how about GoldnI, RunnerAAA and Elise:
And here is just about the entire Calitics crew, with guest appearances by vernonlee, thereisnospoon and TheKK: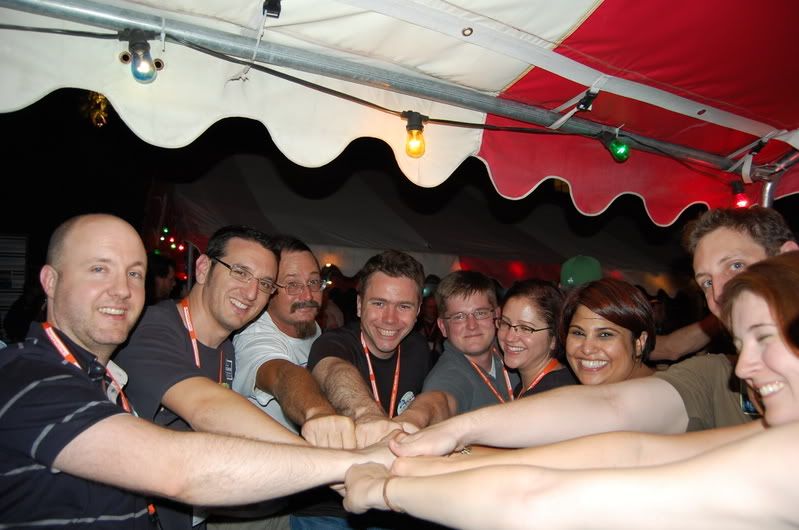 And what can I say about Darcy Burner. As warm and friendly as ever, and she certainly knew what to wear to please this crowd:
Now, I think the most informative--and most infuriating--session of all was Sam Seder's discussion with Alabama Governor Don Siegelman. I have a message for Nancy Pelosi, Harold Ford, and everyone else who may be in doubt about this matter: listen to Governor Siegelman tell of his experience as a political prisoner, and then tell me that there is some dispute about whether the Sargeant-at-Arms should be sent to drag Karl Rove off to the Capitol basement.
I got a chance to ask Congressman Harold Ford a question about the political timidity of this Congress when it came to doing anything to hold the administration accountable:
And I think that this picture of Harold Ford accurately summarizes the response (or lack thereof):
For the second year in a row, the Netroots Candidates Celebration was a huge success and a great opportunity to meet progressive candidates running from across the country. And who could forget the minutes-long cheering ovation to Darcy Burner, and her very curt remark: "Nothing can stop us now!" Yeah, that's the spirit. Hell, I'm going to go throw a few more bucks her way right now.
I certainly appreciate that fact Speaker Pelosi came to Netroots Nation, despite her lack of popularity of late, and actually fielded questions, even if the responses were not exactly what many of us were looking for.
And I don't appreciate the ridiculous-looking and disruptive protesters from Code Pink, who proactively hurt their cause every single time they step out in public due to their methods that help characterize their position as that of a kooky fringe group when it is anything but.
The biggest surprise of the convention, of course, was the appearance of Vice President Al Gore (D-Rockstar), beseeching us to meet his challenge of 100% renewable energy.
I happened to be on a panel about getting involved in your local and state parties, also featuring Chris Bowers, Delaware Dem, wmtriallawyer and Brian Keeler. An excellent idea was created as a result of this panel, and hopefully you'll see it announced as a collaborative effort of DailyKos, BlogPAC and DFA sometime shortly after Barack Obama's victory in November.
Libertarian Presidential Candidate Bob Barr must have gotten so bored at that other convention in Austin that he decided to show up at ours just to have something to do. What he got instead was harassment from DemocraticLuntz:
I'm from California, and I'm very proud of my Secretary of State, Debra Bowen. A lot of us in my state would drop everything to go work on her campaign should she seek a higher office than Secretary of State (please, Feinstein, retire so Bowen can seek your Senate seat. Please). Secretary Bowen didn't just show up for a cameo--she was there to participate fully in the convention activities. And here she is with my friend and fellow Crashing the States filmmaker Reality Bites Back.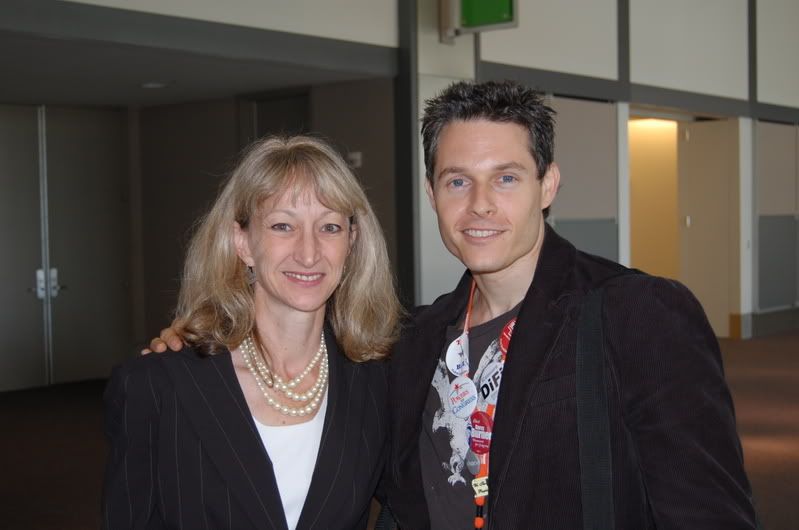 Saturday just so happened to be the 30th birthday of my friend Brian Leubitz, the founder of Calitics (who blogs here at utbriancl). Here he is, looking embarrassed as we serenade him with Happy Birthday.
Like any environmentalist, I'm always up to see some wildlife, and thankfully, the city of Austin has some. Every summer evening, thousands of bats stream out from under the Congress Street Bridge to go snag an evening meal.
It was fantastic to hear kos introduce Donna Edwards. I found it very intriguing to hear kos speak of the "market need" that the netroots fulfilled. It's true--there was a distinct market niche available for a progressive voice, and thankfully for us, it was filled by internet sites using a medium that was capable of organizing a movement.
And what are the results of that movement? More and better Democrats, like Donna Edwards:
And...Netroots Nation got Rickrolled! Right after Donna Edwards' keynote, the PA system started playing some Rick Astley. And Chris Bowers was groovin'!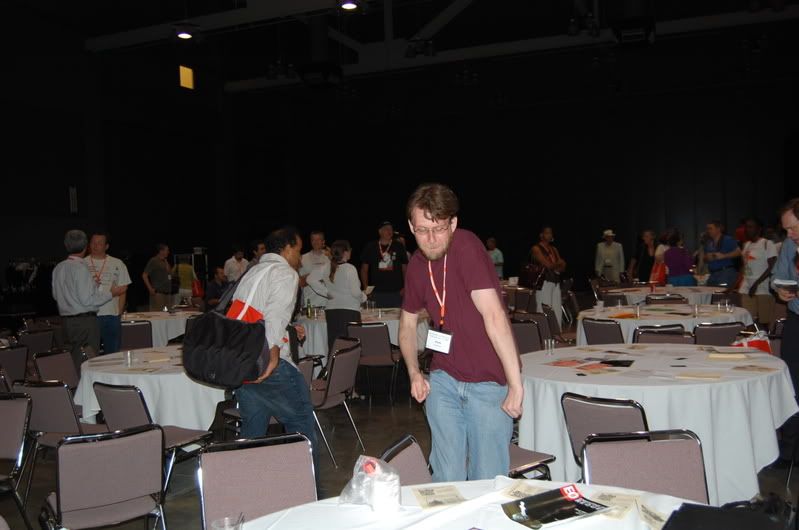 This is why we come to Netroots Nation. To meet old friends and make new ones. To teach, to learn and be educated. To experience the formation of new ideas through the synergy created by collective action. And, of course, to have a great time, relax, and party with some like-minded people.
Thanks to everyone who helped make it a fantastic convention. And a special thanks as well to the City of Austin for being such an excellent backdrop.