The Roman god, Janus, was the god of threshholds, doorways, beginnings, and endings. He is usually protrayed as two headed, with one head looking back to the past and the other looking to the future. This January we will experience some important changes, both here at Daily Kos and across the country. In just 16 days, President-elect Obama will be sworn in as the 44th president of these United States. I know that everyone's thoughts and prayers are with him as he takes over the White House. Here at dKos, Paster Dan has hosted Brothers and Sisters for the past four years. I will always be grateful to him for providing us with a safe and warm place to share our burdens and lift our spirits. When the primary wars heated up, Brothers and Sisters provided an island of peace. Pastor Dan retired from Brothers and Sisters last Sunday. While we can never replace his kindness and his humor, I hope that we can all maintain this series as a place of tranquility in a troubled world.
Please follow me below the fold, as we start the Brothers and Sisters series with guest hosts every Sunday.
I will admit that I am a bit intimidated because I can never fill PD's shoes. However, tonight I would like to talk about something that is close to all our hearts--peace. I know that we are all sick at heart by the increasing violence in the Middle East, and many of us have also been disappointed by some of what has gone on in the past week or two here. I know that people have strong opinions, and that many of us may never agree about the best course toward Middle East peace. I do think that it is important to treat each other in the way that we would if we were meeting face-to-face. I come from New Jersey, the capital of road rage. A number of years ago, I did not turn quite fast enough for the person sitting behind me at a intersection. He gave me a loud honk and yelled at me. It was rather embarrassing for both of us when he ended up parking right behind me. In the words of the Christmas carol, "Let there be peace on earth, and let it begin with me."
As an archaeologist who has spent considerable time in Israel, in Palestine, and in Jordan, I am especially saddened by the current political developments in the region. I have a lot of sympathy for both the Israelis and the Palestinians. In the spirit of St. Helena, patron saint of archaeologists, I would like to take you on a spiritual tour of the region in more peaceful times. (I am sorry for the photo quality. These are scans of slides that blue jersey dad and I shot back in the 1980s.)
Here is a view from Mount Nebo in Jordan (looking across the Jordan River)where Moses looked into the promised land:
This is a picture of the Cave at Qumran which produced the Dead Sea Scrolls: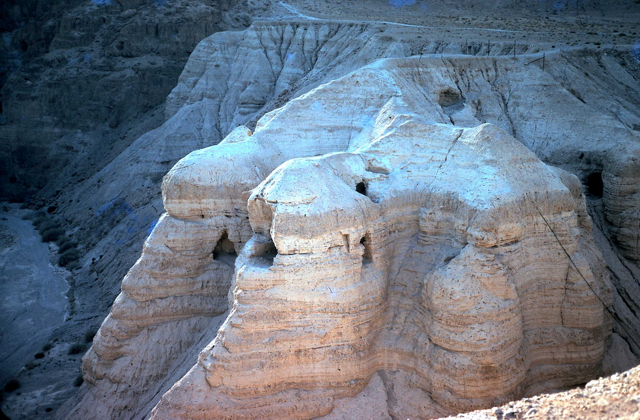 This is a picture of the Church of the Nativity in Bethlehem in the West Bank:
Here is a picture of the 3rd-century synagogue at Caphernaum, near Tiberius. This is the place where Jesus began his ministry. The temple at which he preached is underneath the building you see here: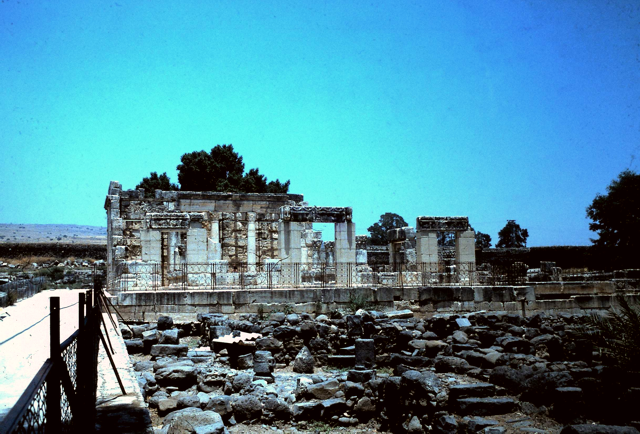 And, finally, here is a view of a very early (3rd-4th century CE) synagogue in Tiberius with a very well preserved mosaic pavement:
Let me leave you all with two thoughts. The first comes from the book of Isaiah 2:4:
And he shall judge among the nations, and shall rebuke many people: and they shall beat their swords into plowshares, and their spears into pruninghooks: nation shall not lift up sword against nation, neither shall they learn war any more.
The second comes from kwickick's beautiful diary from yesterday:
But we also have the opportunity to change our own lives. Life is a glorious, wonderful thing. There is so much beauty and awe in this world. Please, whatever you do politically, remember to find the joy in your life. It's there, and it is in your control to reach it. Grab hold of it and never let go. And if you do, it doesn't matter when you die. Yours will have been a life well lived.