I think everyone could predict that Obama would act to close Guantanamo. He said it repeatedly during the campaign and now he is making steps towards keeping that promise. I am more encouraged by the fact that he is including the foreign secret prisons in the executive orders because the fate of those facilities was not as clear. Bravo to you, President Obama! Now, about that interrogation loophole...
Also, what a night of drama in New York! Want to know my theory?
And, I'm pleased to present the first-ever Morning Reaction "you suck" award. Actually, I'm not sure, I might have done it in the past but I can't remember.
Now this headline in the New York Times makes me very happy indeed: Obama to Close Foreign Prisons and Guantanamo. I knew Obama would close Guantanamo eventually, so I was more worried about what would happen to the overseas detention centers that we might not even know about. How many foreign prisons do we have? Michael Hayden once said it was "fewer than 100":
President Obama is expected to sign executive orders Thursday directing the Central Intelligence Agency to shut what remains of its network of secret prisons and ordering the closing of the Guantánamo detention camp within a year, government officials said.
also:
And the orders would bring to an end a Central Intelligence Agency program that kept terrorism suspects in secret custody for months or years, a practice that has brought fierce criticism from foreign governments and human rights activists. They will also prohibit the C.I.A. from using coercive interrogation methods, requiring the agency to follow the same rules used by the military in interrogating terrorism suspects, government officials said.
A few weeks ago, mcjoan wrote a post speculating about a potential "loophole" that would allow the CIA to continue using "techniques" not authorized by the military. The New York Times reports that there may indeed be a loophole:
A Congressional official who attended the session said Mr. Craig acknowledged concerns from intelligence officials that new restrictions on C.I.A. methods might be unwise and indicated that the White House might be open to allowing the use of methods other the 19 techniques allowed for the military.
This paragraph doesn't really make sense, maybe because there is a typo. (Hello, New York Times, are you looking for a proofreader because I need a job!) I guess it is supposed to read "other than the 19 techniques allowed for the military."
I'm not sure when they would decide if they would allow those methods or not, but it seems that the drafts as they stand now do not contain a loophole (unless it is just included on a version not leaked to reporters):
In addition to the Guantánamo order, sources familiar with the briefings said Obama will sign two executive orders that alter CIA detention and interrogation standards. One would mandate that only interrogation techniques in the Army Field Manual may be used in questioning prisoners, barring such practices as the simulated drowning technique known as water-boarding.
A mandate is a mandate, so I'm hoping we can count on that. These announcements are all good starts and I am so pleased that Obama is making these moves his first few days in office, but... no loopholes, please.
:::::
So what did our new President do on his first full day in office? The Los Angeles Times has the (very detailed) run down:
8:35 a.m. Obama enters the Oval Office for the first time as chief executive. Alone only briefly, he reads a note left to him by former President Bush.

8:45 a.m. White House Chief of Staff Rahm Emanuel enters the Oval Office to brief the president on the day's proceedings.

9:10 a.m. First Lady Michelle Obama joins the president in the Oval Office.
How do you like this picture?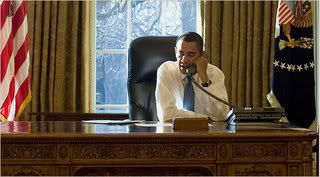 (Photo: Pete Souza)
Ack, it gives me chills. He needs to get some pictures and desk accessories, though. It's looking a little sparse, although I'm sure he has bigger things to worry about. CNN made a big fuss about this picture because Obama was... wait for it.... not wearing a suit jacket!! OMG! Bush was never photographed without a jacket in the Oval Office! Of course it would be John King that filed that report.
::::::
What do you think of the White House website? I haven't had too much time to check out it out, but since I'm such a news junkie I find this very cool:
It looks like the White House wants to put on prominent public display the reports filed by the reporters who will be in each day's small "pool" of journalists following the new president (the duties are rotated among the news media outlets that cover the White House, including USA TODAY).

So fair warning, White House press corps: What you put in those notes may be seen very quickly by anyone with a computer -- not just your news media colleagues.
Here's the actual White House page where the pool reports will be listed. There are none up there yet, but that would be very cool.
::::::
So what is going on with Caroline Kennedy? It doesn't seem that anyone really knows. The AP is reporting that she has in fact withdrawn, but others aren't so sure.
Scratch that. Now the AP is confirming that she has withdrawn:
In a statement released early Thursday, she says she told Gov. David Paterson that she is abandoning her attempt to succeed Hillary Rodham Clinton for personal reasons.
My theory is that Paterson let her know that she was not going to be chosen and gave her some time to "withdraw" from consideration. Although, the media has been reporting that she was the rumored choice. Andrea Mitchell said it was pretty much a done deal on the MSNBC Inauguration broadcast. Michael Crowley has a similar theory:
From the initial reports this sure sounds like political cover for her potential failure to get the appointment from New York Governor David Paterson.
Nate Silver wonders if she really wanted it in the first place and outlines the scenario. It's certainly plausible but I like my theory better. The timing is too coincidental, especially coming on the same day that Hillary Clinton was confirmed. If the issue was Ted Kennedy's health or her concern about the media coverage/spotlight, I think she would have withdrawn a few weeks ago when the speculation was most intense. My opinion, anyway...
::::::
Katrina Vanden Heuvel, editor of The Nation, thinks Kennedy came forward at the wrong time:
In the end, I think Kennedy decided to step forward in the wrong year.She might have held that press conference, forcefully laying out her views on key issues facing the state and the nation. But in the end, it was a year defined by anti-dynastic politics (not a bad kind of politics for a democracy!)
So, what's next for Kennedy? And, now who is going to be the next Senator from New York?
::::::
Boooooooo! The "you suck" award goes to the ABC affiliate in Los Angeles, who refused to air an ad supporting marriage equality during the Inauguration, via Think Progress:
There's a number of ads on the clip, but it was the first one they rejected. Even Faux News aired it! Send ABC7 a comment here.
::::::
Speaking of booing the media, the North Korean media apparently isn't impressed when the United States swears in a new president:
As of 4:00 pm Wednesday (0700 GMT) its newspapers and radio and TV stations had not mentioned the inauguration of US President Barack Obama, according to officials at South Korea's Yonhap news agency.
It must be something about that whole "peaceful transfer of power" thing they don't like.
::::::
The economy is making big news over here today, as Reuters reports:
South Korea on Thursday announced its second-biggest economic contraction on record, pushing Asia's No. 4 economy a big step closer toward its first recession since a financial crisis swept Asia a decade ago.
And from the Wall Street Journal:
South Korea's economy shrank a more-than-forceast 5.6% in the fourth quarter, its worst performance in a decade, showing how hard the global downturn is hammering Asia's exporters.
It's looking like South Korea will unveil more stimulus spending, but the average citizen around here has quite a bit of concern. I'm sure it is like that back in the states as well...
::::::
Finally, in other international news, I saw this headline and totally thought it was snark or satire or something: Former French President Chirac hospitalised after mauling by his clinically depressed poodle.
The 76-year-old statesman was savaged by his white Maltese dog - which suffers from frenzied fits and is being treated with anti-depressants. The animal, named Sumo, had become increasingly violent over the past years and was prone to making 'vicious, unprovoked attacks', Chirac's wife Bernadette said.
Minor point, but I'm pretty sure that a Maltese is not a poodle. There is a picture of the dog in the story and it probably weighs all of eight pounds. No word on how serious his injuries were, but apparently he has already been released.
:::::
What's on your mind this morning?