Hi, all. You may well be burned out on first-person accounts by now, but I thought I'd throw mine on the heap. I had a tremendous experience, and hopefully these pics give you a little of the experience even if you could not make it to DC.
I'll start at the beginning. I had the honor of attending the Virginia (state) Inaugural Ball on Monday night. The folks you'd expect were in attendance. Webb, Warner, Kaine, Bobby Scott, Jim Moran and a cast of congresspersons both local and national. Emmit Smith stopped in with his jaw-dropping bride (who, I believe is a former Miss Virginia). Plenty of faces who you would find familiar, but you can't quite place. For example, my wife directed my attention towards an older black gentleman (okay, that described at least 20% of the room) and said, "Where do I know that guy from"? Within 30 seconds we'd narrowed it down and a fast mobile google confirmed it was Ron Glass. Not the kind of sighting that stops your heart, but there were folks you semi-recognized all over the place.
Follow me, I'm going somewhere with this...
Anyway, my wife and I were fortunate to talk to our Junior Senator, Mark Warner, for an extended period. This wasn't the first time I'd talked to him and let me tell you I'm a huge fan. Approaching groupie. I'm not even objective when it comes to Mark Warner. As an IT guy turned successful politician, he's like an icon to me. Anyway, the good Senator lays this on me:
Ah-Ha! The plot thickens. So, it should be obvious now the kind of guy Mark Warner is. If you don't know (you'll see in a minute) an Orange ticket is a HUGE deal. I wrote Jim Moran for a ticket and didn't even get a form letter response from his staff. My wife and I talked with Sen. Warner and he gave me the key to a morning I'd never forget. There you go.
So after the Monday ball I arranged to take the day off Tuesday to make my way down. Great morning Tuesday, but intensely cold for DC. I needed to clear my head after Monday's celebrations and I knew the line for Orange gate would not be too long, so it was all about the travel. Here's where I was going:
As you can see, Orange Section 12 is pretty close to the action. I hopped a shuttle bus downtown and got off at 14th & C. That's east of the Capitol (which is at 1st street) for those of you who've never been here. This is 14th street, next to the holocaust museum with thousands of my closest friends:
So at this point I'm not yet blown away, because this is what this area looks like every 4th of July. Hey, just another celebration in DC. So, I start walking towards the Capitol.
Here is the only protester I saw all day: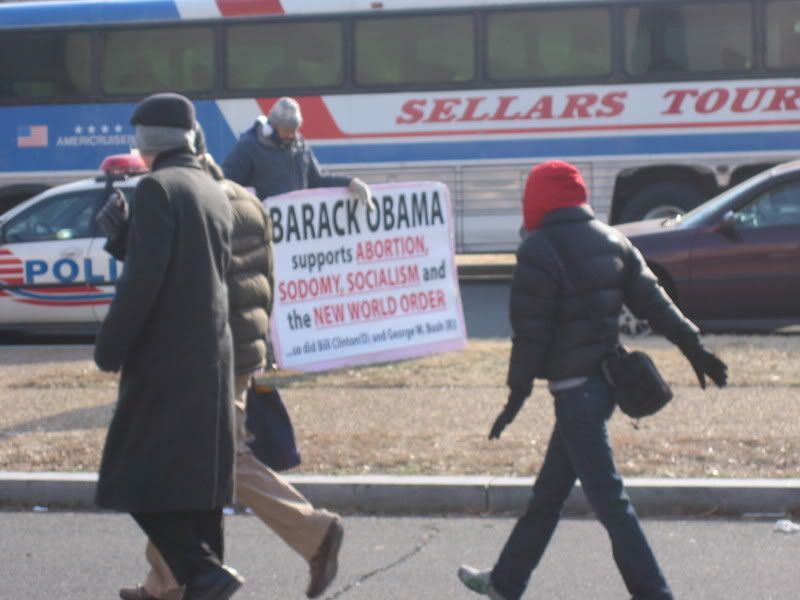 I am sure I saw 100,000 people and this was the only cranky pants. I was tempted to ask him about his courageous stand against "sodomy", but alas I was in a hurry.
Walking towards the Capitol you begin to get the sense of how many people are here. This is no normal celebration:
This is BIG. So I get to Silver Gate. Silver gate is the furthest-away ticketed section, hence the crowds are longest. This is the ticket I was hoping my congressman would hook me up with. Look at the wait for this gate (it's about 10 am at this point) The banner overhead says "Silver Gate":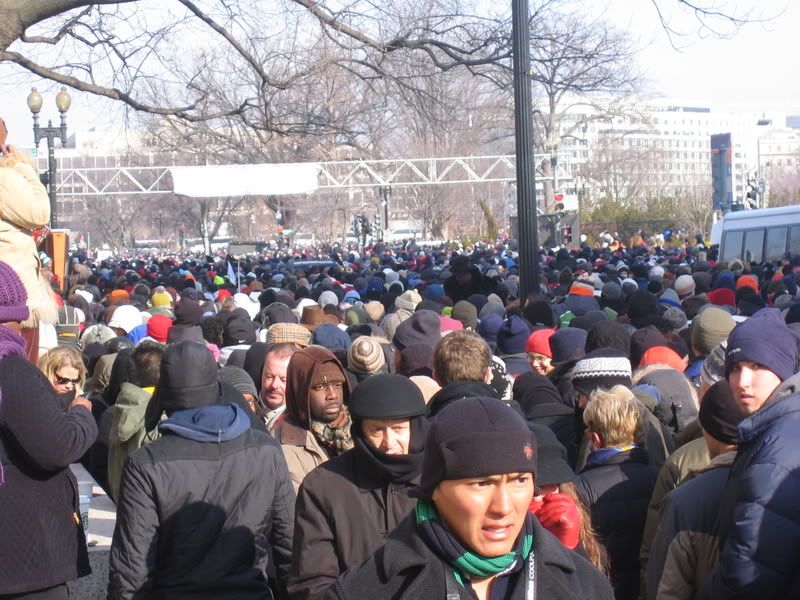 So after punching my way West through the sea of humanity constituting the line for Silver Gate, I'm heading towards Orange...but need to punch through the line for Blue Gate. Blue Gate is a trouble spot. You may have heard that lots (thousands?) were turned away from Blue Gate because the section filled. The section filled because it was mostly standing and you know how we Americans are...we don't move all the way to the back once we get in. Anyway, the line for Blue Gate was also plagued by this Senator's aide who chose to drive THROUGH the line after dropping his Senator off late: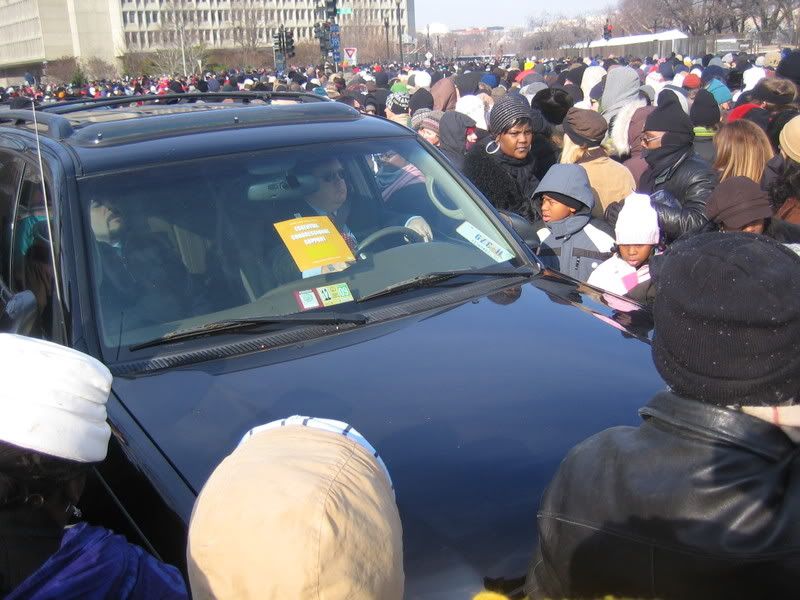 Remember there are strollers and wheelchairs in this crowd/line, and this guy is driving his SUV through it. Must be a McCain aide :-)
Then I get to Orange Gate:
Through the very friendly security checkpoint without incident and with practically no wait. I wound up getting there at the same time as Jessie Jackson. In attempting to take that picture I actually took a movie, which I can't post here. Anyway, back to the action...So upon entering Orange the were letting some folks go through Rayburn (House building) for a tour, but I wanted to get to the seats. Here's Rayburn:


It wasn't until I rounded Rayburn that I started to realize how big this crowd was:


Lotta people here.
My Senator hooked me up. Guess what My seat is even closer than this: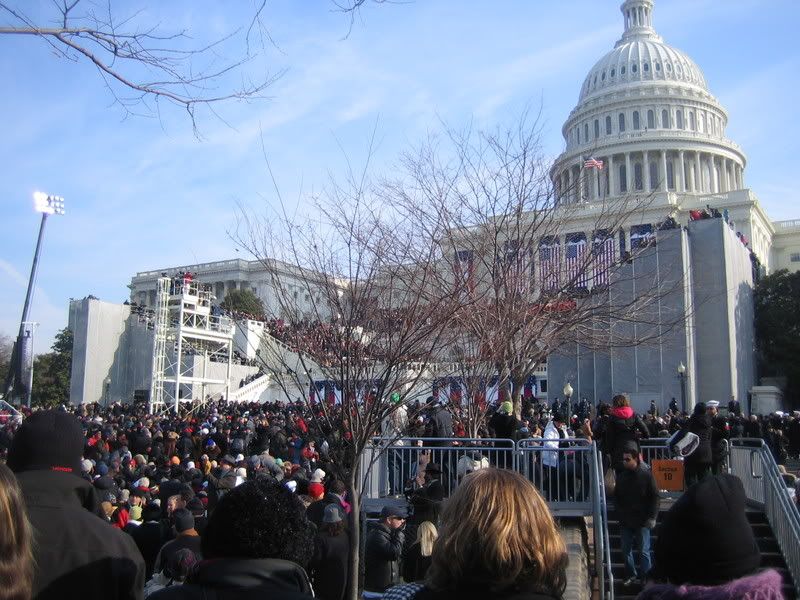 So this is where I get to sit. Does this blow you away or what?


The trick is that all the patriots got to these seats early, so I need to move a bit further back. Here's my seat. Not too bad:

So then the next thing you have to do is turn around. HOLY FREAKING DEMOCRACY!!!!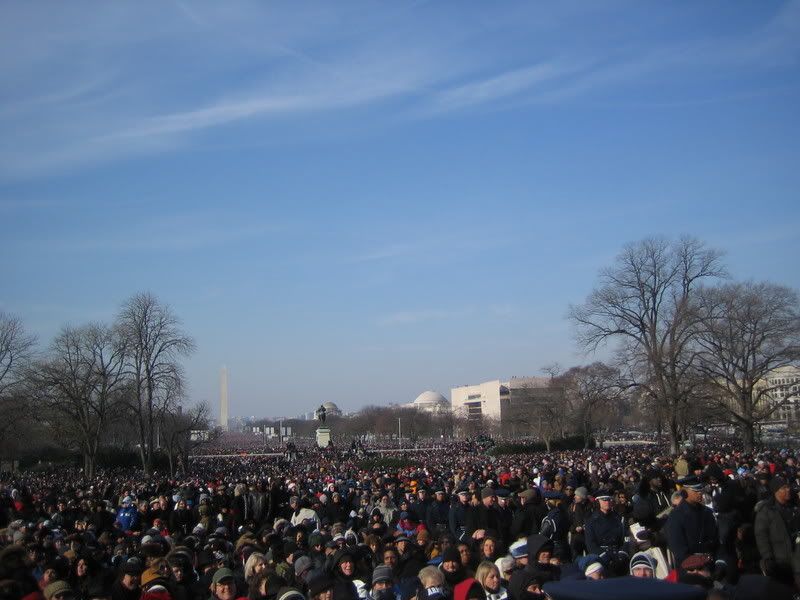 You may think you can imagine what a million people looks like. You can't. You may think you can imagine what a million gloves clapping sounds like. You can't. Between 20-40 baseball stadiums worth of people. Loud, enthusiastic people. :-) :


With flags. And voices. And Pride.
Here's the view forward:
Here's another:
I have so many of these and can't post them all, but here's one of me:
I apologize for not knowing how to rotate this but I wanted to add it anyway. This is during Biden's swearing in: UPDATED. Fixed, thanks to "Bottles" in the comments!
I crept forward to the front of the section to get a pic of the speech. So, this is how close I was:
Another: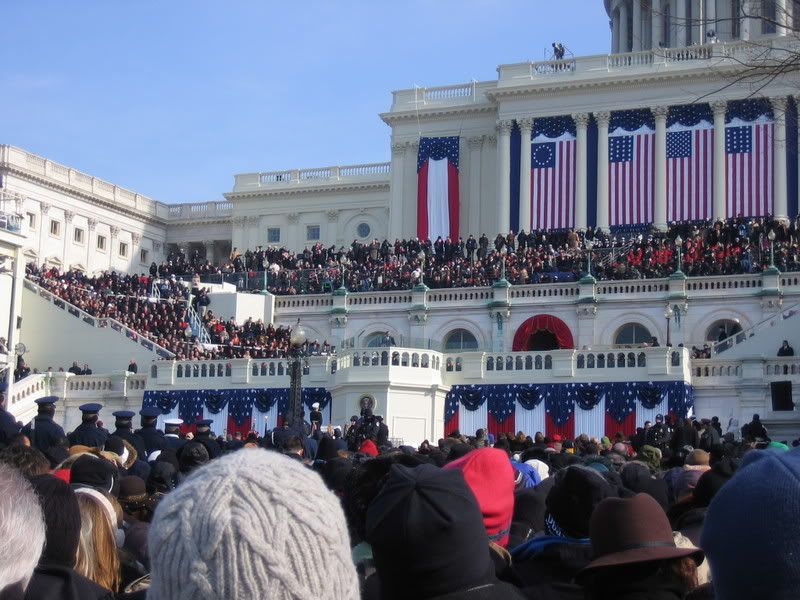 Again I have so many pics I can't post them here. And, I gotta get outta here to go to work!! Anyway, I want to thank my Senator a million times for this life changing experience. He'll never read this but hopefully he knows how much I appreciated it.
Ok, one more. Because I like you guys :-)

So, I need to run to work. I will respond to comments (if any appear) midday.
Have a good day all!