Yesterday I met a remarkable woman.
Instantly, she became my buddy, my dear friend. If you're intensely lucky, a few times in life, you might meet someone and immediately feel, where has this person been? This was my reaction (my blink), to Kimberly Green.
Despite having pretty serious cancer, she said over and over, "I'm blessed".
Kimberly is in her late thirties. She was diagnosed about two or so years ago, with stage four breast cancer. She describes her situation with an air of bemused determination, "after they got to the 19th lymph node [which contained cancer] the surgeons stopped counting". The cancer metastasized to her brain, but I think the brain surgery she recently endured, successfully took care of that, at least for now.
She wants people to know that cancer patients in the United States are dying because they cannot afford the costs of their life saving medications, and many insurance companies either refuse to pay, or only pay a tiny fraction of the cost.
She's lucky in one respect. She comes from a pretty damn affluent American family. After sitting with her for more than three hours and listening to the extraordinary work she does (which I'll tell you about), she said, "no one should feel sorry for me, I'm a rich white girl". When she said this, I don't know why, but I just broke down. Like so many, she's battling this awful disease and the merciless insurance industry. No one who's sick--rich, poor or middle class, should face the further indignities heaped on all of us by the delay, deny and deceive for-profit insurance industry.
And of course, I'm not even touching today the fifty million Americans who don't even have the junk insurance we accept as a normal fact of life in the United States.
You may be wondering how could a child of privilege be diagnosed with such late stage cancer. Well Kimberly explained that she had been feeling lousy for several years prior to being diagnosed. She was brushed off by a variety of doctors. Ladies, you know how it is, you go in complaining of vague symptoms (fatigue, weakness, whatever) and the doctor pats you on the hand and tells you to take it easy. Hey, if this sort of shit can happen to someone like Kimberly Green imagine what the rest of us endure.
So, what you're about to read is neither unique nor exceptional, it's Murder by Spreadsheet writ large. You may think you're special or immune--a terrible health catastrophe will happen to the other guy. Well you're wrong. Sooner or later, someone in my family or yours will get sick--as Americans we're all in this leaking boat together.
Yes, Kimberly is privileged and blessed to be the daughter of Americans who can afford the numbing costs of cancer treatments, but even she is worried about the endless bills. And she knows how damn lucky she is.
And this generous, gracious and dignified woman has allowed me to tell her story. She says, no one in the richest country on the planet, where we give the banking industry a trillion dollars of TARP money which is squandered on bonuses and wretched greed, should die for lack of healthcare.
This is Kimberly before she got sick. She's still just as beautful and full of life.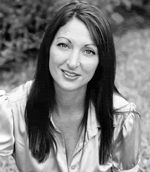 Yes, indeed, by many measures, Kimberly is blessed.
She lives in a safe and secure home.
She has a loving family.
She is surrounded by loyal friends.
She has the best doctors money can buy.
But though insured, she must pay $6000 a treatment. This is essentially her co-pay which she must pony up in order to receive Herceptin, the medication which is keeping her alive. She told me repeatedly, without Herceptin I would die.
I asked Kim what happens to women who can't pay for Herceptin? She said, struggling to hold her emotions in check, "they die". I would not allow myself to believe such an atrocity really occurs in the United States of America, so I asked my friend, who is an oncologist the same question, he had an identical response, "they die".
And before I go too much further, here's what our favorite criminal lobbyist Karen Ignagni of AHIP had to say about how health plans "manage costs" which in turn make drugs like Herceptin unaffordable to gravely ill, yet insured Americans.
Kimberly told me something that may shock you. In Australia, New Zealand and Canada, the government pays for the first year of Herceptin treatment. She explained that most women only require the drug for a year, she will need it for the rest of her life.
She has no immediate, and probably no long term financial problems, yet she and her family are wondering what will happen when and if she hits the $5 million lifetime cap on her health insurance? She says, one more major setback, one more complex surgery and she may be at that cap. She is worried, and yes, she is rich.
Kimberly is correct, somehow she and her family will foot the enormous bills, they won't be ruined financially.
Most Americans though are not so blessed.
Imagine, just imagine what happens to Americans with far fewer resources than she has. Well you don't have to imagine.
Here's what the New York Times is reporting.
More Americans Skipping Necessary Prescriptions, Survey Finds

One in seven Americans under age 65 went without prescribed medicines in 2007 as drug costs spiraled upward in the United States, a nonprofit research group said on Thursday.

. . .Karen Davis, president of the Commonwealth Fund, a private foundation that researches health care issues, said the new study confirms previous Commonwealth studies. In 2007, nearly two-thirds of U.S. adults, or an estimated 116 million people, struggled to pay medical bills, went without needed care because of cost, were uninsured for a time or were underinsured, according to the foundation.

"It has become a middle class problem," she added, noting that improving health coverage is an integral part of economic recovery.
I haven't a clue how American women who need Herceptin to stay alive pay for it. I assume as Kim says, they die. They can take up residency in Australia, where the government pays.
You see, this is what we mean when we say, you think you're insured, think again. When we get sick we think the insurance will be there for us,but it isn't. No wonder Americans don't like the idea of mandates, we pay and pay and pay the insurance industry extortion, then when we expect it, when God forbid, we need something like Herceptin, we're told, go away and die.
The situation is so bleak that the American Society Of Clinical Oncologyis going to issue guidelines on how physicians should discuss the costs of treatment options with their patients.
Let me tell you what this remarkable woman does even while battling such a terrible disease. She runs the Green Family Foundation which is devoted to global health issues, they focus most of their resources on Haiti.
This grueling work gives Kimberly energy and she gushes about the selfless doctors, the medical students at the University of Miami and the heroes at Project Medishare who travel frequently to Haiti. And when her health permits, Kimberly leads these good people to the land and people she loves, and lends her heart and her hands to help those who she says with absolute conviction are in much bigger peril than her.
I would say Kimberly Green is the embodiment of what Dr. King and President Obama mean when they talk about the fierce urgency of now.Certainly there are Haitians alive today because of her noble work and selfless good deeds which give her such strength.