Are you as heartbroken as I am, kids? Poor Rod Blagojevich is not only out of a job, but he's facing prison. I thought I would help him make a good impression on the jury pool who will be deciding his fate in his impending trial.
Do you watch American Idol? Me neither. However, whether you watch or not, you've probably heard of Sanjaya. He was famous for his hairstyle constantly changing. Well, I was thinking that perhaps the former-Governor Blagojevich might take the same tack.
Since he's been a part of politics for many years, Blago might be comfortable with the hairstyle I call the James Traficant.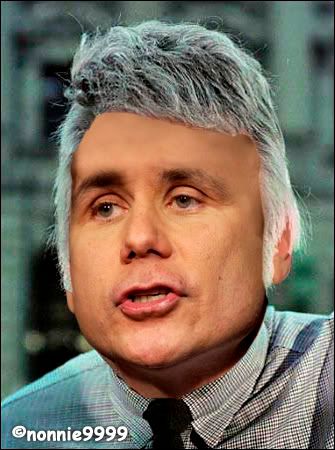 Smokin'! It worked for James Trafi.....Oops! I was just told that Traficant's hairstyle didn't do him any good, and he's in the slammer. Well, join me below the fold, kids, and we'll explore other possibilities.
Okie dokie, so maybe choosing the hairstyle of a politician is the wrong idea. Hey, I know! Sports! People love sports! And what better hairstyle is there in the world of sports than that of boxing promoter, Don King?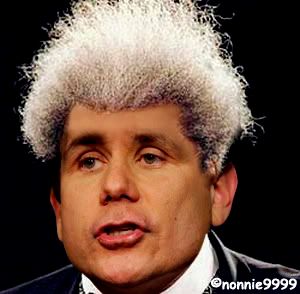 Now, that's hot! I think tha.....Oops! I was just informed that Don King spent 4 years in prison. Sonuvabi....Let's move on.
Okay, so no politics and no sports. I've got it! Music! Everyone loves music. It soothes the savage beast. Or breast. Or beast's breasts....well, that's not really important. What is important is picking a true giant in the field of music. How about someone in the Rock and Roll Hall of Fame? Have you guessed yet who I'm thinking about? I bet you have--music producer Phil Spector!
What's that? Phil Spector is on trial for what? Oh, shi....Let's keep going, kids.
There has to be a category I haven't thought of yet....D'oh! I was talking about Sanjaya, and I completely forgot about entertainment! Actors have great hair! Let's see there's that excellent actor, Nick Nolte.

Nobody can say anything bad about Nick Nol.....dammit!
Well, then we're going to have to think outside the box. You can't go wrong with the Serbian Stooges...
Of course, it might be safer to go with fictional characters. Maybe something for comic strip fans...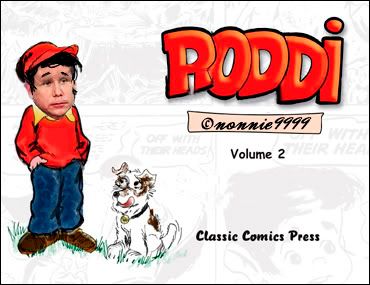 Or maybe even comfort food!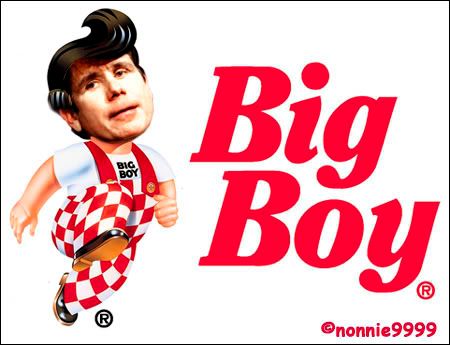 On second thought, kids, if you're gonna go Sanjaya, you might as well go Sanjaya!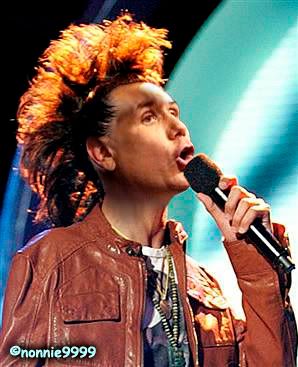 Original images:
James Traficant
Don King
Phil Spector
Nick Nolte
3 Stooges
Dondi
Big Boy (hat tip to Patriot4peace)
Sanjaya
Remember, kids, there's no Top Comments without you. Send worthy comments to:
TopComments AT gmail DOT com
And remember to include your DKos user name, or I will beat you with a hairbrush!
And now, the real reason we're here, the comments.
From MsGrin:
In turneresq diary BRUTAL Ad to Air Tomorrow: 'Are You With Obama or Limbaugh', FishOutofWater has some advice for Republicans.
From MikeTheLiberal:
The diary is bubbanomics's The Rich Got MUCH Richer!

The comment is from gjohnsit. It really says it all.
From indycam:
In indycam's diary Netherlands / Swiss Style Universal H.I. / Care, SuperSonic Dog explains the Swiss health insurance system.
From OrangeClouds115:
From OrangeClouds115's diary The Myth Of "Republicans Are For Small Government" - Busted!, eponymouse sums up rightwing ideology.
From sardonyx:
In brownsox's front page storyMichael Steele Elected RNC Chairman, yg17 is on to something!
My picks:
Lots of fun in eponymouse's diary Your favorite joke. I loved this one from Laurie Gator, this one from Lithium Cola, and these from BFSkinner.

In Crashing Vor's diary, I'll Believe My Lying Eyes, Thanks., Kitty starts off a very enjoyable thread. In the same diary, Crashing Vor posted a video of a great commercial (am I the only one who never saw it?).

In an open thread, FoundingFatherDAR asks an excellent question about Michael Steele winning the RNC chairmanship.
Top mojo, thanks to sardonyx, mojo hero extraordinaire:
Top Mojo (cskendrick/sardonyx-style) excluding search-identifiable tip jars, first diary comments, Cheers and Jeers, and Mojo Friday:
  1) There's a new sheriff in town by FishOutofWater — 313
  2) The new bipartisanship, to Republicans by Dallasdoc — 204
  3) Hit them with a big stick. Repeatedly. by Dallasdoc — 202
  4) Gregg takes the Commerce position. 60 votes by FishOutofWater — 168
  5) sen bob, I want to weep . . . by nyceve — 125
  6) Just confirms that you can't move forward by Observerinvancouver — 114
  7) The Padilla case has been particularly by RubyGal — 114
  8) Bring the rout to the South by Edgewater — 109
  9) Disagree by citizenx — 100
10) I wish i was 1% of the 1% by Nailbanger — 100
11) Ugh..I apologize by Scarce — 99
12) Lets not go crazy here. How would you live on by Nailbanger — 99
13) much of that happened because by Tanya — 98
14) hell, I'd settle for 10% of the 1% of the 1% by bubbanomics — 90
15) Here's the audio by Scarce — 89
16) NYC Eve . . . by sen bob — 88
17) has anyone seen someone... by gooners — 87
18) An anvil is a hell of a lot by gchaucer2 — 84
19) As it hits better media than Fox..... by murrayewv — 75
20) Exactly, the doctor in this case appears by blue jersey mom — 72
21) The GOP response? by MikeTheLiberal — 72
22) Obama lays the wood by turneresq — 69
23) NH and Arizona were the two places were McCain by Setrak — 67
24) Well, it sure ain't Rainin' McCain... by Scarce — 66
25) Better transcript too by Scarce — 66
26) I Wasn't Going to Even Comment in This Diary... by lzachary — 65
27) I'll be calling in the morning by Dallasdoc — 64
28) This sure isn't 1993 by beltane — 64
29) Hit the mute button instead by Dallasdoc — 63
30) A guy who still ought to be serving ... by Meteor Blades — 62
31) In this case, unfortunately, by MissLaura — 62
32) Randi Rhodes reported it immediately... by tbetz — 62
Top Mojo with No Exclusions:
  1) Tips by turneresq — 815
  2) It's raining piss. Hallelujah. by Crashing Vor — 505
  3) alms... by bubbanomics — 367
  4) Tips for Barack Obama by TomP — 345
  5) There's a new sheriff in town by FishOutofWater — 313
  6) tip jar by Patriot Daily News Clearinghouse — 285
  7) So sorry tip jar by sen bob — 256
  8) tips for a maximum wage! by Tin hat mafia — 238
  9) Tip jar by homogenius — 218
10) The new bipartisanship, to Republicans by Dallasdoc — 204
11) Hit them with a big stick. Repeatedly. by Dallasdoc — 202
12) Here's my kind of ginger too! by Asinus Asinum Fricat — 185
13) Gregg takes the Commerce position. 60 votes by FishOutofWater — 168
14) Tips for jobs by etherapy — 163
15) Tips for Coppertone and rain by WineRev — 142
16) Mojo Mug by TexDem — 140
17) Again, this is why hate crimes laws... by droogie6655321 — 136
18) Friday Tip Jar by Bill in Portland Maine — 132
19) Tips for the 110th Cosponsors: by SarahLee — 127
20) The Lounge is Open by TexDem — 125
21) sen bob, I want to weep . . . by nyceve — 125
22) I guess I can still be shocked..... by murrayewv — 124
23) Mojo Friday Wants You by TexDem — 119
24) Tip jar by plf515 — 117
25) If it's Friday by MKinTN — 117
26) Cheers for NFTT 09!! by donnamarie — 116
27) Heh by TexDem — 115
28) Hi and mojo to you by blue jersey mom — 115
29) The Padilla case has been particularly by RubyGal — 114
30) Just confirms that you can't move forward by Observerinvancouver — 114
31) Thanks for stopping by! by TexDem — 114