In 2006, Albuquerque approved the installation of Second Chance, a Scientology front group, in an old prison facility. The goal was to provide drug abuse counseling to nonviolent male inmates, at taxpayers' expense.
Last December, Second Chance lost their lease with the city of Albuquerque.
The shenanigans, lies, and broken promises have resulted in the disappearance of 19 inmates, as well as Second Chance President Joy Westrum, who has made herself unavailable for questioning.
It's been over a year since I wrote about New Mexico and Scientology
front group, Second Chance.
It's time to revisit the issue, and thumb my nose at the New Mexico
officials who chose to ignore the warnings. I also wish to
congratulate readers who took the effort to inform their legislators.
Although your efforts didn't pay off, they surely had some impact.
Second Chance isn't going to get that $3 million in public funding
they were seeking. In fact, due to some rather spectacular flouting of
their agreement, they have been forced to evacuate the facility they
were leasing in Albuquerque.
Under the lease, they were allowed to operate in an old jail facility.
Surrounded by chain link fence, and topped with razor wire, the
facility was to house nonviolent male inmates with a history of
substance abuse problems.
The problems began when Second Chance President, Joy Westrum, failed
to submit paperwork and was given a deadline of December 24 to comply.
Ms. Westrum refused to speak to reporters, hanging up when they
called.
There were several issues being juggled last December; the program was
housing 40 people over the limit, and guards were not being paid.
Violent inmates were being housed as Second Chance offered to take in
overflow from surrounding counties. They were also housing women in
violation of their agreement.
On Christmas Eve, Albuquerque police got a tip that Second Chance was
moving inmates. Officers observed a bus loaded with 40 people, and a
van with eight passengers leaving the facility around midnight.
The busload of 40 people were later determined to be homeless people
from the Rescue Mission sharing the Second Chance facility. Nobody
seems to know who the eight people in the van are, and Joy Westrum has
been, shall we say, hard to get ahold of these days. When challenged,
she did issue a statement.
"Second Chance president Joy Westrum said the city has been misled.
Westrum said no inmates were brought in strictly because of overflow
problems.
"We are here to offer rehabilitation, education, job preparedness, and
that's the intention of anyone who comes to second chance," Westrum said."
Albuquerque Public Safety Director Pete Dinelli wants information on
all individuals housed by Second Chance.
"What I wanted was an accounting of the individuals that were there as
of last week, and apparently they are deliberately deciding not to
include those eight individuals," Dinelli said. "And to me failure to
disclose is just as good as lying."
When presenting information about Second Chance at a hearing, Westrum
states that Second Chance is licensed from Criminon International,
another Scientology front group targeting inmates. She claims that
Criminon manuals have been "evaluated by the Urban Institute, who
concluded that the manuals align with what is best corrective in the
criminal justice system."
I left a message with the Urban Institute. I will update this article
as soon as I get a reply. I find it is necessary to check on claims of
support, as Scientologists have often been caught lying about
endorsements from legitimate organizations.
Fast forward to January, 2009. Second Chance had until the 31st to
vacate, and did a bunk in the first week of the year. KOB Albuquerque
responded to a tip of activity at the facility, and sent a camera crew
out to the site. When they were spotted, a yellow bus sped away,
followed by a man who concealed his face as he walked past the cameras
to his car.
The problem, Second Chance was still housing 19 people, and nobody
seems to know where they are. Second Chance pulled out, still owing
between $10,000 to $90,000 in rent and utilities.
City officials toured the abandoned property yesterday. Second Chance
removed a sauna facility before they left, which had been installed
without the proper permits. Writing on the walls depicts Scientology's
"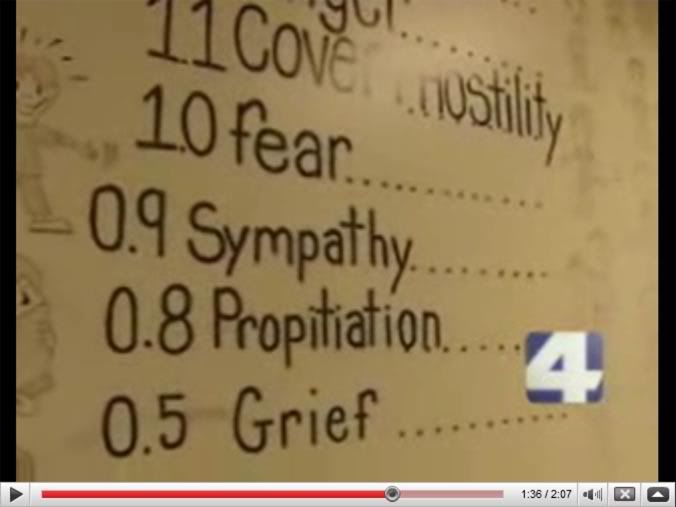 , Tone Scale, while Westrum has repeatedly denied there is any link between Scientology and Second Chance.
(Second Chance is licensed by Criminon, a Scientology front group that
falls under the Association for Better Living and Education umbrella
on the Scientology corporate chart.)
Amusingly, when they left, some kitchen appliances apparently left
with them, an allegation that Westrum denies. And yet, the fact
remains that a couple of stoves and a refrigerator are missing.
To sum up, New Mexico has been had by Second Chance. The organization
refused to abide by the agreement made with the city of Albuquerque.
They have shuffled people around, and nineteen inmates are unaccounted
for. They owe the city for rent and utilities. Equipment has
disappeared, and Second Chance President Joy Westrum has gone into
hiding.
The real interesting question here should be, how did Second Chance
get this deal with New Mexico in the first place? It is simple. Joy
Westrum and her husband Rick Pendary are both on boards and committees
with the National Foundation of Women Legislators, the NFWL.
Founded in 1938, this once prestigious group has been targeted and
infiltrated by Scientologists who now have access to legislators.
In 1998, the President of Scientology front group, Citizens Commission
on Human Rights, Bruce Wiseman, sent out a letter asking for funds to
join the NFWL. Mr. Wiseman is now their treasurer. In his letter, he
made several revealing comments.
"A terrific opportunity has just arisen that will help us do just
that.There is an organization called the National Organization of
Women Legislators (NOWL), and as the name implies, this group is made
up of top woman legislators from local, state and the Federal
Government. Senators, governors, congresswomen and others are members
of this group...This is a magnificent opportunity for CCHR to get its
message delivered directly to some of the top policy makers in this
country...Joining this organization and attending this upcoming
conference will open numerous doors for CCHR to cut psychiatric
funding in the coming years."
It is also a magnificent opportunity to get Scientology's fraudulent
front groups installed at taxpayer's expense. As seen in this case, it
is the public and local communities who come out the losers, as public
money which could be better spend is wasted on useless, fraudulent
programs which profit no one but the Scientology organization. Ten
percent of gross income goes straight to the top for "licensing fees"
and permission to use Scientology's copyrighted material.
The simplest solution? Clear out the Scientologists from the National
Foundation of Women Legislators! At the very least, they should be
asked why Westrum and Pendery (who has had his own legal problems with
fraud in San Diego court) are even allowed to be a part of the NFWL.
The integrity of Jewelry Joy and Roderick Pendery is definitely
questionable. Scientologists repeatedly claim to be "the most ethical
people on the planet."
That sounds all well and good, until you realize the cult redefines
words to change their meaning. Your definition of 'ethical' is not the
same as theirs!
Update!
I spoke to a reporter from KRQE this afternoon. He told me all 19 inmates have now been accounted for.
Wed Apr 03, 2013 at 12:14 PM PT: Update Update! Pete Dinelli, the Public Safety Officer who was seeking info on Second Chance inmates, is RUNNING FOR MAYOR OF ALBUQUERQUE IN 2013!!!