WashingtonPost.com's Daily Politics Discussion
Perry Bacon Jr. - Washington Post National Political Reporter
Feb 25, 2009
Richmond: Every time Obama or Geithner speaks, the markets retreat. ...
But the bigger fear: he does have a philosophy. But it's a fairly Socialist philosophy that wouldn't go down well with the American people if he was overt about it.
(emphasis added)
http://www.washingtonpost.com/...
If I hear anymore of these "it's really just socialism" Talking Points from the "Me-First" Party of Greed -- I think I'll scream!
Wait a minute, what's that Chris ... uh oh, look out! ...
Hardball Video Clip Feb 26, 2009 -- Approximate Time Mark [2:00]
Chris Matthews: "Governor Ehrlich, your assessment of this Fiscal decision to go to higher taxes for the wealthy -- the well-off, I should say -- and use it to put together a Trust Fund, and to begin to accumulate enough money to fund a real National Health Care system?"

Bob Ehrlich - Former Governor of MD (R) responds:

"This all about Class Warfare, it's all about 'punishing success'. It's anti-small business. But, let's just say, if it all comes together, they raise all the taxes on dividends and capital gains -- It doesn't begin, Chris, to pay for what he's talking about doing. That's the problem, the numbers don't add up."
(emphasis added)
Who dreams up these "punishing" Talking Points for the Rush-bots, anyways?
(Never mind, I think I answered my own question.)
But wait til you read this screed, from a hard right blogger, who's ready to take a serious stand against Socialist Health Care:
Socialized medicine, here we come
Danny Huddleston - AmericanThinker - Feb 25, 2009
In his address to Congress President Obama said health care reform can not wait, must not wait, and will not wait another year. Republicans need to take the long view, since they don't have the votes to stop the Democrats on most issues; let them raise taxes, nationalize the banks, down size the military and shut down all the coal fired power plants. These policies can be reversed. If Republicans regain control of Congress in 2010 or by some miracle regain the presidency also in 2012 they can rollback taxes, they can privatize the banks again, they can rebuild the military and they can give the green light for new coal and nuclear power plants.

There is one thing we would never be able to roll back and that is socialized health care. This is where Republicans need to draw the line and do everything in their power to stop Obama.
(emphasis added)
http://www.americanthinker.com/...
(Photo by chuffin)
Before that Greedy Obstructionist Party "draws that line in the sand" -- they just might want to check to see "which side of the line" the American People will be on?
Survey: Health care cost keeps the doctor away
By Mike Mokrzycki - AP – Feb 26, 2009
One in four Americans said in a survey that someone in the family put off needed health care in the past year because of cost, including 16 percent who postponed surgery or a doctor's visit for chronic illness.
...
As President Barack Obama vows to reform the health care system, the Kaiser Family Foundation found consistently high support for that action despite the country's economic woes: 62 percent said "it's more important than ever to take on health care reform now" while 34 percent said we can't afford it now.
(emphasis added)
http://www.google.com/...
Yes, but that is only one Poll, it might just be a anomaly, right?
Well see if we can detect any Nationwide trends using a few more Polls, focusing on what The American People really think about getting "Socialist" National Health Care reform. ...
SO instead of screaming, I dug up a few relevant Polls, and spun their data into a few shiny new Graphs -- just so that, it will be painfully obvious to all who care, just "which side of the line" the American People are ALREADY ON:
(Many thanks to PollingReport.com for consolidating all the recent Polls, that anyone would ever want to graph!)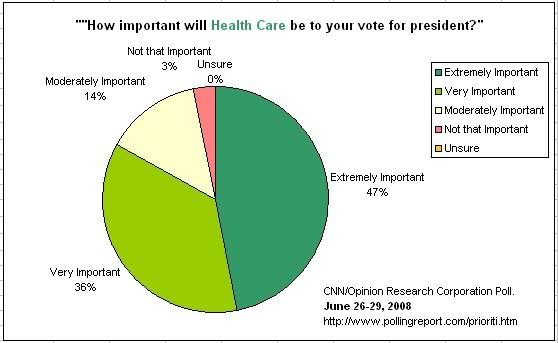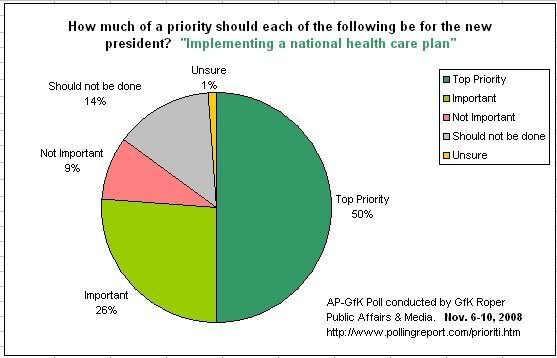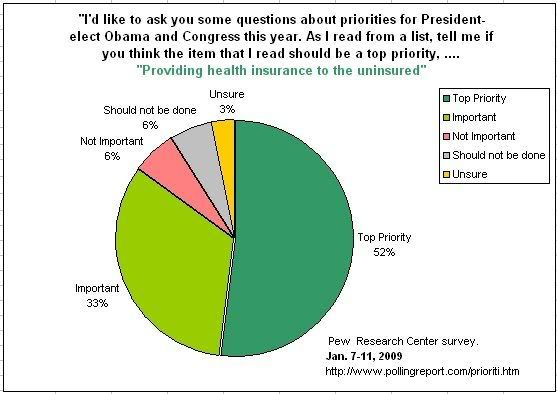 Data Source: PollingReport.com
(Hey Media Pundits: One Question: Where are your Graphs?)

It looks like The American People have ALREADY SPOKEN on the issue of Health Care -- the Good thing is, that the Obama Administration has ALREADY HEARD US, and is Acting, to get it done NOW!
Perhaps those GOP "Talking Point" echo chamber flunkies, should ask themselves -- "WHAT DO the People really want?"
(Because plainly those neocon, Reaganite, die-hards Parrots -- really DON'T have a Clue!)