Over the past decade those of us who live in California have watched our state begin a slow, almost imperceptible decline. We've seen funding to the state's premiere higher-ed system relentlessly cut while taxes on business have been slashed. Student tuition and fees have risen, sometimes by more than 10% a year. Vital services have been repeatedly slashed - from health care for the indigent and elderly to staffing for schools.
At the same time we approach every budget constrained by the rules of Prop 13, in particular the 2/3 majority required to pass a budget which allows a handful (usually less than 2-3) of radical Senate Republicans from sparsely-populated counties in the interior of our state to impose their radical and divisive agenda on the rest of us. They then complain about coastal California and how we do nothing but "spend, spend, spend" their hard-earned tax dollars, when in reality it's THEY who are the real welfare queens of California - sucking from the coastal counties like a newborn baby on its mama's tit.
Where am I going with this? I say we break California up into two or more states because the current situation is untenable and undemocratic for everyone involved.
I once worked with former CA governor Pat Brown's granddaughter. She told me her grandfather had said on more than one occasion that California was an ungovernable state and that it should be split into two or three additional states.
I thought about this recently when reading of the various secessionist movements afoot in our state. One wants to split the coastal counties from the inland ones, another wants to split far-Northern California, join it with Southern Oregon and call the new state "Jefferson." Yet another wants a North-South split.
The first one I mentioned - the one which wants to split the inland counties from the coastal ones, is being pushed by Republicans fed up with what they view as CA's onerous tax burden and the split between socially progressive coastal California and the more conservative inland counties. The interesting thing is, as you can see from this map - that we in the coastal counties actually subsidize the poorer inland counties:
As the Bay Area Guardian says:
The chart shows that the people who dislike and distrust government and don't want to pay taxes are in fact the beneficiaries of the tax dollars that the rest of us pay. In California, tax money from the coast winds up paying for services in the central valley.
Looking at this map it's funny someone from the Inland Empire or the Central Valley would say something like this person said in the NY Times:
"Those Hollywood types don't have any idea what's going on out here on the farms," said Mr. Rogers, a retired dairyman from Visalia, the county seat in a Central Valley region where cows far outnumber people.
FYI - this is how CA voted in the 2008 presidential race, broken down by county: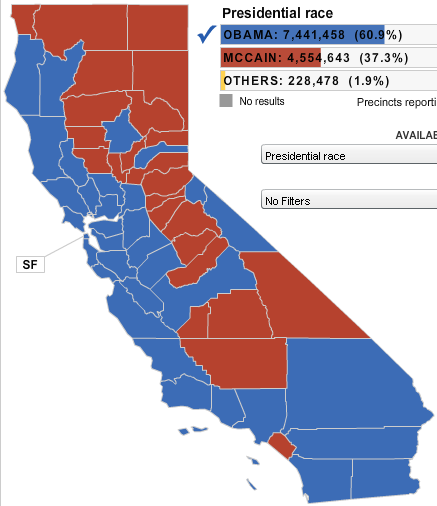 Proposals have been around for over a hundred years to split California into two or more states. But the budget crisis seems to have given new impetus to the movement with increasing calls for a state Constitutional Convention. Any proposal to split the state up would require approval from the Senate - which adds an obstacle but isn't insurmountable.
So I say - go for it. Let's split the state along the coast and let the freeloaders from the inland counties pay their own way for a change. After watching this state's decline over the past 6 years (which really began in the 70s) I'm starting to feel that radical action is needed to restore California to its former glory - and the best way to start is by jettisoning the deadwood.
Update: I'll be on The Johnny Wendell Show on KTLK-AM 1150, Clear Channel Los Angeles (http://is.gd/nVwG) this Saturday 3/21/09 at 4:00 PM talking about this subject if anyone is interested.