The Federal Reserve has decided to print money to service the bogus credit default swaps and bad loans of the banks speculators, and this tends to weaken the dollar, of course. Sure, in the short term, a cheaper US dollar means our goods are more attractive, but it also makes imports higher and will tend to raise petrol based energy prices and commodities.
Effectively, in the long term, the Fed printing money is the equivalent of a regressive tax, one which will impact the poor and working class more than the wealthy, as prices for food and fuel [necessities] are forced up due to the increasing weakness of the dollar.
Temporarily, the weaker dollar may help stimulate manufacturing jobs, but in the longer term this choice if sustained can be damaging to the fundamentals of day to day Americans trying to survive.
It's seemingly the 'way out', as chosen by the Obama Administration.
Meanwhile, the right wing is going nearly insane over Obama's plan to repeal the the Bush tax cuts: they are calling it 'class warfare', and bemoan all the jobs the rich bastards supposedly won't be giving out to working Americans as a result of this plan.
That part is a joke: this little tiny increase from roughly 35% to 40% for the top 5% of the US population is NOTHING compared to the historical tax rates paid by Americans. It's a drop of water in a huge sea of fungible assets, a symbolic change which does not refute the basics of Reagan's VooDoo economics.
People making about a half a million a year will see perhaps an increase of about $1,500 in tax - that's about it. The right wing pundits are SCREAMING bloody murder though.
Here's some perspective on tax rates.
These are all right from the IRS tax tables.
Here's a good place to look at all these tables - I don't agree with the taxfoundation stances on economic issues, but they do have a handy display of the tax rates.
http://www.taxfoundation.org/...
Al 8 years of Dwight Eisenhower's administration, carrying through really a solid decade, from 1954 to 1963. Multiply the dollar amount roughly by 10 to equal today's dollar.
Married couples making $32K/year paid at the 50% tax bracket.
Married couples making $100K/year paid at the 75% tax bracket.
Married couples making $400K/year paid at the 91% tax bracket.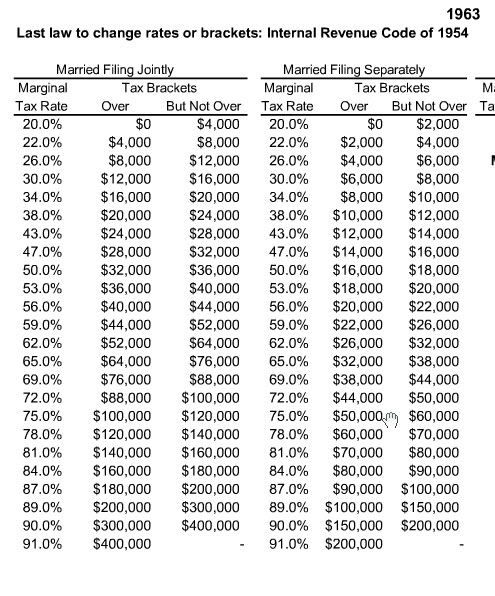 Through Richard Nixon's administration, the dollar is worth about 5 times more in today's money.
Married couples making $28K/year paid at the 39% tax bracket [around where the top bracket for the most wealthy would pay under Obama's plan].
Married couples making $44K/year paid at the 50% tax bracket.
Married couples making $200K/year paid at the 70% tax bracket.
What George Herbert Walker Bush charged Reagan of proposing during the primaries 'VooDoo Economics' became reality over the 1980s. Ironically and hypocritically, GHWB presided over even bigger reduction in taxes. Well, GHWB and Greenspan were right: Reaganomics has shown itself to be unsustainable, and today's economy is the living proof of what happens.
Look at the beginning in 1981, and then see the last three years, at the tax rates.
Trillions in lost taxation, the money pumped into speculation, much of it wasted. Our deficit was not serviced and was allowed to grow, and worse, schools, roads, bridges and those things which allow our society to move forward have been poorly funded and serviced. All of this done so the rich could have trillions to waste in speculation, creating bubble after bubble.
It did artificially drive the economy for a while, certainly. But now we all get to pay for this 'experiment', for many years.
Today, after minor changed by Clinton bumping up the rate slightly and then GW Bush cutting the top rate again, we are here.
This is the nexus of 'modern conservative thought'.
The mantra of Reagan;
"The nine most terrifying words in the English language are: 'I'm from the government and I'm here to help.'"
The starvation of funding the commonwealth, Grover Norquist's dream of drowning government in a bathtub became a reality due to Reaganomics.
The initial response of the economy to the huge influx of capital as taxes were reduced on the wealthy and speculation was opened up to all was an explosion of growth. It was a Potemkin Village of pretend internet industry and fake high tech which exploded into confetti in the late 1990s.
What Alan Greenspan called in 1996 "irrational exuberance", and the result of the equity markets reaching unsustainably high levels was a direct reinforcement of what George Herbert Walker Bush had called 'VooDoo Economics', some 16 years earlier.
The economic problems we see today are caused by lack of oversight, deregulation of commerce and banking and of course the lack of funding for the Federal Government by way of taxation. All of it is a direct result of unsustainable and supposed 'conservative' Reaganomics.
Progressive taxation, which served previous the fiscally responsible conservative administrations of Eisenhower, Nixon and Ford as well as Democrats up until 1980 was thrown away.
Today, the Democrats and the Obama Administration show every sign of being totally weak and unwilling to challenge this core lie of Reagan's 'VooDoo Economics', that reducing tax rates produces growth. The half-hearted attempts to impose some regulation on banks is a symptom of this as well.
**************
Let's get real here:
This little proposed repeal of GW Bush's tax cuts by Barack Obama is like putting a band aid on a patient that is bleeding out, and in danger of losing it's leg.
The Norquistian model of starving government lives, and is actively supported by virtually all of Congress, Democrats and Republicans alike. The padding of speculators and Wall Street, and borrowing from the future by the Fed printing money today, rather than do the RIGHT THING, the fiscally conservative thing, to tax the rich is being rejected.
This is the core issue of our time, progressive taxation. The charlatans of the right propose the exact opposite, a 'Flat Tax'. Some here in this community are blinded enough by the rhetoric to support it, even.
Why? What makes people so blind they do not understand the very concept of 'commonwealth', that those who make more money at the expense of society should be expected to pay progressively more in taxation?
And, what would happen if we returned gradually over a period of a decade to the tax rates of the early 1980s, then the 1970s and finally ended up back at where Eisenhower had fair, just and equitable tax rates for all?
Would the 'American Way of Life' suddenly fall apart? What was life like back in the 1950s, 60s, even into the 70s? Couldn't people look forward to planning their futures, rather than strictly living nearly day to day?
Have we become so enamored with Horatio Alger's dream that we all must become filthy rich to be happy, that somehow it's "UnAmerican to tax the rich", even at a slowly increasing and progressive rate of taxation?
Where did this idiot idea come from, this inane Bushism of "It's your money, you paid for it." Where went the sense of common sacrifice of Eisenhower and JFK?
We as a society have become blinded by greed, and the huge megaphone of Madison Avenue and corporate media. The need for material things since the era of Reagan has become such a siren call, that even a modest 10% increase in the top tax bracket to a mere 40% is viewed by the elite talking heads as some sort of form of 'socialism' or 'class warfare'.
It's disgusting, it makes me sick. Worse, the rest of world has followed, and suffers from the same general disease. We have infected the planet with greed and VooDoo.
It's time that both progressives and conservatives should be calling for a return to saving, building our infrastructure and a fair tax code.
We must stop Reagonomics, the greed and unsustainable living. If we cannot get a handle on this soon, the planet and environment itself will do it for us, and stop us all dead in our tracks.