Every few years, mainstream media is kind enough to endow us with a new drinking game. In the never ending Arthurian quest for drama, our news sources keep looking for caveats to Obama's frustratingly persistent high marks to feed the partisan fueled conflict that passes for news.
Oh sure, SURE, his approval ratings are HIGH, BUT...
...people appear split on how he's handling the economy!
A national poll indicates that nearly two out of three Americans approve of the job President Obama's doing, but the survey suggests that people appear to be split on how he's handling some aspects of the economy.
...a SURVEY shows his bipartisan support COULD be slipping!
he is receiving strong reviews for his first full month in office, but deep partisan fault lines are quickly reemerging.
...they're not AS high as they once were
President Obama entered office with very high approval ratings. Now, for the first time since he took office, the president's approval ratings have slipped from 64 percent to 59 percent.
The Gallup Organization survey found 68 percent of Americans approve of Obama's performance as the nation's chief executive. That's a number near the high end for new presidents, but short of President John F. Kennedy's 72 percent in 1961.
...he's losing support for his stimulus (on oldie but goodie)
After weeks of intense debate over President Obama's economic stimulus plan, a narrow majority of Americans (51%) who have heard about the $800 billion plan say it is a good idea, while 34% say it is a bad idea. In January, the balance of opinion regarding the plan was more positive: 57% of those who had heard about the proposal viewed it positively, compared with just 22% who viewed it negatively
...people just aren't as into his policies
...But the poll also shows potential dangers for Obama and the Democrats. For instance, there's a sizable gap between the president's personal popularity and the popularity of his policies.
...Republicans are, for some reason, increasingly angry at him
President Barack Obama is evolving into a President of more than just the Democratic party's base, but with increasingly little GOP support — bolstered by a majority coalition which includes a relatively unified Democratic party and more independent voters for him than against him.
...his support isn't fanatical (........WHAT?!? Oh, O'Reilly, you're so you.)
In a new Gallup poll, President Obama's approval ratings just went higher. But O'Reilly says that while Obama is popular, it's still not fanatical.
These sorts of stories are what I like to call "Partisan Fueled Conflict stories"
And if you like Obama, like I do, we can look forward to these sorts of headlines for a long time since the polls seem to be keeping a pretty consistent rating for the current president, unlike the final approval graph of George Bush which came to resemble a Klingon torture device.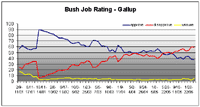 Obama's ratings today stand at:

Gallup: 62% Approve / 27% Disapprove
Kos: 65% Approve / 29% Disapprove
Rasmussen: 56% Approve / 43% Disapprove / 100% No Pie
CNN/Opinion Research: 65% Approve / 34% Disapprove
Partisan fueled conflict headlines like those above serve only to make me more jaded of the media and bind me closer to the Kos and other Reality Based news sources. The headlines above scrounge around for some morsel of partisan conflict because a fact by itself doesn't warrant reporting in mainstream media. That's why we end up with news about Iraq while places of equal or worse horror like Darfur get little or no news coverage...there's no feeling of conflict about it for the readers. There's no Republican Vs. Democrat smack down to be written about, so it gets buried way below the fold.
Partisan fueled conflict seems to have become the default driver of mainstream media when there are no shark bites man stories to dredge up from the ocean.
I don't foresee the news changing any time soon from the format of putting one Conservative and one "Progressive" in a room with a "reporter" to discuss any and every story. So I'll be subscribing ever more to the diary writers that give me the real scoop without the drama.