New York's 20th district is likely to be resolved one way or another much faster then the Minnesota Senate Race.
This diary is a direct result of a comment thread in WineRev's Diary that can be found here
I am not a lawyer but have done no less then 3 recounts as a partisan volunteer under New York State rules. If I have the time (it's the middle of a semester and I live on Long Island so NY-20 is a 3.5 hour drive) I might get up there to help out but even if I don't I wanted to share my knowledge with everybody.
In NY a recount consists of 3 parts.
Part One Rise of the Machines
This is your friendly NY voting machine, they have been in use in NY forever, some of them are older then my parents. Say hello to the voting machine. Hello voting machine.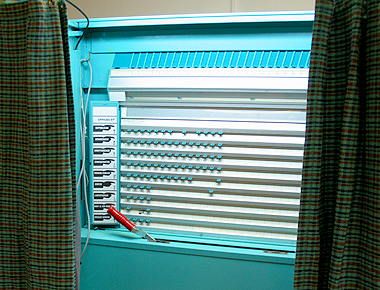 These voting machines have a numbered grid on the back. Which reports the number of votes for each line. In NY-20 they would be 1-A Murphy etc. and the numbers are layed out on a grid. The unofficial numbers that are reported on election night are just these numbers read off written down and phoned in by poll workers.
Poll workers are supposed to included one D and one R for every step of the process, they are also supposed to do each check, man each table and read each number together. They can also be observed by residents of the County that is voting with printed certificates from county party chairpeople. The initial read is fairly open and honest.
The first thing that happens which is likely going on today is that representatives, lawyers and volunteers from both candidates are going to the various warehouses which house your friendly NY voting machine and double checking the numbers on the back. This is fairly straightforward a number is a number is a number they stay the same. Everybody sees the numbers at the same time.
These numbers cause what New York election lawyers have been known to call manic-depressive candidate syndrome, because the most common mistake is that someone misses a box usually the cross-endorsers box aka Murphy's working families votes in Saratoga. This adds to your vote total and erases or adds to leads. In every recount I've witnessed the errors are equally distributed so that they cancel each other out and the result will only move a fraction of a percentage point or a couple of votes.
Part Duex: Mickey Mouse doesn't live in Saratoga springs and this envelope has cat shit on it.
After the machine recount is done it is time for the checking of the outsides of the envelopes of absentee voters.
Here are the following reasons for a legitimate challenge:
Absentee voter is not a registered voter.
There is no matching absentee ballot application form, for this absentee ballot.
This absentee ballot was not signed by the voter or the signature does not match both the absentee application and the voter registration card.
The envelope has been opened prior to official review.
The envelope was postmarked too late.
The envelope was received too late.
Illegitimate but used reasons for envelope challenge: This voter is registered to vote from the party that is opposed to my candidate. This voter is a military/college student/disabled old folks home resident and those people usually vote against my candidate.
The way the process works is two election workers and two campaign workers sit around a table and stare angrily at each other each envelope is brought out and compared to the registration lists and absentee applications. Then the campaign workers challenge the ballots they don't like and those ballots are set aside for review.
The review process is simple first a bi-partisan administrative team from the board of elections rules on the ballot, unanimous rulings usually aren't appealed and are opened or discarded. Split ruling are reviewed by a judge. Lawyers must announce an intent to appeal at the time of ruling otherwise the ruling is final.
In amicable recounts unanimous ruling by administrators are abided by. In this recount I expect them to appeal every thing but the judicial rulings will be fast and the appeal through the system will be fast given the following strictures. The supreme court makes the final adjudication on facts, based on the administrators rulings, the appellate division and court of appeals only rule on law, so in individual ballot rulings they usually uphold whatever the supreme court, which is the lowest court in the NY system decides, limiting the effectiveness of appeals.
Anyway at the end of the initial "enveloping" process there are a pool of challenged envelopes and a pool of unchallenged ballots are created. The unchallenged ballots are opened usually well the challenged ballots are resolved. The challlenged ballots are opened once they reach final appeal and it is decided that they will be opened or discarded.
Therefore in my experience the envelope marked Mickey Mouse was discarded and the envelope with cat shit on it was opened. (carefully)
Part the Third: Revenge of the Lizard People
Then we open and we shuffle and we check and we count. Obvious plainly marked ballots are counted the following are reasons a paper ballot will not be counted:
Undervote: unmarked ballot or marked in such a way that the voter's intent cannot be discerned.
Overvote: Double marked ballot, however there is still a voter intent exception in our current situation if someone marks the vote for one candidate in two parties the intent is taken as one vote for that candidate. This will be fought over and then resolved to count as one vote for the candidate, not two and not zero.
Identifying mark: Writing yourself in as a candidate does not void a ballot every other listing of your name on the ballot.
Then you count twice: and what do we get thats the number then challenges are resolved and the admitted challenged ballots are counted and the recount is over.
The ballots are checked by 4 people again and the challenge and appeal is the same with less review usually required to reach a consensus.
There are no run-offs and there are no further appeals beyond the challenged ballot. Candidates can of course make a federal case out of it but this is rare.
My predicted timeline on this recount is from the last day to receive absentee ballots which I believe is April 13, the election recount will be resolved in between two weeks and one month. If it went longer then that it would be extremely unusual.
Stolen from the comments props to devtob Murphy's contribution page:
here