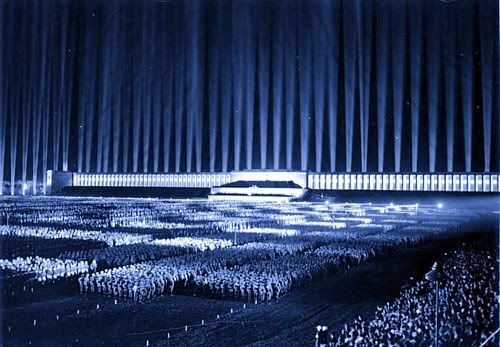 Above: Vertically-aimed searchlights form Albert Speer's 'Cathedral of Light' at a 1937 Nazi rally at Nuremberg.
THE STORY OF MODERN WAR cannot be found solely in ideological struggles and ethnic divides, or in the witch's brew of ignorance, fear and anger, or even in the baser human instincts of aggression and dominance. For the story of modern war has also been the story of the progression of the technology developed in the never-ending pursuit for military advantage.


In World War II, radar was one such technology, and it allowed an outnumbered (and near collapse) English fighter force to overcome wave after wave of fierce German attacks in the Battle of Britain, the first modern battle campaign fought almost entirely by air forces.


But part of that too was another technology: a 60-inch parabolic mirror which could focus a brilliant beam of light miles upwards...


...allowing any intruder aloft in the night sky to be seen from the ground.



THIS DIARY is being moved to its new permanent home at Saturday Night Uforia and will publish on December 31, 2011.