My Siamese pooties are 4 weeks old now and they have hit a major milestone - they are using the litter box! Yippee! Mom's tireless efforts with the tidy didy service have paid off, her babies are doing very well.
Recap:
Mom is Effie, my chocolate point Siamese girl who is just 15 points shy of being a grand champion in CFA. As soon as she has her girlish figure back, she'll get those 15 points. Dad is Itsy, my seal point stud muffin. Itsy has not yet made an appearance in these diaries. He is highly testosterone driven and I'm not quite ready to put him in the same room as Effie and the babies.
Here are all three kits with their mom Effie. There are two boys and a girl, the boys are seal points, the girl is I think a lilac point.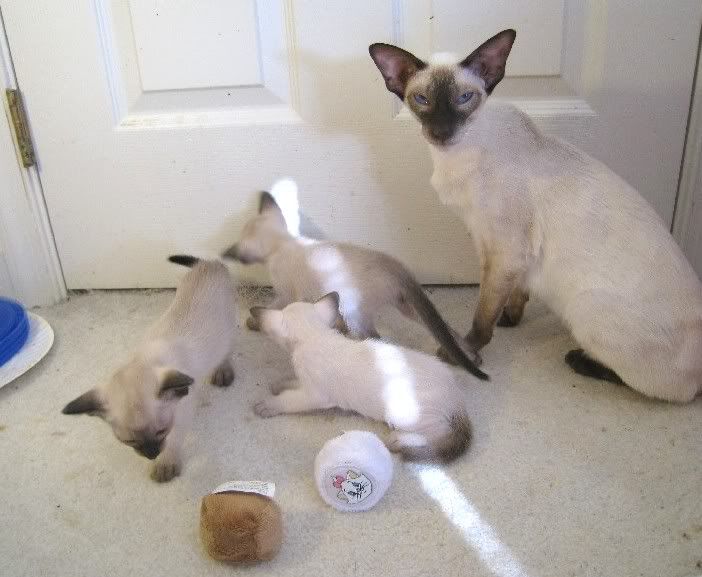 Here's a different adult female with the kittens. This is Maya, my seal lynx point Colorpoint Shorthair (also called a tabby point Siamese outside of the show circuit). Maya had a litter last May so she is an experienced queen. And once a queen, always a queen. She took one look at these kits and decided she loved them. I couldn't get her out of the tent.



You'll notice lots of pictures of the girl kitten today. The boys are incredibly busy. They are constantly in motion so it is hard to get a shot of them. The girl stops to pose occasionally. Here's the girl climbing up the tent and looking down outside the playpen.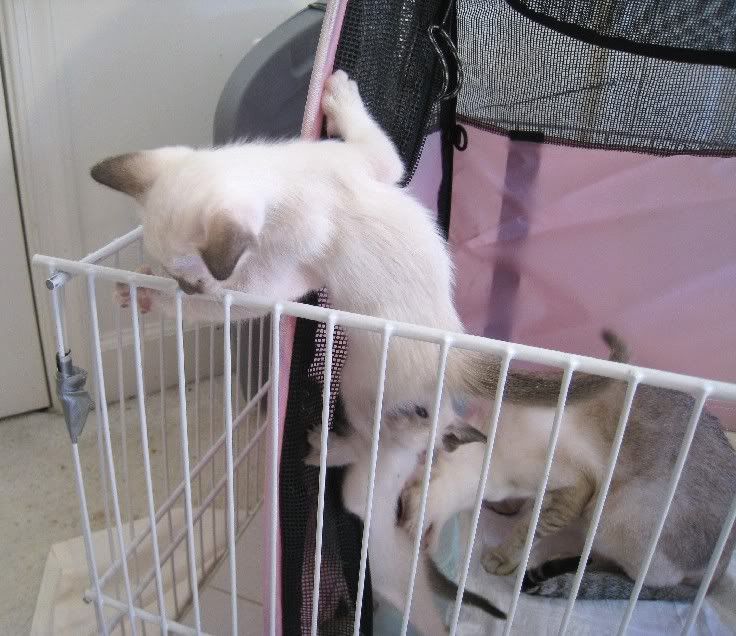 And yippee! Here's one of the boys taking his first poo in the litter box. I have a picture of the actual poo but decided not to include it.



The girl looking up at me.



Any port in the storm! Here's the girl with Maya. She searched all over Maya for a working nipple but when she couldn't find one, she plopped down for a nap. Maya was a-ok with it.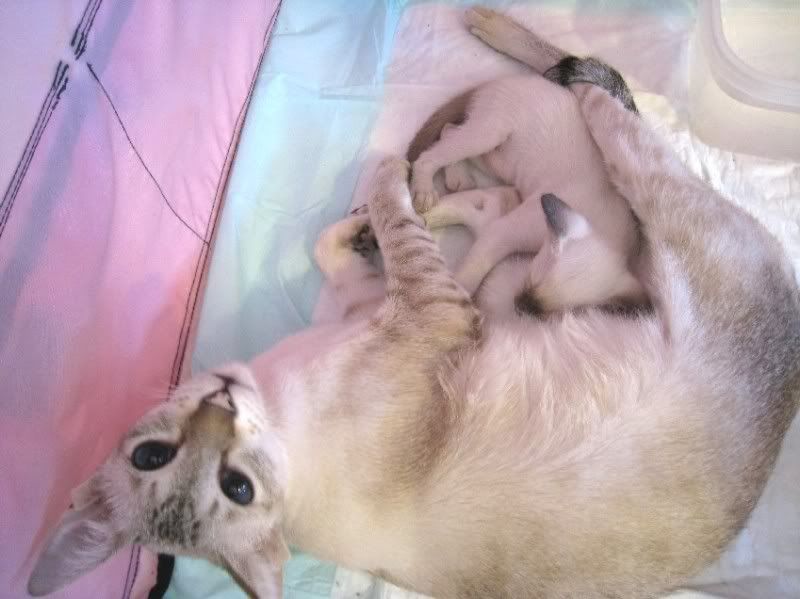 Just to be sure, the girl still loves her mom Effie.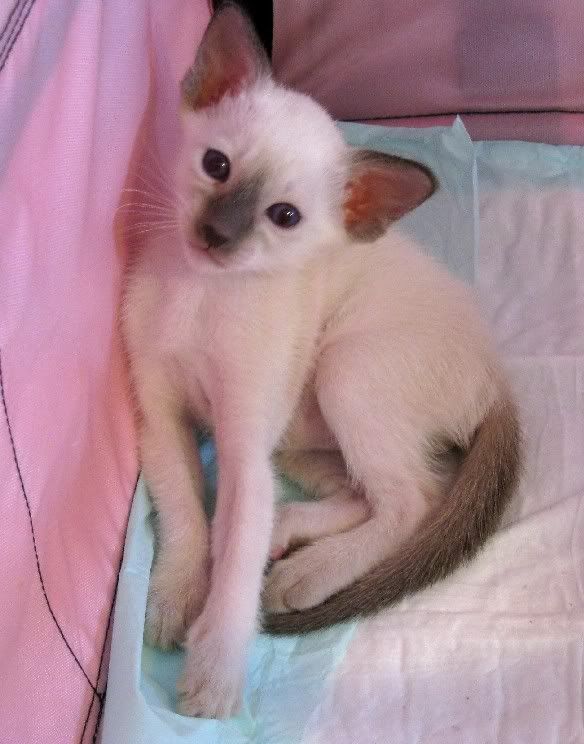 Here's a picture of the girl taken with a flash. She looks more like a lilac here. There is some dispute among my friends and I about her color. They are saying chocolate but have only seen the photos. I think she's lilac.



And just because I love this picture so much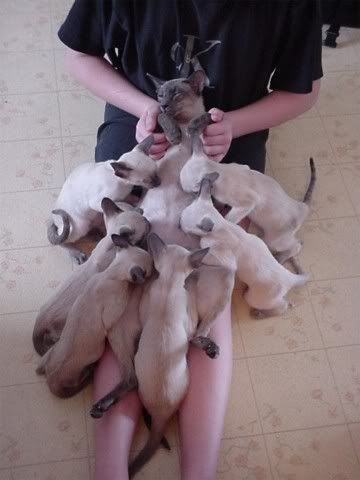 Okay, a little about the color of Siamese cats. Seal point is the dominant color. It's the color first seen outside of old Siam (now Thailand). A seal point cat is a black cat with the pointed gene. There are two components to the color. One component causes the recessive color blue point, or a grey cat with the pointed gene. The other component causes the recessive color chocolate point, a chestnut or brown like the Havana Brown cat with the pointed gene. If you have both recessives, you get a lilac point, or a lavendar cat with the pointed gene. It's easier to see this with the letter notation.
A seal point cat is noted as B_D_. Each cat gets one half of each color component from its parent. If it gets the dominant trait, we note that with a capital letter, recessives are lower case. So the offspring gets
a B letter from each parent and a D letter from each parent. Dominants express no matter what the other letter is.
So let's say a kitten gets a B from mom and a B from dad, we would write that as BB. If either letter is capital, it doesn't matter what the other is because it is the capital letter that expresses itself. So sometimes we use the shorthand B_ if we don't know what the other letter is. Next, a kitten gets a D from mom and a D from dad. The kitten has the genotype BBDD, which is homozygous seal point. With me so far?
If a kitten gets b from mom and b from dad, the kitten has inherited the recessive chocolate component from both parents and so will express that component. Say the kitten gets a D from mom and ? from dad. The genotype is bbD_. This is what I thought Effie's genotype was before she had her litter. She's a chocolate point. Itsy is a BbDd, I know this because of kittens he has produced in the past. He has produced all colors, so he carries all of the recessives.
Say the kitten gets B_ from the parents and a d from each, for B_dd. This is the genotype for blue point.
B_D_ = seal point
bbD_ = chocolate point
B_dd = blue point
And now for the ultimate - if each parent throws the recessive of each component, you get lower case all around and lilac point:
bbdd = lilac point
Itsy I know is BbDd. Now that Effie has produced a lilac point kitten, I know that she can throw a little d. So Effie's genotype is bbDd. This tells me that in future litters, I can get all four colors from Itsy mated to Effie.
Milestones expected in the next two weeks - the kittens might start eating kibble any day now. They kind of like the taste of baby food but are not keen on getting off the milk bar yet. Soon!
See you in two weeks.