A storm is coming....
And now, on with the ITEMS!
ITEM! Mexico City has cancelled all public events in the wake of the swine flu epidemic. More here.
ITEM! Justin Raimondo has the right idea when it comes to Jane Harman:
The outlook of this shocking case doesn't look too good at the moment, but that could change — if enough Americans are informed and angry enough to protest. The decision to drop the case, as of this writing, has yet to be made: it's only that they're considering dropping it. There's just one way to lodge your protest, at this point, and that is to contact the US Attorney's office in the Eastern District of Virginia, where the case is being tried.

Remember, there are no doubt people in that office fighting to keep this case alive — so be polite. Briefly express your disappointment upon reading news reports that the case might be dropped, and your hope that this is not the case.

Call 703-299-3700 — and remember, be nice!

Or, better yet, write a letter, send a telegram, or whatever, and address it to:

US Attorney

Justin W. Williams United States Attorney's Building
2100 Jamieson Ave
Alexandria, VA 22314
ITEM! Meanwhile in Iraq, a series of massive suicide bombings has killed hundreds of Shi'ites, leading to the possibility that the civil war between Shia and Sunni may reignite soon. On the lighter side, SoS Clinton made a surprise visit today.
ITEM! Avigdor Lieberman (no relation to Joe Lieberman (Definitely not D-CT)) seems to think that the US will back whatever Israel decides, even if it goes against the expressed wishes of the President for a two-state solution. Why is this? Is he counting on AIPAC? On American Evangelicals? On something fundamental to our culture?
ITEM! Mike Luckovich on torture here. (Note to Lady Liberty: don't let Bill O'Reilly catch you with that luffa....)
ITEM! Chicago State University is a disaster, with four out of five undergraduates failing to graduate. Those are numbers that would make a major urban public high school system blush. What can Governor Pat Quinn do to fix it? More here.
MICE!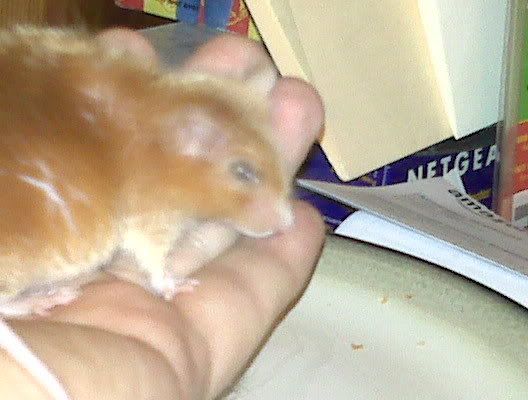 Our last mouse, Dangermouse, passed away on April 8th. He lived for three years, which in mouse terms made him a Methuselah. (The typical life span for a healthy mouse is two years; the record is over four.) Thus ended our first experiment with mice, one that started sometime in 2004 and that we decided to let run its course after Lisa's Meeces in Puyallup, WA sold us a sick mouse.
We were mouseless for all of a day before we realized that a house without a mouse isn't a house at all. We now have four girls that we bought from the local pet store. They seem to be doing brilliantly, although they're still a bit skittish (as mice are wont to be).
ITEM! Quoting Breitbart: "US President Barack Obama was briefly 'relocated' by the Secret Service Friday after a single-engine plane entered restricted airspace over the US capital, his spokesman said." Better safe than sorry.
ITEM! This is for the really, really, really, really, really, really hard core cup of coffee.
ITEM! Need a bug tracking solution? (I'm looking at you, kos and ct!) If so, then this is the coolest thing ever, and it's open source. My co-workers and I deployed this for an experiment and spent the whole time amazed at what it could do.
And now, a word from our sponsors: