Torture works, and I have the proof. We only have to look to all the useful information obtained from the master torturers of the Inquisition. These gallant defenders of the faith were responible for protecting medieval Europe from the evils of witchcraft. They were so good at their trade that almost every single witch that they arrested confessed their sins. Historical records from the past will prove how well torture works and we can lay this debate to rest once and for all. And all perfectly legal too. The Pope said so. I used to think that torture was both illegal and immoral. Silly me. After taking a look at the facts, I'm sure you too will see that Dick Cheney is right after all. Torture does indeed work. It works good.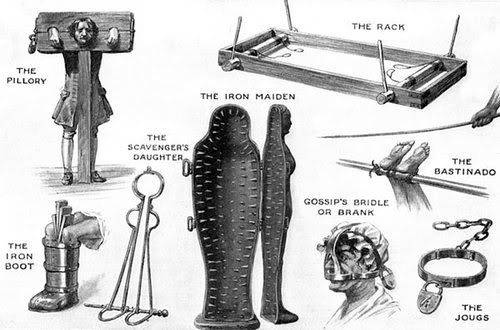 Confessions obtained under torture by the Inquisition:
1. In Spain, the witch Maria of Ituren confessed under torture that she and sister witches turned themselves into horses and galloped through the sky.
2. 600 French women admitted to copulating with demons.
3. Collette du Mont confessed that the Devil appeared to her in the form of a cat, sometimes a dog or a hare. While in such form he would stand on his hind legs and she would dance with him and drink wine. The Devil stated that the wine was not as good as the wine he usually drank.
4. Marie Becquet confessed that the Devil appeared to her in the form of a dog. He then tranformed her into a female dog and they had sex. He afterwards gave her bread and wine.
5. Isabel Becquet confessed that the Devil appeared to her in the form of a hare. After having sex with him he gave her a sack full of parnsnips. She also stated that he would sometimes appear in the form of a goat, a rat, or a weasel and would force them to kiss his butt before leaving.
From the transcripts of an Inquisitor:
Q. Do you believe in Christ born of the Virgin, suffered, risen, and ascended to heaven?

A. I believe.

Q. Do you believe the bread and wine in the mass performed by the priests to be changed into the body and blood of Christ by divine virtue?

A. Ought I not to believe this?

Q. I don't ask if you ought to believe, but if you do believe.

A. I believe whatever you and other good doctors order me to believe.
From a letter smuggled out of the Bamberg prison in 1628 written by a man of means, Burgomaster Johannes Junius, whose property was taken by the inquisitors:
Many hundred thousand good-nights, dearly beloved daughter Veronica. Innocent have I come into prison, innocent have I been tortured, innocent must I die. For whoever comes into the witch prison must become a witch or be tortured until he invents something out of his head and - God pity him - bethink him of something. I will tell you how it has gone with me . . . The executioner put the thumb screws on me, both hands bound together, so that the blood ran out at the nails and everywhere, so that for four weeks I could not use my hands, as you can see from the writing . . . Thereafter they first stripped me, bound my hands behind me, and drew me up in the torture. Then I thought heaven and earth were at an end; eight times did they draw me up and let me fall again, so that I suffered terrible agony. The executioner said, "Sir, I beg you, for God's sake confess something, whether it be true or not. Invent something, for you cannot endure the torture which you will be put to, and even if you bear it all, yet you will not escape." . . . Now, dear child, here you have all my confession, for which I must die. And they are sheer lies and made-up things, so help me God. For all this I was forced to say through fear of the torture which was threatened beyond what I had already endured. For they never leave off with the torture till one confesses something; be he never so good, he must be a witch. Nobody escapes . . . Dear child, keep this letter secret so that people do not find it, else I shall be tortured most piteously and the jailers will be beheaded. So strictly is it forbidden . . . I have taken several days to write this; my hands are both lame. I am in a sad plight. Good night, for your father Johannes Junius will never see you more . . . Dear child, six have confessed against me at once . . . all false, through compulsion, as they told me, and begged my forgiveness in God's name before they were executed.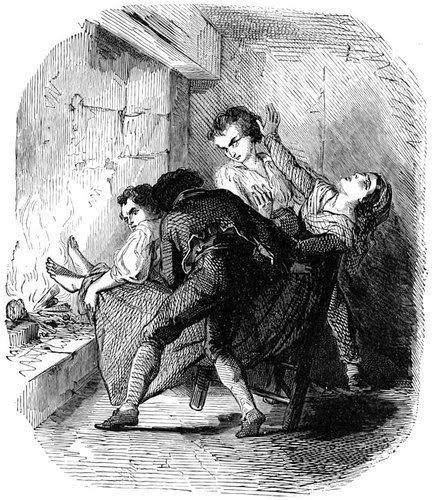 Wed Dec 10, 2014 at 9:59 AM PT: I thought this might be a good time to republish this diary from 2009.