We have some FUN birthdays today! No, I mean REALLY fun - not deserving of THE cake at all. But, I'm not afraid to bring out THE cake should "events" deem it necessary. ;D
Sigmund Freud, the "father of psychoanalysis", was born on this date in 1856. Here's the good doctor's take on the GOP!
We'll discuss terlet training issues later if necessary. ;D
Bob Seger is 64 today; here is my favorite song of his.
And, finally, in what I'm sure will be a multiple orgas...er...um...uh...SWOONING (yea...) swooning moment for many here, this one is 48.
What's his name again?! ;D
Let's Countdown.
#5 "It's DICK!" AKA "Schoolyard Bully Pulpit" AKA "Vice" AKA "Boss Limbaugh" AKA "Boss Creeds" AKA "Gold Rush" - DICK's looking out for little guys? I thought he shot little guys in the face on hunting trips. Abu Ghraib little guys are serving time; you didn't look out for them, as Janis Karpinski so admirably put a couple weeks ago.
This quote from DICK is just rich, so I'll rewrite it in full.
And this time around I'll do my damndest to defend anybody out there – be they in the agency carrying out the orders or the lawyers who wrote the opinions. I don't know whether anybody else will, but I sure as hell will.
Wow... OK, I think we have to create another category of evil; let's call it "DICK evil." President Obama has already said that the CIA grunts wouldn't be prosecuted, so what's DICK spewing about?! I imagine DICK didn't defend the Abu Ghraib little guys because there were pictures. Can y'all just imagine how worse things could've been if those pictures had never come to light? Keith, no one in the GOP will stand up to DICK because DICK shoots friends in the face. My, my, my, I really really REALLY want to see DICK's perp walk – probably him more than anyone else. Boss Limbaugh doesn't think there's a recession because of his big 'ol contract. After Eric Cantor said Sunday that the GOP was going to go on a "listening tour," Boss Limbaugh read him the riot act on his little EIB dog and pony show; now, Cantor & cohorts aren't going to listen anymore. When did they ever listen? How pathetic – even by GOP "standards"! SORRY FOR ALL CAPS, BUT KEITH...KEITH...KEITH...KEITH...WTF DO WE HAVE TO DO TO NOT BE SUBJECTED TO THE BILE – INDUCING BOUNCING BOSS LIMBAUGH ANYMORE? SAY IT, MAN, AND I'LL DO IT – FOR THE LOVE OF ALL THAT'S HOLY!! General Powell said Monday that Boss Limbaugh is diminishing the GOP & that said GOP is in a world of hurt because of him. Colin Powell is "...just another liberal..." Hm...I imagine veteran General Colin Powell could kick the voluminous a$$ of "I can't serve because of hemorrhoids" Boss Limbaugh with one hand tied behind his back on one foot blindfolded & deaf. What say you all? Don't forget, the only reason Colin Powell endorsed Obama is race. All black people stick together, all white people stick together, etc. MORAN! So, does the GOP need an intervention?
#4 "Tortured Policies" AKA "Paper Trail" AKA "Circling the Wagons" - John Bolton is having a cow that Spanish justice officials are investigating this torture stuff. From his op – ed,
Although the six lawyers are in a precarious position, they are only intermediate targets. The real targets are President Bush and his most senior advisors.
F*CK YEA! Although, I'm the greedy type & want to see them ALL do the perp walk. The White House directed the OLC to justify what had already begun. According to the Levin report, the OLC (specifically Bybee & Yoo) got their marching orders from Fredo & David Addington. Man, I'm glad to see John Dean for this segment! John Bolton doesn't know his Watergate history from his dark stinky place. I wouldn't put it past John Bolton to conveniently forget the treaties of which we're a part concerning torture. Didn't Bolton say that most of the UN building should be shut down for scrap or something?
** So did that fancy couch have to be cleaned after that frog sat on it? Would Prince Charles' mom sit on that couch knowing a froggie had sat there? Here's that softball coach again. We have our "banned British list" mention! Michael Savage is going to sue. Can't he get good fish & chips here? An old guy in Germany thought an annoying repeating song was coming from a neighbor's house; the song came from a card on his own mantle. OOPS! **
#3 "Dino" AKA "Dino, Sore" AKA "Democrat in Name Only?" - Senator Specter (D) is getting to be about as popular among Dems as Joementum is. Arlen's been stripped of his seniority, and he is PI$$ED. Too bad...don't be such an opportunistic a$$! Now, Arlen wants Al Franken to win. Gee...thanks... I'm sure Al's grateful. I agree with Joe Lockhart. If Arlen's not careful, he's going to be cleaning out his Senate office soonest. Harry Reid still thinks Specter will be with the Dems on "critical issues." Yea, I really trust Harry's judgment on Dems behaving themselves & keeping their promises. Again, can we say "Joementum"?!
WPITW – ALL RIGHT! I have a new TurdBlossom term! Let's review. We have TurdBlossom math, TurdBlossom syntax, & TurdBlossom time. I'm happy to introduce TurdBlossom memory! He conveniently forgot about, and I think I'm paraphrasing Bill Maher here, that he & GWB wanted to make the White House cleaning lady a SCOTUS justice! HA! BillO is trashing Bruce Springsteen. Pirate Rupert's profits ain't doin' so well! Total operating income's down 47%, total newspaper operating income's down 97%, and total television operating income's down 99%. Pirate Murdoch may have to open a lemonade stand!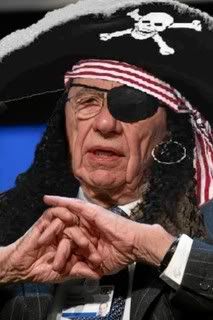 #1 "Abstinence Poster Child" AKA "Practice, Preach" AKA "Poster Child" - Bristol Palin is now a spokesperson for the Candies Foundation, a group working to decrease the rate of teen pregnancies in our country. Bristol was also on Today, and I watched the whole interview during my lunch hour. She did say that abstinence is the only 100% sure way to not get pregnant, and she's right. But, that's not realistic, and I think she still knows that. Matt Lauer kind of mentioned that this morning. If you're going to have sex, and you don't want to get pregnant, USE PROTECTION! Here endeth the PSA. Levi Johnston's making the television machine rounds, too. Who's Dylan Ratigan? Like I said, I watched the whole interview, and dear old dad "First Dude" called what his daughter did a mistake – with her sitting right there with his beautiful sleeping grandson in her lap. I want the "First Dude" to get violated by a moose. Bristol, please get out of that family.