While discussing the enormity of the Financial Bailout, with a co-worker today, and struggling to find a way of comprehending all those BILLIONS, that Taxpayers are in one way or another, PAYING FOR -- we hit upon a novel idea for comprehending the depth of the damages.
The Idea of Stock Ownership!

Here's how it works, roughly speaking,
Take the Total amount "invested" in Bank of America during the Bailout,
Divide that by the Number of People "footing" the Bill,
And Presto you get your rough "back of the envelope" calculation, for YOUR Stake in the "Ownership" of that still Public Company!
BofA: $52,500,000,000 / 306,377,462 people = 171 Shares
Given that BofA Stock Price Closed UP today at $13.51
it leads me to Ask:
Where are MY 171 shares of BofA?...Where are YOURS?
Now this really should be more than an Academic Exercise ...
There is a LOT of Money at stake afterall!
Come on Giethner, Come on Paulson, Come on Bernanke,
Cut us in on this investment -- GIVE US OUR Shares!
Do you even KNOW what are Shares, SHOULD BE?

Let me help you guys figure it out. I have Google, I have Excel, and I have Math Skills.
So Treasury Guys, you can "crib" my work, if you dare ... to spill the beans ...

The Raw Data: as of May 7, 2009, From ProPublic - Bailout Recipients
| | | | |
| --- | --- | --- | --- |
| AIG | Insurance Company | N.Y. | $69,800,000,000 |
| Bank of America | Bank (Public) | N.C. | $52,500,000,000 |
| Freddie Mac | Financial Services | Va. | $44,600,000,000 |
| JPMorgan Chase | Bank (Public) | N.Y. | $25,000,000,000 |
| Wells Fargo | Bank (Public) | Calif. | $25,000,000,000 |
| General Motors | Auto Company | Mich. | $16,300,000,000 |
| Fannie Mae | Financial Services | D.C. | $15,200,000,000 |
| Chrysler | Auto Company | Mich. | $12,500,000,000 |
| Goldman Sachs | Bank (Public) | N.Y. | $10,000,000,000 |
| Morgan Stanley | Bank (Public) | N.Y. | $10,000,000,000 |

Now for the nifty spreadsheet magic, using the estimated to-the-minute US Population, from the Census Population Clock:
According to the U.S. Bureau of the Census, the resident population of the United States,
projected to 05/08/09 at 00:30 GMT (EST+5) is
306,377,462

Now take, the Top Bailout Recipients Amounts, divided that, by "WE the People" Paying for it:
which gives you, Each person's Theoretical Share of "Ownership" in each Company: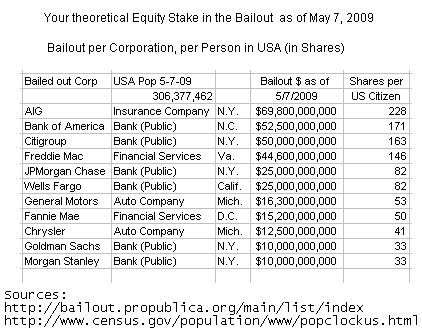 Now look up the Price of Each Company's Stock using Yahoo Finance ...

And if you had decided to SELL your "Theoretical Shares" at today's Closing Price, you would have made a hefty chunk of change!
Nearly $14 thousand for each US citizen -- talk about a Stimulus Package!
(Which would have been even more, if Chrysler hadn't just gone Chapter 11! Better "Cash in your Chips" before any others "go the way of the Dinosaurs"!)

Wait a minute, you don't have any Chips, I don't have any Chips!
We all get to Pay, BUT we don't get to Play!
I wonder if that is the True Meaning of Capitalism, in this "Too Big to Fail" Era -- that
ONLY the Shrew Capitalists, get their Share of the Profits?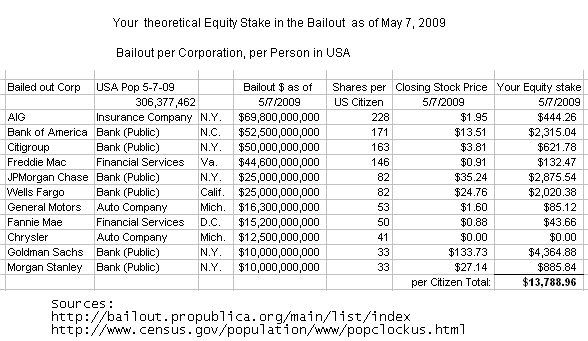 I'm glad Hank Paulson, saw fit to look out for his College Frat Buddies!
Just one Problem I want my $14,000 cut -- I want you to get YOUR $14,000 cut-- I bet we'd all make better use of it, to help get this Economy moving again! Don't you think?